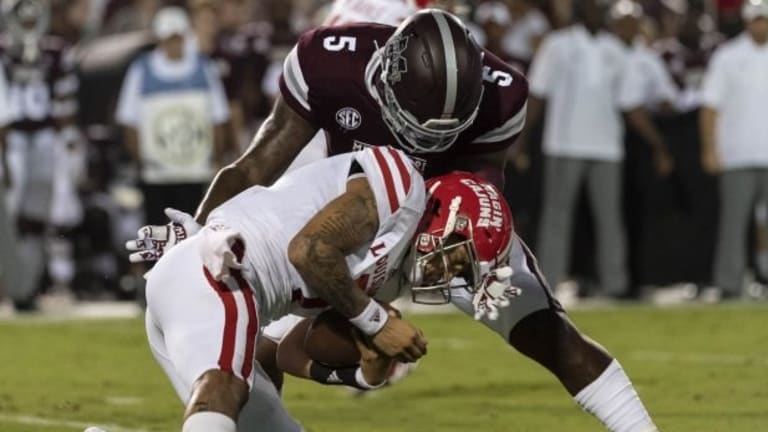 No. 1 Tide, Saban face old friend in Ragin' Cajuns' Napier
Former Alabama assistant coach Billy Napier will be coming back to Bryant-Denny Stadium on Saturday.
He may not be looking forward to it.
The first-year head coach will bring Louisiana, which has never lined up against a team ranked No. 1 in its history.
The Ragin' Cajuns (1-2) lost their Sun Belt Conference opener last week to Coastal Carolina 30-28. They've already played an SEC opponent, losing 46-10 at Mississippi State on Sept. 15.
"Well, it's humbling," Napier said during his on-campus press conference Monday. "You've got a chance to go play the No. 1 team in the country and coach against the best that's ever done it. So, I think it'll be a great experience for our staff, our players and certainly for me as a first-year head coach."
Napier was one of Nick Saban's reclamation projects after being fired at Clemson, where at age 29 he was once the youngest offensive coordinator in the FBS.
He spent the 2011 season as an Alabama analyst, followed Jim McElwain to Colorado State for a season, was hired by Jimbo Fisher at Florida State only to get a call from Saban a few weeks later and signed on to be the Crimson Tide's wide receiver coach from 2013-16.
So he recruited many of the players now lighting up the scoreboard for the Crimson Tide this season.
"He recruited me," said sophomore wide receiver DeVonta Smith, who hails from Amite, La. "He's a great man. He's over there changing the program around and doing great things."
But he'll be on the opposing sideline Saturday, and Saban isn't known for taking it easy on his former coaches. With last week's 45-23 victory over No. 22 Texas A&M and Fisher, he's 13-0 against his one-time assistants.
"I'm sure he knows a lot of the stuff that we do, so that'll pose an extra challenge for us," Alabama senior tight end Hale Hentges said.
How much of a challenge is the question. Alabama (4-0, 2-0 SEC) set an SEC record by being the first team in league history to score 50-plus points in each of its first three games, and has topped 500 yards of total offense in all four.
Moreover, the Crimson Tide wasn't pleased with how the running game played against the Aggies last week, totaling 109 yards. It's been a point of emphasis in practice this week regardless of the opponent.
Louisiana is led by senior quarterback Andre Nunez, who has completed 72.3 percent of his passes, but has thrown for 541 yards (180.3 average) with four touchdowns and one interception.
Lopez recently set a school record by going 19-for-22 against Grambling for a completion rate of 86.4 percent. He also spreads the ball around to wide receivers Ryheem Malone, Keenan Barnes and Ja'Marcus Bradley, who are all between 9-13 receptions and 122-143 yards. They combined for 1,690 receiving yards in 2017.
"They've done some really good things there this season," Saban said. "I know they're 1-2 record wise, but they have a good quarterback, a lot of good offensive schemes, they present a lot of problems for you defensively in terms of adjustments. They're pretty good at throwing the ball down the field — a lot of screens and short stuff, kind of RPOs that go with their running game. They've got some pretty decent skill guys that have done a good job at wide receiver.
"Their defense has been very disruptive. They do a lot of movements and stunting and things like that that create a lot of negative plays. This is something that we need to improve on being able to block. So this is something we need to definitely do a better job of and it was something that we had some issue with last week. So, you know, important week for us to get better."
Nevertheless, the Crimson Tide has also never lost to Louisiana, going 8-0 although the last meeting occurred Oct. 6, 1990. At the time, the No. 1 song on the charts was "Hold On" by Wilson Phillips, while "Ghost" starring Demi Moore, Patrick Swayze and Whoopi Goldberg was the top grossing move.
Alabama won that last meeting 25-6. Overall, the Crimson Tide has a scoring edge of 296-53 in the series.
Alabama's also won 76 straight games against unranked opponents, the longest streak in FBS history. It dates back to 2007, when Napier was in his second year as Clemson's tight ends coach and recruiting coordinator.
"Alabama's the standard in college football, and certainly coach Saban, in my opinion, is the best who's ever done it," Napier said. "And he does that with a tremendous work ethic and self-discipline and sets the tone for the entire organization."
Consequently, Napier knows better than anyone what awaits the Cajuns, who figure to have a tough time doing any Ragin' against the Tide.
"They have tremendous personnel at every position," Napier said. "This is probably the best personnel that they've had, There's no chink in the armor."