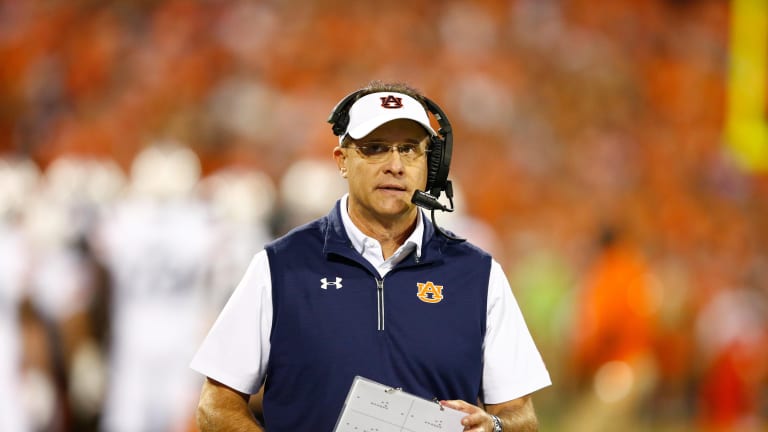 No. 10 Auburn hopes to get offensive vs. Southern Miss
Auburn's Guz Malzahn: "We've got to figure out how to get that done."
Auburn's Guz Malzahn was not pleased with his team's offensive showing in last week's 34-3 victory over Arkansas, when the Tigers rushed for only 91 yards and managed only 225 yards in total offense.
But the Tigers coach was preaching patience as they began preparations for Saturday's homecoming game against Southern Mississippi.
The No. 10 Tigers (3-1) and unranked Golden Eagles (2-1) will kick off at 4 p.m. ET at Auburn's Jordan-Hare Stadium on the SEC Network.
Malzahn said you have to look at the "big picture, and the reality is that we had an offensive line that had less than 20 starts coming into the season. And then you change our center goes with that, and then you've got really four new running backs, three of which are freshmen. And then you have a new freshman receiver who started for the first time.
"So there's a lot of youth and inexperience, but I really feel strongly that this group is going to be a good offense. But they're still a work in progress."
The Tigers' rushing total against Arkansas was the lowest in an Auburn victory in Malzahn's tenure and the lowest in an Auburn victory since the 2011 season opener against Utah State.
In Southern Mississippi, the Tigers will be up against a defense that has held its three foes to an average of 132 rushing yards per game.
Eagles coach Jay Hopson isn't putting all his plans on just stopping Auburn's running game, however.
"You always want to stop the run, but if you hold them to zero yards rushing and they have 867 yards passing, then that's not a good day at the office," Hopson said. "You have to be aware of the run and the pass game."
Frankly, the Tigers likely were looking for more out of their passing game this season. Auburn quarterback Jarrett Stidham has completed 64.2 of his passes but for just under 180 yards a game. Veteran receiver Ryan Davis has 19 catches, more than twice as many as any other receiver, but for only 149 yards — a 7.8 per-catch average.
Malzahn would like to see more "explosive" plays in both aspects of the offense.
"We haven't had near as many as we have liked," he said, "so we've got to figure out how to get that done."
The Tigers' longest rush against Arkansas was for 15 yards, their longest pass play 42 yards.
But the defense did keep things under control, holding Arkansas to just 141 yards passing. That is significant because the Golden Eagles are bringing one of the country's most prolific passing games.
Southern Miss is No. 8 in the country in passing yardage per game (over 353). Quarterback Jack Abraham has completed 72 percent of his attempts with 10 touchdowns against only three interceptions.
Wide receiver Quez Watkins has 24 catches for 304 yards and five touchdowns.
"Offensively, they can really throw it," Malzahn said. "I think they're eighth in the country in passing yards. Their quarterback and receivers, they're very impressive."
The Tigers have allowed 211 yards a game to opposing passers, which ranks only eighth in the Southeastern Conference in pass defense, but are tied for second in the SEC in sacks (13) and third in interceptions (5).
They held Arkansas to just 141 yards passing and got to the Razorbacks for four sacks and an interception. That was coordinator Kevin Steele's plan.
"We talked about putting pressure on the quarterback and disrupting the quarterback," Malzahn said. "I felt like we did that, and I thought Kevin really mixed up his pressures well and presented a lot of different challenges to their offense.
"I thought that was good."
Hopson is aware of the task his Eagles face at Auburn.
"They're a good football team, there's no ifs or buts about that," he said. "We know we've got a good challenge."