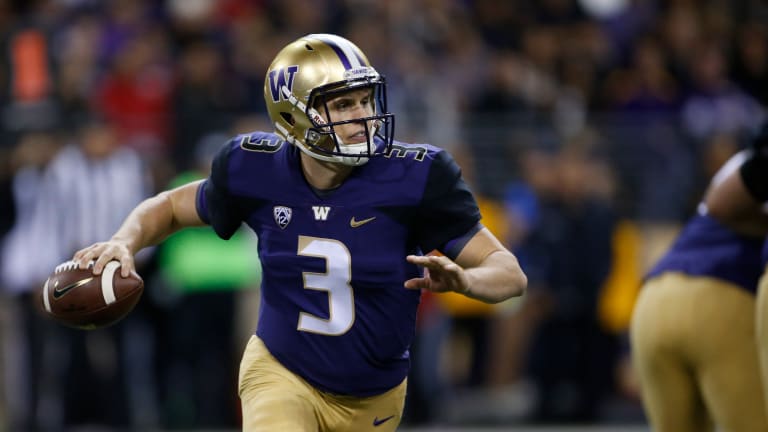 No. 20 BYU takes new-look offense to No. 11 Washington
— By Kyle Kensing, The Sports Xchange —
Rumored candidate Ken Niumatalolo may not have been tabbed to replace Bronco Mendenhall as head coach of No. 20-ranked BYU in December 2015 — that's an honor that went to Kalani Sitake. But as the Cougars travel to Seattle to face No. 11 Washington on Saturday, Sitake's version of BYU football just might bear some semblance to the Navy coach's long-employed style.
"It's extremely unique," said Washington coach Chris Petersen of BYU's offense. "It's a little bit like … option football, in terms of really making you play assignment-sound."
So maybe BYU (3-1) does not run a scheme that would actually qualify as triple-option. Quarterback Tanner Mangum has a net negative-11 yards rushing on his 2.25 carries per game; don't anticipate him leaving the pocket on any zone-read plays Saturday night at Husky Stadium.
Still, first-year offensive coordinator Jeff Grimes has implemented a run-diverse system designed to complement the stout defense that has been a BYU hallmark in Sitake's three seasons as head coach. With three ball carriers averaging five carries or more, and four rushing for 17.0 to 80.5 rushing yards per game, the Cougars maintain possession a half-second less than 31 minutes an outing.
In the same vein, BYU has been mindful of possessions with just three turnovers through its first four games.
"It's been a huge emphasis that we're trying to do," Sitake said in his weekly press conference. "Offensively, you know you need to take care of the football. It's never perfect but you can't be mindless and taking huge risks. Turnover margins need to work in our favor in order for us to have a chance."
Winning the war of attrition against a methodical offense may prove just as vital for Washington (3-1) as solving the stingy defense that already powered BYU to a power of road upsets, Sept. 1 at Arizona and Sept. 15 at Wisconsin.
"This offense is something we haven't seen, and won't see again in terms of all their shifts and motions and fly-sweep actions," Petersen said.
Grimes was hired in the offseason to replace Ty Detmer, the 1990 Heisman Trophy-winning quarterback, whose first college coaching job was as Cougars offensive coordinator in Sitake's first two seasons.
BYU won nine games in 2016, perhaps in spite of its offense. The Cougars held opponents to just 19.5 points per game, good for No. 14 in the nation, but scoring outputs fluctuated dramatically. Offensive inconsistency was the defining trait of BYU's nosedive to 4-9 a season ago, as the Cougars put up just 17.1 points per game.
Grimes returned to BYU, where he coached the offensive line for prolific passing attacks in 2004 through 2006, bringing SEC experience. He oversaw the offensive line at Auburn for four seasons alongside then-coordinator and current Tigers head coach Gus Malzahn, whose team beat Washington on Sept. 1, 21-16.
After a stint at Virginia Tech, Grimes served as run-game coordinator for an LSU offense featuring standout ball carriers Leonard Fournette and Derrius Guice.
At BYU, Grimes' scheme feeds off a similarly talented feature back, Squally Canada.
Reliance on a standout every-down running back is just one of the influences from each stop in the journeyman Grimes' career evident in BYU's approach. The disciplines combine to birth a look wholly unique.
"Half of it's running fly-sweep," said Petersen, alluding to wide receiver Aleva Hifo's 6.3-yard per carry average. "Half of it's running the ball (with the running backs). (Then) you're going to see a quarterback take a snap from under center, and drop back and throw a pass. How often do you see that?"
Mixing motion and shifts most reminiscent of an option offense with principles of a pro style — unleashing Magnum for drop-back passes off play-action to big targets like 6-foot-5 tight end Moroni Laulu-Pututau — is a unique challenge.
Even BYU players do not have a definitive name for their offense.
"It's kind of a power offense, I guess you would say," running back Matt Hadley said. "We'll see how it matches up."