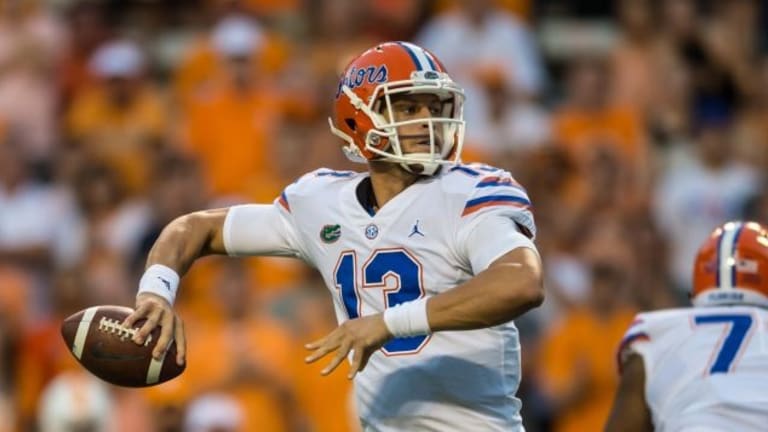 No. 23 Mississippi State braces for return of Mullen, Florida
Mississippi State coach Joe Moorhead: "There's an emotional component attached to this game."
Florida coach Dan Mullen understands he may get less than a welcoming reception when the Gators visit No. 23 Mississippi State on Saturday.
When asked if he expected to hear some boos, Mullen replied: "What do you think?"
Mullen will be facing the school he left behind for the first time when the Gators (3-1, 1-1 SEC) travel to Starkville, Miss., to face the Bulldogs (3-1, 0-1).
Mullen led Mississippi State to a 69-46 record and eight bowl appearances in nine seasons before taking the Florida job last November. The highlight of the Mullen era came in October 2014 when Mississippi State, led by quarterback Dak Prescott, earned the No. 1 ranking in the AP poll.
"When I think of the fans and I think of the former players and the people of the town of Starkville, I think for the most part they were appreciative in what we were able to accomplish in the nine years that we were there," Mullen said.
But after leading Mississippi State to an 8-4 regular season in 2017, Mullen decided the time was right to join former athletic director Scott Stricklin in Gainesville.
The Gators are coming off an impressive 47-21 win at Tennessee. Florida forced six turnovers and posted its highest point total at Neyland Stadium in school history. Mullen said Mississippi State will bring a different level of physicality this week.
The Bulldogs are coming off their first loss of the season, falling 28-7 at Kentucky, which beat the Gators 27-16 in Week 2.
First-year Mississippi State coach Joe Moorhead lamented his team's four unsportsmanlike conduct penalties, which were part of 16 flags for 139 yards last week.
"I think you can compete hard, exert maximum effort and do the things necessary to be successful on every play without losing your head and being hot-tempered," Moorhead said.
"There's a difference between playing hard and picking up the ball and throwing it at somebody or pushing somebody after the (whistle). That's not toughness. That's extra, unnecessary and unacceptable."
Keeping emotions in check will be even more difficult this week as most of the Bulldogs were recruited by Mullen and the seven assistants who followed him to Florida.
"There's an emotional component attached to this game that is relative to coach Mullen and his staff being with these players for an extended amount of time," Moorhead said.
"But at the end of the day, I'm not going to be on the field taking any snaps and neither are our assistants or any of their coaches. The game is going to be played on the field between the white lines between 11 Mississippi State players and 11 Florida players."
One of those Mississippi State players recruited by Mullen is senior quarterback Nick Fitzgerald, a dual threat who has accounted for 81 career touchdowns — 43 passing, 38 rushing.
"He's big, he's physical and he's extremely fast," Mullen said.
Fitzgerald is the team's second-leading rusher with 286 yards, trailing Kylin Hill, who has 307 yards and averages 8.5 per carry.
Florida counters with an opportunistic defense that leads the nation with 14 takeaways, including 10 fumble recoveries.
Senior defensive lineman Cece Jefferson made an impact in his second game back from a disciplinary suspension, forcing a safety in the first half against Tennessee. Linebacker David Reese returned from a preseason ankle injury to make a team-high 11 tackles and recover a fumble last week.
As for Florida's quarterback, Feleipe Franks is continuing to make progress in his second season as a starter. Against Tennessee, Franks completed 9 of 18 passes for 172 yards and three touchdowns with no interceptions, while rushing for his first score.
Franks has posted a TD-to-interception ratio of 12-to-2 through the first four games after posting a 9-to-8 ratio last season.
Wide receivers Freddie Swain and Van Jefferson (an Ole Miss transfer) each has three touchdown catches among their eight receptions.
Mississippi State also has an all-star defense that ranks eighth nationally in total defense (269.3 yards per game) and 10th in scoring defense (13.5 points).
Defensive tackle Jeffery Simmons ranks 13th on the 2019 Big Board of NFLDraftScout.com senior analyst Rob Rang, who rates Bulldogs defensive end Montez Sweat at No. 26.
Simmons leads the SEC with 7.5 tackles for loss. Sweat is right behind with seven, including 4.5 sacks.
Mullen, who brought his spread offense with him to Gainesville, said the defenders on his old team might have an edge.
"They're going to have comfort going against our scheme," he said.