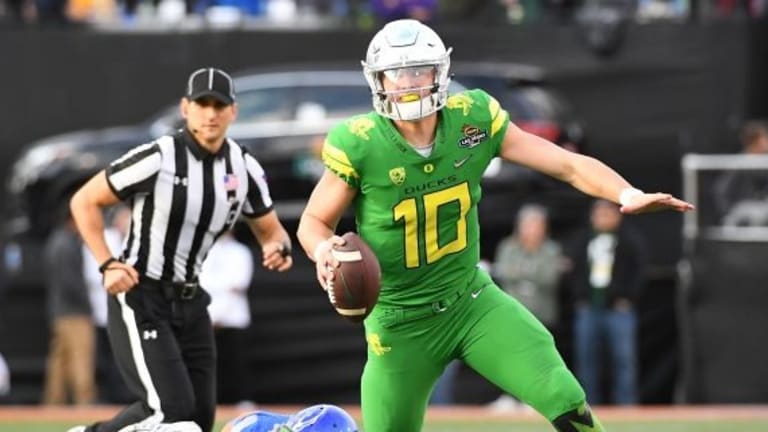 No. 24 Oregon starts new era vs. Bowling Green
As the 2018 college football season gets underway, No. 24 Oregon finds itself with more questions than answers.
— Ryan Kostecka, The Sports Xchange —
The Ducks are going on their third head coach in as many years, and many are hoping that Mario Cristobal is the man to get Oregon flying high again.
"It's of course a high-emotion situation," Cristobal said about leading the Ducks on Saturday. "I mean football, you know for all of us, it's been such a big part of our lives, always will be for so many reasons — so emotions are always going to be high, intensity is always going to be high."
Cristobal was tagged to be the leading man when former head coach Willie Taggart left for Florida State before last year's bowl game. Behind the support of the players, including many who signed a petition, Oregon's brass gave the position to Cristobal and the new era was underway.
The Ducks begin this era when they host Bowling Green on Saturday in Eugene, Ore.
"We certainly feel that we're coming off a very productive and successful training camp. We feel like there's a lot of positive energy and enthusiasm surrounding our program and our players," Cristobal said. "We certainly invest in doing a lot of the things necessary to take that next step as a program; from a disciplinary standpoint as it relates to penalties, from a strength and conditioning standpoint."
Bowling Green, picked to finish fifth in the Mid-American Conference East Division, is coming of a 2-10 finish last year.
"Where they pose a problem for you is they get the ball down the field in a hurry. They stretch the field," said Cristobal. "You know they have a little bit of the air-raid mentality, and their receivers can stretch the field. They're big, they're tall, they're athletic, they've got good balance and body control, and they've shown that they can make big plays. They have a lot of big-play capability."
One thing Cristobal has going for him is a star at quarterback. Junior Justin Herbert is being named by many as a future first-round NFL draft pick.
Herbert returns after a rough season in 2017 when a shoulder injury sidelined him for five games. The Ducks were 6-2 in games Herbert started but just 1-4 when he was out.
Helping keep Herbert healthy will be the most experienced unit on the team, the offensive line. Cristobal has eight players who could start and all will see playing time. Juniors Jake Hanson, Calvin Throckmorton and Shane Lemieux have 75 combined starts the past two years while newcomers Dallas Warmack (junior) and Penei Sewell (freshman) add size and nastiness.
The skill players are bountiful with running back Tony Brooks-James and wide receivers Dillon Mitchell and Johnny Johnson III leading the way. The depth is massive at those positions with five players listed as backup at running back and newcomers Bryan Addison (freshman) and Tabari Hines (seniors) expected to make immediate impacts.
"The message to our players was this whole thing about playing time," Cristobal said. "It's really about trust, earning the trust of your teammates, earning the trust of your coaches, you know, trusting in yourself."
The defense, under second-year coordinator Jim Leavitt, is looking to take another step forward.
Preseason all-American junior linebacker Troy Dye leads a unit returning eight starters, yet all listed starters on the depth chart saw significant action last year. Senior defensive end Jalen Jelks is a future NFL player while sophomore nose tackle Jordon Scott was named to multiple freshman all-American teams last year.
Altogether, the Ducks return 15 legitimate starters from last season's 7-6 team — out of the 22 projected starters, 18 of them started at least three games last year.
After disappearing for two years, optimism has returned to the Emerald Valley. With Oregon's first three games coming against inferior teams, the Ducks are hoping to get off to a fast start before that late-September showdown with No. 13 Stanford.