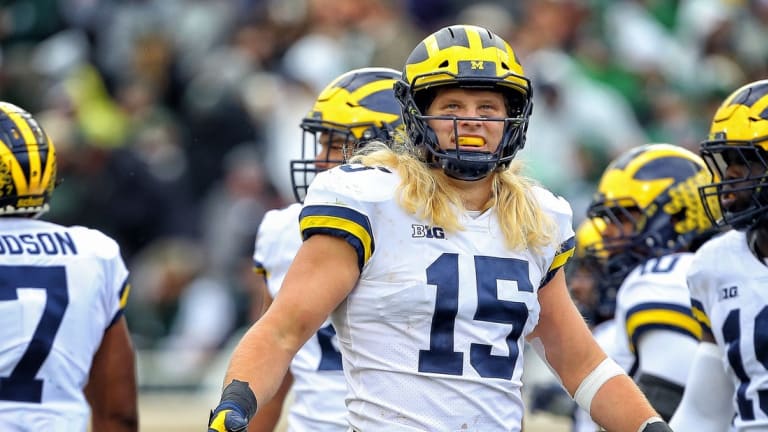 No. 5 Michigan's 'Revenge Tour' continues with No. 14 Penn State
-- By Keith Dunlap, The Sports Xchange --
-- By Keith Dunlap, The Sports Xchange --
It doesn't involve a band, but it's a tour that is all the rage in Ann Arbor.
After a decisive win over Wisconsin on Oct. 13, Michigan senior defensive end Chase Winovich proclaimed that the win was the start of a "Revenge Tour," meaning the Wolverines intended to deliver payback to the four Big Ten teams that beat them last season.
The second piece of revenge came a week later with a dominant win at Michigan State, and after a bye week, Michigan is setting its sights on leg No. 3 of its revenge mission.
No. 5 Michigan is bracing itself for a visit from No. 14 Penn State, which comes to Ann Arbor for a 3:30 p.m. ET kickoff after crushing the Wolverines last year in State College, Pa.
Penn State posted a 42-13 win over Michigan and wasn't shy about rubbing it in, even running plays with its backups near Michigan's goal line up until the game ended rather than taking a knee.
Michigan comes in fresh from its bye week and rolling, having won seven consecutive games after a season-opening loss at Notre Dame.
The last time the Wolverines took the field, they held rival Michigan State to 94 yards of total offense and made timely plays on offense in a 21-7 win.
Other than missing star defensive end Rashan Gary, who may or not return this season because of a shoulder injury, Michigan enters healthy and full of confidence.
While there might be concern for some that the bye week halted Michigan's momentum, Michigan coach Jim Harbaugh doesn't think that will be an issue.
"We are just attacking this week," Harbaugh said. "We practiced on (Sunday), so it's already begun. We practiced last week. We can't really say it stopped. It's been continuous."
This figures to be the last big hurdle for Michigan before its season-ending game at Ohio State, stop No. 4 on Winovich's proclaimed revenge tour, because the Wolverines play at lowly Rutgers and host Indiana before visiting Columbus.
Penn State has come off of the mat after back-to-back losses to Ohio State and Michigan State, gutting out a road win at Indiana (33-28) and a home win over Iowa (30-24) to set up a chance to get back in the Big Ten East race against the Wolverines.
Penn State star quarterback Trace McSorley temporarily left the game last week with a leg injury. Wearing a knee brace, He returned to the game and helped lead the Nittany Lions to victory.
Harbaugh knows he will be the key player for his team to contain.
"He poses the threat in the passing game and he's running the ball a lot more this year very effectively," Harbaugh said. "He's quite a quarterback. That 'win it' factor shows up over and over. A big challenge for our team this week."
If Penn State can pull off the upset, it will only be a game behind Michigan in the standings and would own a tiebreaker against the Wolverines, which could be valuable because Michigan still has to play at Ohio State and the Nittany Lions have three winnable games against Wisconsin, at Rutgers and against Maryland to end the year.
"The big thing with them is they are balanced," Penn State coach James Franklin said of Michigan. "They are extremely balanced offensively. They are a run-first team and a lot of their offense is based on their tight ends. They have two difficult matchups, so that will be a challenge for us."
Michigan also happens to enter the game with the country's No. 1-ranked defense, which will present a major challenge for McSorley and the Penn State offense.
"They are going to try and pressure your quarterback, they are going to try and overload the box in the run game and they are going to take all easy throws away because they press pretty much every play," Franklin said.