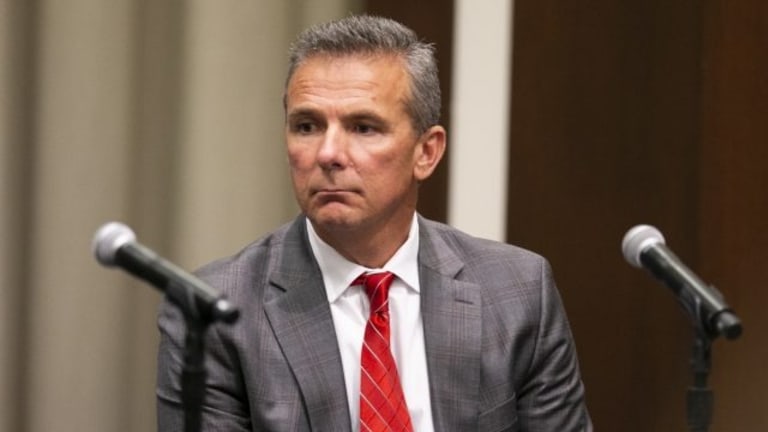 No. 5 Ohio State hosts Oregon State in first game without Myer
Ryan Day acting head coach while Urban Meyer serves a university-imposed suspension.
— By Doug Bean, The Sports Xchange —
COLUMBUS, Ohio — After a tumultuous summer that culminated in the head coach being suspended for three games, fifth-ranked Ohio State hopes to find some relief on Saturday when Oregon State visits Ohio Stadium in the season opener for both teams.
Ryan Day grabbed ahold of the reins as acting head coach while Urban Meyer serves a university-imposed suspension in the fallout from the alleged domestic dispute between fired assistant coach Zach Smith and his ex-wife Courtney.
The 39-year-old Day, who came to Ohio State last year as quarterbacks coach and co-offensive coordinator, is leaning heavily on associate head coach and defensive coordinator Greg Schiano and co-offensive coordinator Kevin Wilson for help. Schiano and Wilson are former college head coaches, but they were passed over for the interim job given to Day, an assistant with no head coaching experience.
"It's all been about the support and how do we get through this thing together," Day said. "Because there were times along the way we didn't know what tomorrow was going to bring. So it was all about what can we do for the team, how can we get this thing moving forward to have a successful season, because at the end of the day we need to put a good product out on the field on Saturday and so that's what the focus has been."
At a Monday news conference, Day's first in his temporary role, he seized the day with his coolness and demeanor. He mostly avoided speaking about Meyer, saying he wasn't interviewed as part of the investigation, and focused on football-related questions.
"The plan to win has never changed," Day said. "So that's the culture here and the plan to win is always to be here at Ohio State."
Facing Oregon State in the opener should help Day ease into his dual role of being head coach and an offensive coordinator who continues to call the plays. The Beavers finished 1-11 last year, with their lone victory over an FCS program.
Oregon State is coached by Jonathan Smith, who was hired in November to replace Gary Andersen. He returned to his alma mater after most recently working as the offensive coordinator at Washington.
"Jonathan comes over and obviously has had a great career and he's going to come in with a lot of energy," Day said.
Ohio State comes into the season with Big Ten and national championship aspirations based on a deep, talented and veteran roster.
The Buckeyes return two 1,000-yard rushers with running backs J.K. Dobbins and Mike Weber, seven wide receivers with 17 or more catches in 2017, and a slightly reconstituted offensive line that includes two-year starting guard Michael Jordan moving to center to replace first-round draft pick Billy Price.
The obvious newcomer is strong-armed sophomore quarterback Dwayne Haskins Jr., who replaces four-year starter J.T. Barrett. Haskins led the comeback last year at Michigan when Barrett went down with an injury and then won the job last spring in a battle with Joe Burrow, who transferred to LSU and will start there.
Sophomore Tate Martell, also part of the quarterback competition, will see playing time in Saturday's game, Day said.
The strength of Ohio State's defense resides up front, led by preseason All-American Nick Bosa and Chase Young on the edges.
The defense doesn't quite know what to expect from Oregon State, but Schiano has studied tendencies from Smith's previous stop at Washington and the schemes favored by Beavers new offensive coordinator Brian Lindgren during his five years at Colorado.
"I think in games like this … you really have to spend some double time studying both, but not marrying yourself to either, because you may get a third, you may be a hybrid of both," Schiano said.
Oregon State just settled on a quarterback this week. Smith named 6-foot-7 Jake Luton the winner of a three-player competition that started in the spring and continued into fall camp.
Luton started four games last season before he suffered a thoracic fracture during a game against Washington State. He completed 83 of 135 passes for 853 yards, four touchdowns and four interceptions.
"We're completely behind Jake," Smith said. "We're going to put him out there. We understand that he's not going to play perfect football. There's going to be some mistakes get made."
Smith's first game as a head coach won't be any easy one, taking a young team into the Horseshoe that's missing several injured players. There are nine true freshmen on the two-deep roster and possibly five first-time starters.
"We're definitely going to tell them there's an excitement level, and that's OK," Smith said. "And there's going to be nerves, and that's OK. But when it comes down to it, you have to trust your preparation, that you put in all this work and let it all hang out."