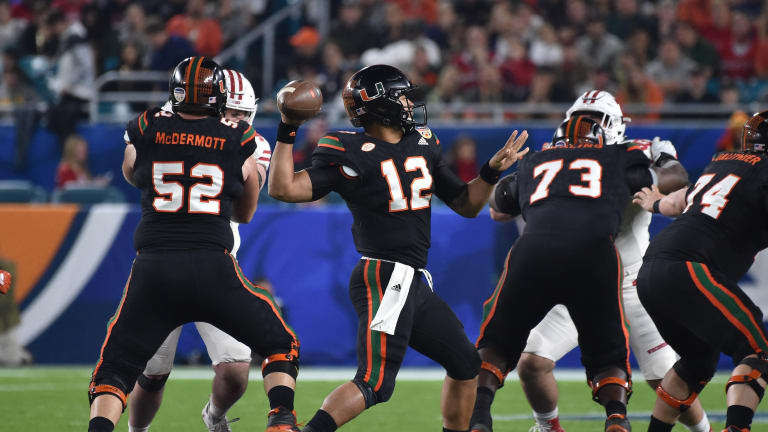 No. 8 Miami gets early test vs. No. 25 LSU
Hurricanes' coach Mark Richt: "We will be physically and mentally tested. It will be a gut check, at the very least."
— By Les East, The Sports Xchange —
When No. 8 Miami (Fla.) faces No. 25 LSU on Sunday night in Arlington, Texas both schools will get an immediate indication of whether they're ready to be a national contender.
The Hurricanes thrust themselves into the College Football Playoff conversation last November after they won their first 10 games, but they faded by losing their regular-season finale against Pittsburgh, the ACC Championship game against Clemson and the Orange Bowl against Wisconsin.
The Tigers' season was nearly the reverse as they struggled to a 3-2 start, which included a shocking loss to Troy, before winning six of their last seven prior to a Citrus Bowl loss to Notre Dame.
Both these programs are trying to return to the status of perennial national-championship contenders. Miami appears to be farther along in that regard as evidenced by the two teams' preseason rankings.
"Until you play somebody, you really don't know," said Mark Richt, who's beginning his third season as the Hurricanes' head coach. "There are no warm-up games here. We will be physically and mentally tested. It will be a gut check, at the very least."
It will be the same for LSU, which lists just four seniors as starters.
Miami has a fifth-year senior and returning starter at quarterback in Malik Rosier, whereas LSU just named its starter Monday — junior Joe Burrow, a graduate transfer from Ohio State who will be making his first collegiate start — though sophomore Myles Brennan could also see some action.
Rosier's season last year mirrored that of his team as a whole as the productivity dropped off dramatically during the three-game losing streak at the end. His completion percentage was 54 percent overall, but just 44.9 percent in the final three games.
"When you watch what happened last year — he made a lot of big plays in some really big moments, and without it, we're not going to win," Richt said. "He made some great plays with his wheels, he ran the ball well and did some things that if he doesn't do the things that he did, we probably don't win 10 games last year."
Burrow and Brennan competed throughout preseason camp and Burrow prevailed by a very small margin, LSU coach Ed Orgeron said.
Even though Burrow didn't arrive on campus until after spring practice, he quickly learned the offense and endeared himself to his coaches and his teammates by the way he worked.
"He came in here very low key and competed at every event," Orgeron said. "I remember the first day we ran our conditioning test and he was in a bunch of sprints and he didn't say a word.
"In the film room, on his own, studying. In the weight room, working hard. When he had a chance to, he took command of the offense, showed leadership. He made some mistakes, wasn't perfect, but he showed true leadership and an ability to command the offense."
Both teams figure to have exceptional defense and the Tigers received a boost last week when junior cornerback Kristian Fulton was unexpectedly reinstated by the NCAA after serving a one-year suspension for tampering with his sample during a drug test.
Orgeron wouldn't say if Fulton or Kelvin Joseph would start, but Fulton is likely to play as much as his conditioning will allow.
"I don't think I'll be rusty," Fulton said. "But at practice at LSU, we go up against some good players, so I feel like I'll be prepared when the time comes for the game."
After Sunday's game, one program is going to feel like it's closer to returning to its heyday than the other will. Richt said he's not concerned that the lofty praise given to his team will make his players feel prematurely satisfied.
"When you play LSU, Game 1, in this type of game, in this setting that we're going to be in, you can't help but think, 'I better get ready,'" Richt said. "I think that's what everyone is thinking — 'we better get ready.'"