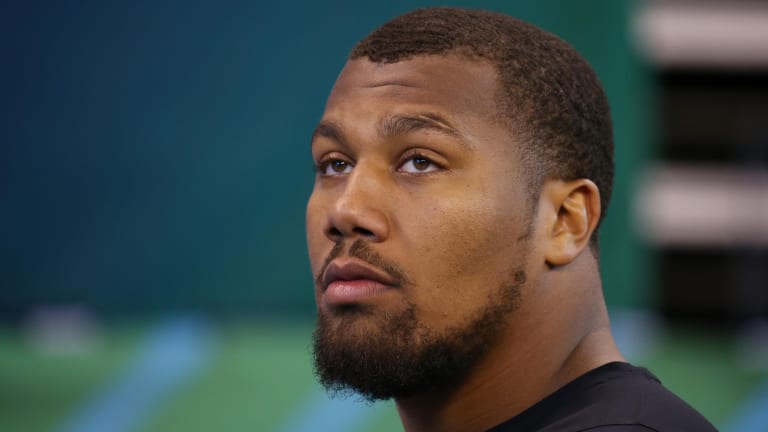 No trade needed for Broncos to bag Chubb
--- NFLDraftScout.com ---
--- NFLDraftScout.com ---
John Elway was mulling whether to make a trade down early in the first round of Thursday's NFL Draft.
That is, until Elway saw North Carolina State defensive end Bradley Chubb staring at him when it was time for the Denver Broncos to make the No. 5 overall pick.
"We didn't trade because Bradley was there," Elway said after taking Chubb, rated the top defensive player by NFLDraftScout.com senior analyst Rob Rang. "We did have some options, but we thought that with Bradley falling to us was our best option. We thought that he was one of the best defensive players in the draft, if not the best defensive player in the draft.
"He really was the best pass rusher in our opinion. We really didn't want to pass on him, so we didn't."
The Buffalo Bills were trying to move up from No. 12 to No. 5 to grab quarterback Josh Allen of Wyoming, but when the Cleveland Browns pulled a surprise by taking cornerback Denzel Ward at No. 4, Elway had his chance to snag a player that won the Bronko Nagurski Trophy as the nation's top defensive player.
Elway said the Broncos had myriad mock drafts and Chubb was available at No. 5 in "zero" of them.
"We didn't think he was going to be there," Elway acknowledged. "We started hearing some rumors today that he might be there today. We kind of just waited to see what was going to happen. When he did make it to us, we were thrilled."
The 6-foot-4, 259-pound Chubb registered 10 sacks in each of his last two seasons at N.C. State, giving Denver an embarrassment of pass-rushing riches.
Chubb will join a unit featuring linebacker Von Miller, the MVP of Super Bowl 50 who has amassed 83.5 sacks over seven NFL seasons.
"He fits in our system. Obviously, he can move inside on sub-downs and rush," Broncos coach Vance Joseph said.. "But we also have Shane Ray, we've got Von and we have Shaq (Barrett). We've got four big time rushers. How we use them is almost irrelevant. Having four rushers is always a special treat to have."
Buffalo did make a trade, moving up to No. 7 to select Allen, but Elway said he probably would have made the deal with the Bills or another team if Chubb was not available to him.
"Most likely. We had a lot of options, which was nice," Elway said. "We had a lot of phone calls on picks. We had some nice options. As I said, we just felt with Bradley falling to us, we couldn't pass him. We felt like if we had him, we had to take him."