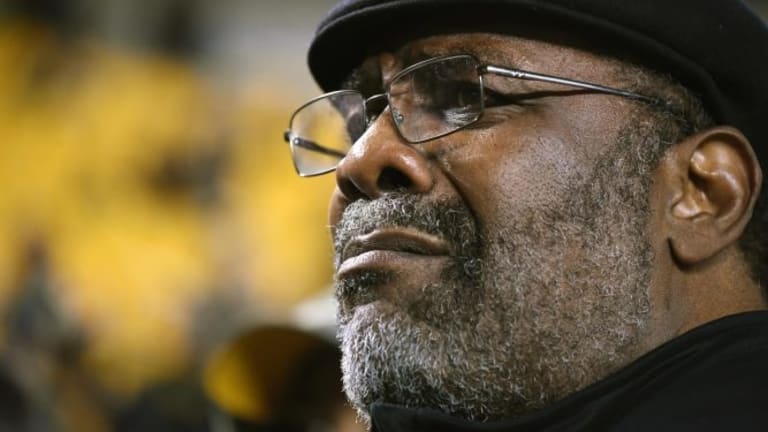 North Texas will unveil 'Mean Joe' statue
Greene: "I am overwhelmed by the thought of a Joe Greene statue at the University of North Texas."
University of North Texas will unveil a statue of "Mean Joe" Greene, considered the greatest player on school history, outside the main gate at Apogee Stadium in Denton, Texas, on Sept. 29 before a game against Louisiana Tech.
The 71-year-old Greene was an All-American for the Mean Green and a Pro Football Hall of Famer who starred for the Pittsburgh Steelers.
"I am overwhelmed by the thought of a Joe Greene statue at the University of North Texas," Greene said in a statement. "It is beyond my wildest expectations that the university thought enough of me as a player and a person to bestow such an honor to me and my family. It will be special for my kids, grandkids and all the generations that follow to see their father and grandfather displayed in such a manner."
Greene earned consensus All-American honors at North Texas in 1968 before the Steelers selected him fourth with the fourth overall pick in the 1969 draft. He played for four Super Bowl championship teams in Pittsburgh, was a 10-time Pro Bowl selection, made first-team All-Pro five times and was twice NFL Defensive Player of the year.
He was enshrined in the Pro Football Hall of Fame in 1987 and the College Football Hall of Fame in 1984.
"For over 50 years, Joe Greene has made a tremendous impact on our university and the athletic program," North Texas athletic director Wren Baker said in a statement. "As a football player, as an alumnus and as a regent, he has made significant contributions to this campus and brought great honor to the Mean Green family. He is one of the greatest defensive linemen in the history of football and he's one of us. We are very excited to recognize Joe's achievements and contributions with this statue."
In 1983, Greene became the first black person appointed to North Texas' board of regents. In May, the regents approved a new campus residence hall to be named after Greene.
Despite his deep ties to the program, the school's "Mean Green" nickname is not related to Greene.
The 8-foot bronze statue will be mounted on a 4-foot pedestal. Brian Hanlon, who has sculpted statues of Jackie Robinson, Jim Brown, Charles Barkley and Shaquille O'Neal, among others, will build the Greene statue.
North Texas also will hold a groundbreaking ceremony for an indoor football practice facility on Sept. 29.