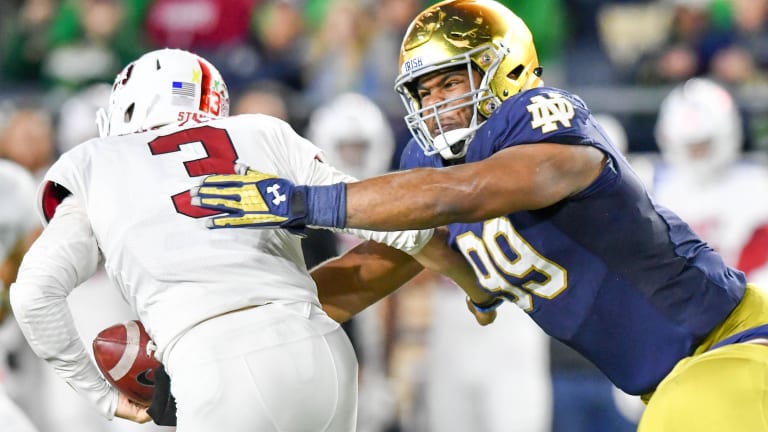 Notre Dame DT Tillery, Ohio State QB Haskins among Week Five NFL draft risers
Identifying five players across the country whose performance Saturday have NFL scouts buzzing.
Every NFL team is looking for difference-makers who rise to the occasion at critical moments, inspiring teammates with their talent and timing, alike.
Week Five of the 2018 college football season featured several such players, some of whom sparked huge upset wins or fared well in a critical conference showdown. All are earning a jump up NFLDraftScout.com's player rankings.
Consistency throughout the season, of course, is typically required for a player to truly improve one's grade but at this early point, the goal is just to capture the attention of scouts.
And, with their performances Saturday, these five rising NFL prospects certainly accomplished that.
5. Yosuah Nijman, OT, Virginia Tech, 6-6, 320, 5.10 (est.), SR, # 69
Coming off an embarrassing loss to Old Dominion, the Hokies returned to their physical ways Saturday night, upsetting previously unbeaten Duke 31-14 in Durham. With a backup quarterback at the helm, the Hokies stubbornly relied on their running game to dominate this contest from the outset, rushing 41 times. Many of Virginia Tech's best runs - including a six-yard touchdown in the third quarter that gave the Hokies a commanding 24-7 lead - came behind the imposing Nijman, who new Senior Bowl Jim Nagy pointed out during pre-game as a player whose raw tools have scouts intrigued. Nijman signed with the Hokies as a defensive lineman and star shot-putter in high school but has steadily developed into a modern day NFL offensive tackle prospect, intriguing with his unique blend of length and athleticism.
​
4. Jalen Hurd, WR, Baylor, 6-3, 220, 4.57, rSr, # 84
While Nijman entered his final season in Blacksburg hardly a blip on scouts' radar, Hurd is one of the more recognizable names in all of college football after previously starring as a running back at Tennessee. Informed that his best chance at success in the NFL might be as a pass-catcher, Hurd initially made the switch to tight end before settling on receiver with the Bears, where he has emerged as a legitimate playmaker. Through five games, Hurd already is within four grabs of his previous career-high with 31 receptions for a personal best 415 yards and three scores this season, numbers padded by nine catches for 104 yards and a score Saturday against the Sooners. Hurd has always intrigued with his combination of size, soft hands and body control, showing good toughness for a receiver. As he also demonstrated against the Sooners, Hurd is not opposed to occasionally switching back to running back, providing his future NFL team with all kinds of options.
​
3. Charles Omenihu, DE, Texas, 6-5, 280, 4.75 (est.), SR, # 90
Passionate Longhorns fans have been waiting for a breakout campaign from Omenihu since the imposing defender signed with the team and the light finally seems to be coming one for the flashy edge rusher. With scouts from the Senior Bowl eager to see how he and the rest of the Longhorns would handle the blue collar physicality from a tough (but not particularly talented) Kansas State group, Omenihu exploded for a season-high three tackles for loss and two sacks among five stops on the day, all of which were solos tackles. Omenihu needs to show greater consistency but scouts can check off a lot of boxes with him, given his long arms, strength, get-off and core flexibility. This video from an earlier game this year against Southern Cal shows many of them.
​
2. Dwayne Haskins, QB, Ohio State, 6-3, 220, 4.59, rSoph, # 7
It was far from the prettiest performance from a quarterback that I saw Saturday but there is simply no overstating how impressed scouts will be with the resiliency and toughness Haskins demonstrated in leading the Buckeyes to a comeback win over Penn State (and their raucous fans) in Happy Valley Saturday night. While fellow underclassmen quarterbacks Justin Herbert (Oregon) and Jarrett Stidham (Auburn), among others, have thus far dominated the early conversation as it pertains to the 2019 NFL draft, Haskins is technically eligible as a redshirt sophomore and has certainly shown off an intriguing skill-set, wowing with his accuracy and arm strength over the first month and entering the pivotal matchup with Penn State with a eye-popping 16 TDs against just one interception. With an inspired effort defensively from the Nittany Lions slowing the vaunted Buckeyes' rushing attack and getting consistent pressure on him, it was on Haskins to deliver quick throws and let Ohio State's speedy receivers do the rest, as he did in the game-winning touchdown toss shown below. I'm not ready to proclaim Haskins as a first round signal-caller just yet but he impressed me more with his poise and production in this game (22 of 39 for 270 yards and three TDs and an interception off a tipped pass) than his previous four starts this season combined.
​
1. Jerry Tillery, DT, Notre Dame, 6-5, 306, 5.32, SR, # 99
The single most impressive performance I saw Saturday night came from Tillery, who dominated a Stanford offensive line used to bullying opponents, helping the Irish turn what was initially a very competitive game pitting two top 10 opponents into a 38-17 thumping by Notre Dame. Scouts, of course, are already well aware of Tillery, who entered the game ranked third among senior defensive tackles on NFLDraftScout.com's board but this was the type of breakthrough performance that talent evaluators had been waiting for from the undeniably gifted (but previously inconsistent) defender. An easy mover given his size with the length and strength to handle duties up and down the line of scrimmage, Tillery recorded six tackles overall, including an eye-popping four sacks Saturday night, nearly matching his previous best single-season total (4.5 sacks last year) in just one game and now giving him seven for the year.
​
Check out past Risers columns:
Week One - ASU WR N'Keal Harry, QBs, sleepers among Week One's NFL draft risers
Week Two - Colorado's Steven Montez, Kentucky's Benny Snell among Week Two NFL draft risers
Week Three - Baker Who? OU's Kyler Murray among Week Three NFL Draft Risers
Week Four - Big-bodied pass-catchers, even more d-linemen among Week Four NFL Draft Risers