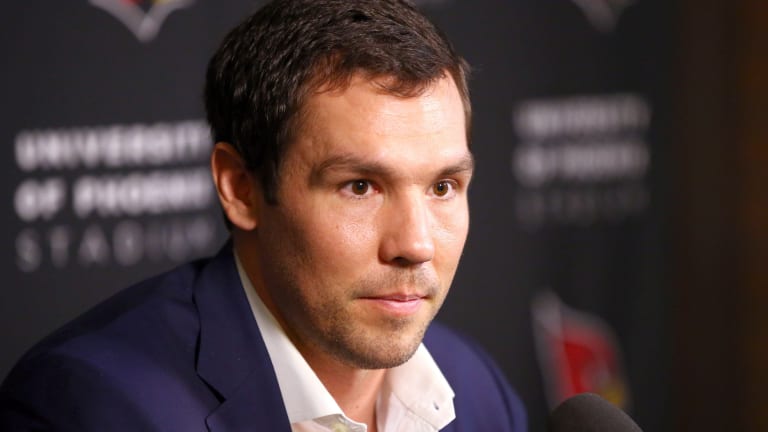 Report: Cardinals making calls to trade up for QB
--- NFLDraftScout.com ---
The Arizona Cardinals have been working the phones, trying to find a willing trade partner to move up in the first round of the NFL Draft.
NFL Network insider Ian Rapoport reported Tuesday that Arizona is "making a lot of noise about moving up" from their No. 15 slot in Thursday night's draft.
"They certainly seem like they're making the most phone calls about possibly moving up for a quarterback," said Rapoport. "It's safe to assume that five or six could be potential slots to trade for a quarterback."
The Denver Broncos currently hold the No. 5 pick and the Indianapolis Colts are at No. 6, already dropping three slots after trading the No. 3 overall selection to the New York Jets.
A report out of Denver by Mike Klis of 9News said the Cardinals are among three teams that have reached out to the Broncos about making a trade for the No. 5 pick.
Arizona signed oft-injured veteran quarterback Sam Bradford and Mike Glennon in the offseason following the retirement of Carson Palmer, but this year's draft is among the deepest in highly rated signal callers.
Bradford, who signed a one-year contract worth $20 million in the offseason, has started all 16 games in a season only twice in seven NFL seasons, and Glennon didn't pan out with the Tampa Bay Buccaneers and Chicago Bears.
"I don't think it's any secret," said Cardinals general manager Steve Keim said of the team's desire to find a long-range answer at quarterback.
NFLDraftScout.com senior analyst Rob Rang lists USC quarterback Sam Darnold first in his most recent Big Board. UCLA quarterback Josh Rosen is second while Wyoming's Josh Allen is ranked 10th. A pair of Heisman Trophy winners, Baker Mayfield of Oklahoma and Lamar Jackson of Louisville, are ranked 14th and Jackson 15th, respectively, by Rang.
The Cardinals reportedly have shown interest in the top four QBs on Rang's Big Board, while former Arizona head coach Bruce Arians, who retired in January, said the team should draft Jackson.
The 65-year-old Arians isn't accepting the notion that Jackson isn't ready to be an NFL-style passer.
"He's been in a pro-style offense," Arians said. "He's more of a scrambler with designed runs. I don't think I'd design runs for him. I would just let him, a la Russell Wilson, take what's there, and whoosh, take off running."