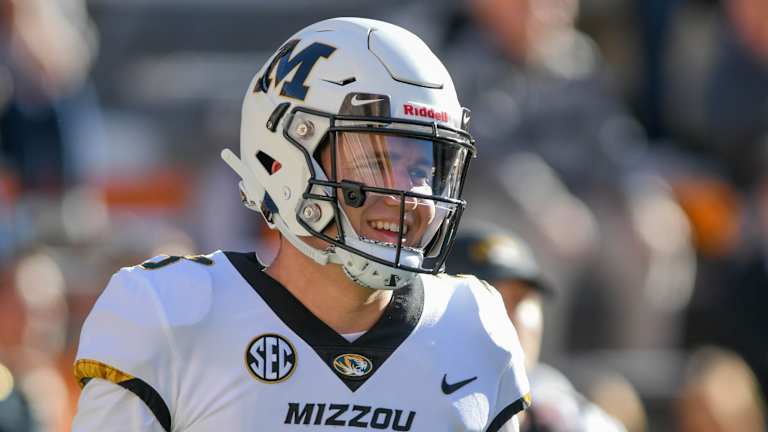 Scout's Eye: Bowl Edition – Part IV
We take a look at the top draft-eligible player on each team as the bowl game season winds down.
Chick-Fil-A Peach Bowl: Florida (9-3) vs Michigan (10-2)
Saturday, 12:00pm ET (ESPN), Mercedes-Benz Stadium (Atlanta, GA)
OLB Jachai Polite, Florida, JR (6-2, 242, 4.65, #99): An explosive edge rusher, Polite serves as the Gators third down specialist, racking up 18 tackles for loss (11 sacks) thus far this season. While lacking elite size, Polite makes up for it with an explosive burst upfield and terrific agility, allowing him to scrape the edge in a flash to close on unsuspecting quarterbacks, while using his disproportionately long arms and strong hands to consistently rip at the ball. He will play in the bowl game, despite rumors that he intends to declare for the draft, where he'll have the opportunity to be be a first round pick.
DT Rashan Gary, Michigan, JR (6-4, 281, 4.67, #3): There has been plenty of buzz surrounding Gary since his arrival at Ann Arbor. He will sit out this matchup as he focuses on preparing for the NFL Draft and starting up his new sports agency firm. He is stout against the run while also demonstrating the ability to collapse the pocket and get after the quarterback. Gary possesses rare athleticism and is expected to have a combine performance for the ages, which should cement his status as a top ten overall selection.
Belk Bowl: South Carolina (7-5) vs Virginia (7-5)
Saturday, 12:00pm ET (ABC), Bank of America Stadium (Charlotte, NC)
WR Deebo Samuel, South Carolina, rSR (5-11, 215, 4.50, #1): If not for his medical rap sheet, Samuel would be in the mix to be a first round selection. He missed much of 2015 and 2017, plus parts of 2016 due to various injuries, which makes sense for him to skip this contest. His power and explosion still seem spectacular and Samuel has stated that he feels stronger and faster than ever before. He was back to his old tricks this season, making spectacular catches and he finished his Gamecocks career with four kick returns for touchdowns. He currently projects as a Day 2 value.
FS Juan Thornhill, Virginia, SR (6-0, 210, 4.53, #21): The recent Senior Bow, invite will participate in this game and will finish his Cavaliers career with 38 consecutive starts. Thornhill brings a lot of intangibles to the table, including size, speed and versatility. He also possesses sound coverage skills and is quick to fill holes. Look for the hard-hitting safety, who owns a 40-inch vertical jump, to be a riser leading up to the draft and expect to hear his name called early on Day 2.
NOVA Home Loans Arizona Bowl: Arkansas State (8-4) vs Nevada (7-5)
Saturday, 1:15pm ET (CBSSN), Arizona Stadium (Tucson, AZ)
QB Justice Hansen, Arlansas State, rSR (6-3, 224, 4.86, #15): A dual-threat signal caller, Hansen possesses a strong arm and fluid throwing motion, along with the mobility to extend plays on the move. He began his career at Oklahoma, before transferring to Butler Community College and eventually landed at Arkansas State, finishing as the Red Wolves all-time passing touchdowns leader (83). While his laid back personality didn't always mesh well with more intense coaches, he has built a resume worthy of NFL consideration. Look for Hansen to receive an opportunity at the next level as an undrafted free agent.
OLB Malik Reed, Nevada, rSR (6-1, 235, 4.87, #90): An undersized edge rusher with burst and bend, Reed made the move from defensive end to strong side linebacker as a senior but maintained his role as a blitzing specialist, while gaining valuable experience learning how to drop back in pass coverage. The Wolf Pack team captain registered 72 tackles, 15.5 tackles for loss, eight sacks, four forced fumbles, two fumble recoveries and a touchdown this season, earning Co-Team MVP honors The Alabama native also owns good bloodlines, as his father was a Hall of Fame basketball player at Troy. He projects as a potential Day 3 prospect.
Goodyear Cotton Bowl Classic: Notre Dame (12-0) vs Clemson (13-0)
Saturday, 4:00pm ET (ESPN), AT&T Stadium (Arlington, TX)
CB Julian Love, Notre Dame, JR (5-11, 193, 4.50, #27): Pro scouts have every right to have a crush on Love, who possesses fluid footwork, excellent hand placement and great ball instincts. The Chicago native is a physical, smart cover corner, who often knocks receivers off their launching mark and holds the school record for all-time pass breakups (38). Coaches love the way he never panics and he has been mentored by Fighting Irish defensive backs coach Todd Lyght, a former NFL first round pick (1991). Love is viewed as a top 50 overall prospect.
DE Clelin Ferrell, Clemson, rJR (6-4, 260, 4.78, #99): The Tigers wrecking ball on defense, Ferrell possesses the size, quickness and flexibility to be a consistent double-digit sack master at the next level. He owns a legitimate repertoire, beating tackles with speed, power and technique, alike. Former NFL general manager Scot McCloughan compared his combination of length and athleticism to Julius Peppers. The draft stock for Ferrell is solid as a rock and he should be viewed as a top ten talent come April.
Capital One Orange Bowl: Oklahoma (12-1) vs (Alabama (13-0)
Saturday, 8:00pm ET (ESPN), Hard Rock Stadium, (Miami, FL)
WR Marquise Brown, Oklahoma, JR (5-11, 162, 4.36, #5): The man they call "Hollywood" enters this content nursing an ankle injury that has limited him in practice. When healthy, Brown is a big time vertical threat who can blow the top off of any defense and flashes the elusiveness to make defenders miss in the open field. He really elevated his game this season, proving to be a more polished receiver, expanding his route tree and becoming a more dangerous threat underneath in the passing attack. His overall game is very similar to DeSean Jackson (Bucs) and with his type of speed, Brown could be destined for round one.
DT Quinnen Williams, Alabama, rSO (6-3, 297, 4.96, #92): A redshirt sophomore, Williams will be eligible for this year's draft and was arguably the best defensive player in college football this season. His size, speed, strength and athleticism, along with his quickness off the ball, allow him to be a dominant run stuffer but also an effective pass-rusher. Williams shows sound technique with his hand placement and the athleticism necessary to split double teams. Nick Saban has praised his work ethic and leadership, while teammate Jonah Williams calls him a 300-pound bar of soap. This is a blue chip prospect who should be taken within the first five picks.
Military Bowl Presented By Northrup Grumman: Cincinnati (10-2) vs Virginia Tech (6-6)
Monday, 12:00pm ET (ESPN), Navy-Marine Corps. Stadium, (Annapolis, MD)
DT Cortez Broughton, rSR (6-2, 290, 5.06, #96): The Dr. Jekyll and Mr. Hyde career of Broughton will keep scouts up at night trying to figure out if they are getting the interior pass-rusher that we saw flashes of in 2016 (five tackles for loss) and explosive at times in 2018 (18 tackles for loss) or the inconsistent player in 2017 (three and a half tackles for loss), where he was a non-factor for most of the season. Broughton possesses strong hands and his versatility has allowed Cincinnati to move him around the line more frequently this season. He's viewed as a Day 3 prospect with upside and will compete in the East-West Shrine Game.
DT Ricky Walker, Virginia Tech, SR (6-2, 300, 5.10, #8): Dubbed the "Bell Cow" by defensive coordinator Bud Foster, Walker is the lone senior starter on the Virginia Tech defense. Known as a strong, intense competitor, he possesses great quickness of the ball snap, stout strength, extreme hand quickness and tremendous footwork. Walker showed his toughness this season, playing through a sprained right foot injury suffered in the Hokies' season opener. Built with a thick upper-body**,** he's a bull when pass-rushing and often requires being double-teamed. Walker falls in the Day 3 category and will also look to build up his stock in the East-West Shrine Game.
Hyundai Sun Bowl: Stanford (8-4) vs Pittsburgh (7-6)
Monday, 2:00pm ET (CBS), Sun Bowl Stadium, El Paso, TX
RB Bryce Love, Stanford, SR (5-9, 196, 4.36, #20): Returning to school for his senior season earned Love a degree but cost him some money in the draft, as an injury-plagued senior season has deterred his stock a bit. Evaluators will need to determine how much risk/reward value there is to Love, who is a game-breaker when healthy but has been categorized as a medical red flag. The aspiring pediatrician has removed himself from this game in order to regain his health for the NFL Combine. Cracking the first round could prove tough but Love offers tremendous value as an early day two pick and could be the luxury piece to help elevate an offense to the next level.
RB Qadree Ollison, Pittsburgh, rSR (6-1, 230, 4.63, #30): After earning ACC Freshman of the Year honors as a freshman, running for 1,121 yards while subbing for James Conner (Steelers), Ollison found himself stuck down on the depth chart when Conner returned, as he rushed for just 525 yards combined as a sophomore and junior. He saved his best for last however, tallying a career high 1,190 yards, while averaging 6.3 yards per carry and matching his freshman touchdown total of 11. His ability to break arm tackles and gain yards after contact (possesses a strong stiff-arm), are some of his most valuable traits. Ollison has a strong lower body, enabling him to push the pile and move the chains. After persevering through a turbulent career, he now has a very good chance of being drafted.
Redbox Bowl: Michigan State (7-5) vs Oregon (8-4)
Monday, 3:00pm ET (FOX), Levi's Stadium (Santa Clara, CA)
DE Kenny Willekes, Michigan State, JR (6-3, 260, 4.86, #48): From walk-on to All-American, the emergence of Willekes is one of the finer stories in college football this season, as the Spartans pass-rusher has racked up 20.5 tackles for loss and eight sacks. Known as the hardest worker on team, according to teammates, the scrappy Willekes spent his redshirt freshman season playing running back, tight end and middle linebacker before making the switch to defensive end in 2016. His non-stop motor and active hands (batted down four balls this year) can take a toll on an offense over the course of a game. Willekes, who is expected to play in this matchup has been mum on whether or not he intends to enter the draft.
QB Justin Herbert, Oregon, JR (6-5, 225, 4.81, #10): The decision by Herbert to forego the draft and return for his senior season dims the spotlight some as he enters this matchup but he's now officially on the clock for 2020. A smart decision-maker with mobility in the pocket, high velocity on his fastball and prototypical size, Herbert has shown the ability to make all the throws. He's also an excellent athlete with the ability to improvise when needed. Herbert struggled with consistency and durability down the stretch of the season, two areas that scouts would like to see him prove upon next year.
AutoZone Liberty Bowl: Missouri (8-4) vs Oklahoma State (6-6)
Monday, 3:45pm ET (ESPN), Liberty Bowl (Memphis, TN)
QB Drew Lock, Missouri, SR (6-3, 225, 4.89, #3): As of this post, every indication is that Lock will play against Oklahoma State. With the announcement of Herbert returning, Lock becomes a more attractive prospect as a first round candidate. His cannon arm, mobility and size provides Lock with all the intangibles that teams look for. However, Lock can be a bit too confident in his arm and tends to force bad throws at times. Due to his aforementioned toolbox and ability to play outside of a moving pocket, Lock will be viewed as a potential franchise quarterback.
OLB Jordan Brailford, Oklahjoma State, rJR (6-3, 250, 4.74, #94): After enduring several injury-riddled years, Brailford emerged as one of the nation's premier pass-rushers with 17 tackles for loss and 10 sacks, lining up at defensive end, outside linebacker and inside linebacker, while keeping opponents guessing where he might be coming from next. Brailford blends great size and strength to generate push, which allows him to apply constant pressure on the quarterback. While fast, he can also bull rush with power or use one of his dip, rip or swim moves, as he also possesses great bend. A fifth-year junior, Brailford (age 23) departs Stillwater with two degrees (business management and marketing), so it's no surprise that he is foregoing his final year of eligibility. He currently carries an early-mid round grade.
San Diego County Credit Union Holiday Bowl: Northwestern (8-5) vs Utah (9-4)
Monday 7:00pm ET (FS1), SDCCU Stadium (San Diego, CA)
CB Montre Hartage, Northwestern, SR (6-0, 195, 4.52, #24): An overlooked corner who has been stellar in man coverage, Hartage does a solid job in both man and zone coverage. A three-year starter with excellent size and length, he has pesky hands that can be frustrating to opposing wide outs and he's savvy enough to know how not to get flagged. Hartage possesses great ball skills, has no qualms about lining up on both sides of the field and is usually matched up against the number one receiver. His size and skill-set projects as an outside CB2 who should hear his name sometime during the middle rounds.
CB Julian Blackmon, Utah, JR (6-0, 187, 4.48, #23): A long, lean, fast corner who is able to contest jump balls and battle taller receivers, Blackmon possesses a great blend of size and speed, along with fluid hips. He does a fantastic job of being able to bait opposing quarterbacks and had a pick six this season, plus 44 tackles and 10 pass deflections. His attacking, confident mindset can cause him to be ultra-aggressive, which has resulted in him being burned on occasion. While his has been streaky, Blackmon offers plenty of upside as a Day 3 developmental player.
TaxSlayer Gator Bowl: North Carolina State (9-3) vs Texas A&M (8-4)
Monday, 7:30pm ET (ESPN), EverBank Field (Jacksonville, FL)
WR Kelvin Harmon North Carolina State, JR (6-2, 213, 4.54, #3): Following in the footsteps of his former teammate Bradley Chubb (Broncos), the Wolfpack junior wide out will skip the team's bowl game as he prepares for the upcoming draft. Harmon is a tall, physical target who is near automatic on back shoulder throws and is a great leaper in jump ball situations, often winning the high point battle. A big play waiting to happen, nearly one third of his receptions have gone for 20-plus yards. The New Jersey native was originally born in Liberia before moving to the United States—his next destination will be the NFL as a likely first round pick.
TE Jace Sternberger, Texas A&M, rJR (6-4, 250, 4.83, #81): One of the more well-rounded tight end prospects in college football, Sternberger has yet to declare his intentions for the NFL Draft but he possesses a great mix of block, catch and run skills. The transfer exploded onto the NFL radar this season with 47 receptions, 804 receiving yards and 10 touchdowns, after registering just one reception during two seasons in Kansas. He also played one year at Northeastern Oklahoma A&M (21-336-6). A three-sport athlete in high school, Sternberger competed in basketball, football and track. He projects as a Day 2 selection.
Outback Bowl: Mississippi State (8-4) vs Iowa (8-4)
Tuesday, 12:00pm ET (ESPN2), Raymond James Stadium (Tampa, FL)
DE Montez Sweat, Mississippi State, SR (6-5, 241, 4.78, #9): A menace who is constantly disrupting the backfield, Sweat has been downright dominant at times this season thanks to his speed, power and athleticism. He possesses a diverse pass-rush repertoire, while playing defensive end and outside linebacker in the Bulldogs hybrid defensive scheme. He played his freshman season of football at Michigan State, then a season at Copiah-Lincoln Community College, before landing at Mississippi State. The scouting community was happy to hear that Sweat, a potential first round pick, will be participating in both his bowl game and the Senior Bowl.
TE Noah Fant, Iowa, JR (6-4, 241, 4.78, #87): The Hawkeyes athletic, pass-catching tight end has decided to sit out this game and instead focus on training for the draft, which could result in a raising of the roof in Indianapolis, as Fant has registered a 42" vertical jump and broke the Iowa school record for his timed three-cone drill, according to coaches. On the field, Fant is a big play waiting to happen, scoring 18 touchdowns over the past two seasons and thriving in the team's up-tempo offense this year. Some NFL teams may attach a "buyer beware" tag due to his subbing out of games for poor blocking but his offensive prowess probably lands him in round one.
PlayStation Fiesta Bowl: LSU (9-3) vs UCF (12-0)
Tuesday, 1:00pm ET (ESPN), University of Phoenix Stadium (Glendale, AZ)
CB Andraez Williams, LSU, SO (6-1, 182, 4.50, #29): Known simply as "Greedy," no one can blame him for sitting out this contest, as the premier cornerback prospect in the country projects as a top five selection and has a young daughter to provide for. Williams shows fluid footwork, quick hips and seems able to stick just about anyone. The lengthy corner is also speedy—he has reportedly been timed in the 4.2-range and does a phenomenal job locating the football. He's the complete package with the ability to be a lockdown corner at the next level and is assured to be invited to the NFL Draft festivities in Nashville.
FS Richie Grant, UCF, rSO (6-0, 194, 4.55, #27): While only a redshirt sophomore, Grant is draft-eligible and really emerged for the Golden Knights with an outstanding season, recording 101 tackles (three for loss), six interceptions, two forced fumbles and a fumble recovery in twelve games. Coaches have praised his motivation to get bigger, stronger, faster and take on more of a leadership role. A high school track standout, Grant was also a return specialist during his prep days. The Florida native is a turnover machine with great instincts and anticipation, along with prototypical size. When he does decide to make himself eligible, Grant will be an early round selection.
VRBO Citrus Bowl: Kentucky (9-3) vs Penn State (9-3)
Tuesday, 1:00pm ET (ABC), Camping World Stadium (Orlando, FL)
OLB Josh Allen, Kentucky, SR (6-4, 260, 4.59, #41): After submitting his name to the NFL Draft Advisory Board a year ago, Allen was told to stay in school and bulk up. The New Jersey native responded by adding 30 pounds to his frame during the offseason and matching his sack total of the previous two seasons combined (14) playing the "Jack" linebacker position. Despite getting bigger, Allen appears to have maintained his speed and quickness. His improved ability to get off blocks has resulted in a more polished overall game and Allen stands a chance to hear his name called within the top ten picks of the draft. He is a "go" for the Citrus Bowl.
CB Amani Oruwariye, Penn State, SR (6-0, 209, 4.57, #21): The "Takeaway King" had his finest season yet, playing an aggressive in-your-face style of cornerback and showing no fear of taking risks. His improved confidence is a result of his renowned dedication to the film room and improved technique, which has elevated his draft stock. The Florida native is back on his home turf for his final collegiate game and the best football is yet to come for Orunwariye, who looks to become the first Nittany Lions cornerback ever to be selected in the first round.
Rose Bowl: Washington (10-3) vs Ohio State (12-1)
Tuesday, 5:00pm (ESPN), Rose Bowl (Pasadena, CA)
CB Byron Murphy, Washington, rSO (5-11, 182, 4.47, #1): One of the more versatile cornerbacks in the nation, Murphy has shown the ability to play press man coverage, utilizing his exceptional closing speed and also has lined up in the nickel, showing off his quickness and ability to stick smaller wide outs. The physical corner may lack ideal size and will occasionally miss an open-field tackle but his overall skill-set translates to a CB1 at the next level. He allowed just 25 receptions on 48 targets this season, while registering 13 pass breakups, according to Pro Football Focus. The Arizona native was a basketball standout in high school and possesses tremendous athleticism. His phenomenal instincts and true nose for the football will warrant early round one consideration should the redshirt sophomore decide to declare.
DE Nick Bosa, Ohio State, JR (6-3, 270, 4.76, #97): An Ohio State legacy player, Bosa is likely the odds-on favorite to be the most discussed prospect leading up to the 2019 NFL Draft. He announced his intent to enter the draft back in October and has been rehabbing a "core muscle" injury as he prepares for the draft. Bosa possesses the ability to impact both the run game and be a disruptive force against the pass, blending power and finesse to win the leverage battle. He's stout at the point of attack and has proven to win with his powerful bull-rush but also demonstrates impressive hand technique with his pass rush repertoire. Many have pegged Bosa to be the top player in the 2019 NFL Draft.
Sugar Bowl: Texas (9-4) vs Georgia (11-2)
Tuesday, 8:30pm (ESPN), Mercedes-Benz Stadium (New Orleans, LA)
CB Kris Boyd, Texas, SR. (6-0, 200, 4.50, #2): There's been plenty of bumps along the way but Boyd has developed into one of the finer senior cornerback prospects in the land and is expected to test extremely well come February. He possesses size, speed and strength, as Boyd can bench press up to 355 pounds and squats 600. The Texas native has shown a lack of discipline at times, being flagged for uncalled penalties, one area of his game that coaches will look to clean up as he transitions to the pro level. Boyd is currently one of the most slept on prospects and is a strong Day 1 candidate, as evidenced by his Senior Bowl invite.
CB Deandre Baker, Georgia, rJR. (5-11, 180, 4.49, #18): Some would say that Baker owns the most impressive resume, consistently locking down the top receivers in the SEC on a weekly basis. Amazingly, the shut down corner did not allow a single touchdown during his final two seasons of play. Blessed with excellent size, tremendous change of direction capability and extremely quick makeup speed, Baker possesses all the traits that NFL decision-makers crave. Baker initially intended to play in this matchup but later decided it was ultimately best for his future to sit out and begin the process of proving that he deserves to be the first cornerback chosen come April.
Previous Bowl Prospect Previews
Scout's Eye: Bowl Edition – Part III
Scout's Eye: Bowl Edition – Part II
Scout's Eye: Bowl Edition – Part I
Coming Next Week:*Scout's Eye College Football Championship Edition