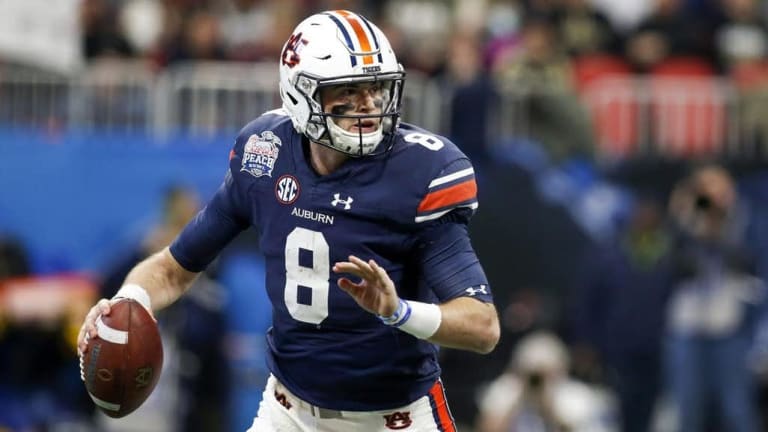 Scout's Eye: Top NFL Prospects to Watch in Week 1
By Ric Serritella, NFLDraftScout.com
Here's a look at some of the top prospects to watch during week one of the 2018 college football season:
Washington Huskies vs. Auburn Tigers
Saturday, 3:30 p.m. ET (ABC), Mercedes-Benz Stadium (Atlanta, Ga.)
The most compelling week one matchup features two teams ranked inside the top 10, each of which won 10 games a season ago. Washington head coach Chris Petersen has done a masterful job of recruiting, as the Huskies have produced 10 selections over the past two NFL drafts, including six players taken inside the top 50. Auburn had three players chosen in the second round of the 2018 draft. It was the first time during the Gus Malzahn era in which the Tigers had a player selected before the third round.
Five draft-eligible players to focus on:
QB Jarrett Stidham, Auburn, Jr. (6-2, 214, 4.68, #8, Day One): An intelligent, accurate pocket passer with a live arm, Stidham impresses with his poise, leadership, overall mechanics and ability to elude the rush. A first-round talent, he's been working with private quarterbacks coach Jordan Palmer during the offseason over the past few years and has made a conscious effort to work with the Auburn coaching staff on cutting down his turnovers entering 2018.
OT Trey Adams, Washington, Sr. (6-7, 327, 5.30, #72, Day One): After suffering a torn ACL in his right knee last October, Adams put his NFL Draft hopes on hold. He returned to practice less than a month ago but appears to be on his way to returning back to dominant form. Along with his mammoth size, Adams demonstrates great power, athleticism and hand placement, to go along with a bulldog demeanor in the trenches.
SS Taylor Rapp, Washington, Jr. (6-0, 204, 4.59, #7, Day Two): Talent evaluators will see a more svelte Rapp, who shed eight pounds during the offseason in an attempt to become lighter on his feet. He possesses natural instincts and a true nose for the football. His read-and-react skills are off the charts, as Rapp has been timed at 3.88 seconds in the short shuttle, which would have placed him first among all defensive backs invited to the Combine this year.
RB Myles Gaskin, Washington, Sr. (5-9, 191, 4.50, #9, Day Two): An elusive, cutback runner, Gaskin runs with a low center of gravity and waits patiently for his holes to develop. His burst and ability to make defenders miss are two of his most impressive traits, not to mention he has spin moves for days. He was given a fourth-round grade by the advisory board after last season, and his short stature will work against him.
WR Darius Slayton, Auburn, Jr. (6-1, 190, 4.42, #81, Day Three): Look for Slayton, who averaged 22.2 yards per catch last season, to have a more diverse role in the Tigers offense. Known primarily as a deep threat, he has been working on expanding his route tree and becoming a more complete receiver. He battled through injuries early last year, so if he can stay healthy and produce, it'll handsomely improve his draft value.
Other Washington prospects to watch:
DT Greg Gaines, Sr. (6-1, 322, 5.34, #99, Day Three)
OT Kaleb McGary, Sr. (6-6, 318, 5.27, #58, Day Three)
TE Drew Sample, Sr. (6-4, 259, 4.86, #88, Day Three)
SS JoJo McIntosh, Sr. (6-0, 219, 4.59, #14, Day Three)
QB Jake Browning, Sr. (6-1, 210, 4.78, #3, Day Three)
Other Auburn prospects to watch:
OT Prince Tega Wanogho, Jr. (6-6, 301, 4.78, #75, Day Three)
DT Dontavius Russell, Auburn, Sr. (6-2, 310, 5.20, #95, Day Three)
FB Chandler Cox, Auburn, Sr. (6-0, 239, 4.82, #27, Day Three)
DT Andrew Williams, Auburn, Sr. (6-3, 286, 4.96, #79, Day Three)
OTHER KEY MATCHUPS
Michigan Wolverines at Notre Dame Fighting Irish
Saturday, 7:30 p.m. ET (NBC), Notre Dame Stadium (South Bend, Ind.)
Three draft-eligible players to focus on:
DT Rashan Gary, Michigan, Jr. (6-4, 281, 4.67, #3, Day One): An explosive athlete, Gary flashes a lighting quick first step and rare athleticism. He is stout against the run while also demonstrating the ability to collapse the pocket and get after the quarterback. At 281 pounds, Gary was timed at 4.57 seconds in the 40 by Michigan coaches and could have a Combine performance like we've never seen before.
OLB Devin Bush, Michigan, Jr. (5-11, 240, 4.78, #10, Day One): Many would argue that Bush is the most vital player on the Wolverines defense with his tenacious style of play and leadership. He's extremely quick to swarm to the football and possesses exceptional instincts. The chiseled team captain is a potential first-round pick, despite critics who want to harp on his lack of height.
TE Alize Mack, Notre Dame, Sr. (6-4, 247, 4.73, #86, Day Two): One of the more volatile prospects in this year's draft class, Mack was suspended for the bowl game last season due to an internal manner. He missed the previous year after failing to qualify academically. While the hype has outweighed his production, the Las Vegas native is blessed with prototypical size and tremendous athleticism. Remarkably, every Notre Dame starting tight end since 2004 has been selected in the NFL Draft.
Other Michigan prospects to watch:
DE Chase Winovich, Jr. (6-3, 253, 4.82, #15, Day Two)
QB Shea Patterson, Jr. (6-1, 193, 4.67, #2, Day Two)
CB Lavert Hill, Jr. (5-11, 177, 4.47, #24, Day Three)
RB Karan Higdon, Sr. (5-9, 190, 4.50, #22, Day Three)
FS Tyree Kinnel, Sr. (5-11, 201, 4.56, #23, Day Three)
DT Bryan Mone, Sr. (6-3, 325, 5.27, #90, Day Three)
OT Grant Newsome, Sr. (6-6, 314, 5.07, #77, Day Three)
Other Notre Dame prospects to watch:
CB Julian Love, Jr. (5-11, 193, 4.50, # 27, Day Two)
DT Jerry Tillery, Sr. (6-5, 306, 5.32, #99, Day Two)
OG Alex Bars, Sr. (6-5, 312, 5.27, # 71, Day Three)
OC Sam Mustipher, Sr. (6-2, 305, 5.19, #53, Day Three)
OLB Drue Tranquill, Sr. (6-1, 231, 4.64, #23, Day Three)
ILB Tevon Coney, Sr. (6-0, 240, 4.67, #4, Day Three)
PK Justin Yoon, Sr. (5-9, 192, 4.90, #19, Day Three)
​
​
Miami Hurricanes vs. LSU Tigers
Sunday, 7:30 p.m. ET (ABC), AT&T Stadium (Arlington, Texas)
Three draft-eligible players to focus on:
CB Andraez Williams, LSU, So. (6-1, 182, 4.50, #29, Day One): "Greedy" burst onto the NFL radar last season, leading the SEC in interceptions (six) and passes defended (17) as a redshirt freshman. Williams shows fluid footwork, quick hips and seems able to stick just about anyone. The lengthy corner is also speedy -- he has reportedly been timed in the 4.2-range per reports and does a phenomenal job locating the football. He's the complete package with the ability to be a lockdown corner at the next level.
ILB Shaquille Quarterman, Miami, Jr. (6-0, 240, 4.83, #55, Day One): The hard-hitting Hurricanes' field general brings a tough-minded mentality with his leadership and poise, to go along with all the intangibles. Quarterman possesses extremely quick closing speed, great strength and the ability to shed blocks. His sideline-to-sideline, north/south prowess allows him to cover a tremendous amount of ground, as evidenced by his 167 total tackles and superb coverage during his first two seasons.
CB Michael Jackson, Miami, Sr. (6-0, 200, 4.48, #28, Day One): With his size, physicality and speed, scouts view Jackson as a player who could play cornerback or safety in the NFL. He has just 10 career starts and received a day two grade from the NFL Draft Advisory Board last year. Another strong season, combined with his size, versatility and quickness could garner him first-round consideration.
Other Miami prospects to watch:
WR Ahmmon Richards, Jr. (6-1, 190, 4.52, #82, Day Two)
DT Gerald Willis III, Sr. (6-3, 285, 4.94, #9, Day Two)
OLB Michael Pinckney, Jr. (6-1, 228, 4.67, #56, Day Two)
SS Jaquan Johnson, Sr. (5-11, 190, 4.46, #4, Day Two)
DE Joe Jackson, Jr. (6-5, 258, 4.83, #99, Day Two)
RB Travis Homer, Jr. (5-10, 195, 4.52, #24, Day Three)
Other LSU prospects to watch:
ILB Devin White, LSU, Jr. (6-1, 182, 4.50, #40, Day One)
OG Garrett Brumfield, Sr. (6-2, 299, 5.14, #78, Day Two)
LS Blake Ferguson, Jr. (6-3, 235, 4.70, #50, UDFA)
Louisville Cardinals vs. Alabama Crimson Tide
Saturday, 8 p.m. ET (ABC), Camping World Stadium (Orlando, Fla.)
Three draft-eligible players to focus on:
DE Raekwon Davis, Alabama, Jr. (6-6, 303, 5.07, #99, Day One): A key piece to the Crimson Tide defensive front, Davis has been used in an array of ways, from run-stuffer to pass-rusher. Big, strong and athletic, he's a lean, mean, backfield-disrupting machine who has been praised for his work ethic and competitive drive. His ability to create havoc from the interior or on the edge speaks to his extraordinary athleticism. Davis is in contention to be the No. 1 overall player selected come April.
ILB Mack Wilson, Alabama, Jr. (6-1, 231, 4.73, #30, Day One): Look for Wilson to elevate his game and become one of the most fierce backers in the nation, coming off a stellar performance during the college football playoffs, where he racked up 18 tackles and nabbed an interception during his first two career starts. He played the majority of last season with a cracked bone in his right foot. When fully healthy, scouts recognize that his speed, bend and ball pursuit is as good as any linebacker in the draft.
WR Jaylen Smith, Louisville, Sr. (6-3, 219, 4.52, #9, Day Three): A tall target who can stretch the defense as a deep threat, Smith can also create separation underneath and has showcased the propensity to make big plays. He served as Lamar Jackson's favorite target last season, accumulating 980 receiving yards and seven touchdowns, despite missing three games due to a wrist injury. Smith had an emergency appendectomy in the beginning of training camp but has since returned to action and will be ready to showcase his talents on the national stage.
Other Alabama prospects to watch:
OT Jonah Williams, Jr. (6-5, 301, 5.02, #73, Day One)
OLB Anfernee Jennings, Jr. (6-2, 265, 4.79, #33, Day One)
DE Isaiah Buggs, Sr. (6-4, 292, 4.94, #49, Day Two)
RB Damien Harris, Sr. (5-10, 216, 4.55, #34, Day Two)
OLB Christian Miller, Sr., (6-3, 240, 4.76, #47, Day Two)
OG Ross Pierschbacher, Sr. (6-3, 304, 5.21, #71, Day Three)
OG Lester Cotton, Sr. (6-3, 324, 5.32, #66, Day Three)
Other Louisville prospects to watch:
TE Micky Crum, Sr. (6-4, 248, 4.86, #83, Day Three)
WR Dez Fitzpatrick, Louisville, So., (6-1, 200, 4.44, #7, UDFA)
DT GG Robinson, Louisville, Jr. (6-3, 302, 5.20, #94, UDFA)