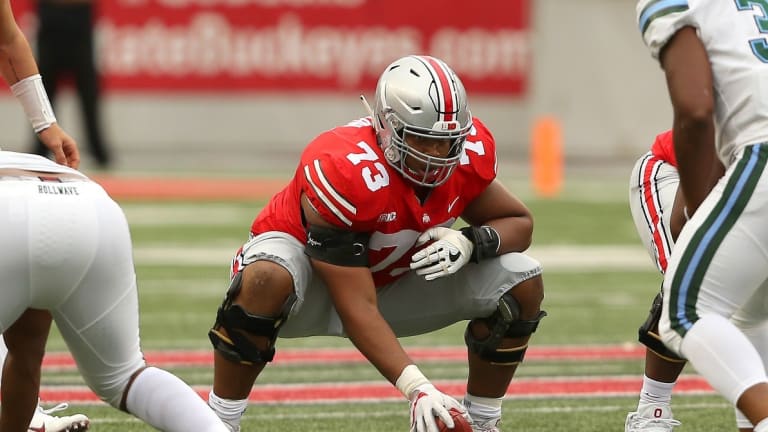 Scout's Eye: Top NFL Prospects to Watch in Week 5
Marquee players in matchups, starting with Ohio State-Penn State
Ohio State (4-0) at Penn State (4-0)
Saturday, 7:30 p.m. ET (ABC), Beaver Stadium (University Park, Pa.)
In what could end up being a college football playoff elimination game, Penn State plays host to Ohio State in a battle of two undefeated teams in the Big Ten. The Buckeyes have manufactured 26 selections over the past three drafts, while the Nittany Lions produced five draft picks last year, so this matchup has plenty for NFL scouts to be excited about.
Both programs have finished in the top 10 in each of the past two seasons. Penn State is ranked No. 9 heading into this contest, while Ohio State sits at No. 4. Last season, OSU held on in Columbus for a 39-38 victory; the year before, PSU defended Happy Valley with a 24-21 win. Expect another thriller in State College, as this one has the makings of the game of the year.
Five draft-eligible prospects to focus on:
CB Kendall Sheffield, Ohio State, JR. (5-11, 185, 4.50): One of the fastest players in the country, Sheffield boasts a hair-raising 6.663-second 60-meter school record as a member of the Buckeyes track team. His quickness translates to the gridiron, where his make-up speed and ability to stick opposing wideouts one-on-one make him a first-round candidate. His ability to locate and keep his eyes on the football are top notch, while he also does a nice job of dislodging would-be catches and creating fumbles. Coaches have urged Sheffield to be more aggressive with his play at the line scrimmage. He originally began his career at Alabama before spending one season at Blinn College and ultimately landing in Columbus. Next stop, NFL.
OL Michael Jordan, Ohio State, JR. (6-6, 310, 5.24, #73): The big man has been put to the test in 2018, as the Buckeyes have asked Jordan to man the center spot after playing the previous two seasons at guard. It has resulted in a handful of low and borderline dangerous snaps, which could prove costly in a close matchup such as this one. While the big, powerful mauler has struggled at his new position, it shouldn't hurt his draft stock too much, as his best position at the next level projects as guard. A bit of an ironman, Jordan has started 31 consecutive games heading and was the first true freshman to start on the Ohio State offensive line since Orlando Pace in 1994.
ILB Tuf Borland, Ohio State, rSO. (6-1, 230, 4.84, #32): After suffering an Achilles' injury in March, Borland was back on the field for the start of the season just six months later. However, the Penn State game will be the first time the coaches take their middle backer off a "pitch count." Borland lives up to the "tough" moniker, in addition to specializing in engaging and shedding blocks with great hand combat, which he attributes to his intense offseason workouts. He comes from a football family lineage, as his father, Kyle, played for Wisconsin and the Rams. His father and uncle were all high-level coaches. Also be on the lookout for his younger brother Trevor, who is a high school defensive end in Chicago.
RB Miles Sanders, Penn State, JR. (5-11, 224, 4.50, #24): Following in the legacy of Saquan Barkley would be a daunting task for any player, but Sanders has done so quite admirably. Primarily a return man during his first two seasons, Sanders struggled with fumbling issues early in his career but has since earned his stripes with his ability to hit the hole hard, lower the shoulder boom and keep fighting for the tough yardage. He has bulked up 20 pounds since his arrival in Happy Valley, which has translated to making him a more powerful runner.
The Nittany Lions' new star is coming off a 200-yard rushing performance against Illinois, earning him Big Ten Co-Offensive Player of the Week.
QB Trace McSorley, Penn State, rSR. (6-0, 209, 4.57, #21): An outstanding collegiate quarterback, McSorley has just about re-written every major Penn State passing record (he needs 325 yards to become the school's all-time leading passer), while thriving in the Penn State zone read scheme. The offense revolves around quick reads and decision-making, something McSorley does extremely well. However, his passing mechanics go against the grain, as he's more of a pusher than a thrower and tends to struggle under pressure. The dual-threat quarterback can pick up first downs with his feet but his lack of size and average arm strength make it difficult to envision him transitioning to the next level.
Other Ohio State prospects to watch:
OT Isaiah Prince, SR. (6-6, 310, 5.16, #59):
WR Parris Campbell, rSR. (6-0, 208, 4.39, #21)
WR Binjimen Victor, Ohio State, JR. (6-3, 195, 4.53, #9)
WR Johnnie Dixon, SR. (5-11, 195, 4.54, #5)
OLB Dante Booker, SR. (6-2, 240, 4.68, #33)
SS Jordan Fuller, JR. (6-1, 207, 4.59, #4)
Other Penn State prospects to watch:
CB Amani Oruwariye, SR. (6-0, 209, 4.57, #21)
OG Connor McGovern, SR. (6-4, 312, 5.19, #66)
WR Juwan Johnson, rJR. (6-3, 226, 4.59, #84)
CB John Reid, rSr CB 5-10 187 4.53 #29)
OG Ryan Bates, rJR (6-3, 312, n/a, #52)
OG Steven Gonzalez, rSR (6-3, 341, 5.47, 74)
DE Shareef Miller, rJR (6-5, 257, 4.86, #48)
Stanford (4-0) at Notre Dame (4-0)
Saturday, 7:30 p.m., ET (NBC), Notre Dame Stadium (Notre Dame, Ind.)
Three draft-eligible prospects to focus on:
ILB Te'von Coney, Notre Dame, rSR. (6-0, 240, 4.67, #4): He has made a seamless transition to the MIKE position (moving over from the BUCK), with 32 tackles through four games, after leading the Fighting Irish with 116 tackles a year ago. Coney possesses an explosive first step, great bend and natural football instincts. He made it a point of emphasis to work on improving his pass coverage during the offseason, and it looks to be an enhanced aspect of his game. The Florida native has had a roller-coaster career that consists of a marijuana arrest and a benching by the coaching staff. Coney has since emerged as a true field general for Notre Dame and has played himself into a solid mid-round draft grade.
OLB Joey Alfieri, Stanford, rSR. (6-2, 241, 4.72, #32): An 80-yard fumble recovery for a touchdown by Alfieri provided a jolt to the Cardinal in its comeback victory over Oregon last week. Alfieri also came up big in a win over USC, with a forced fumble and 1.5 sacks. The fifth-year senior constantly plays full throttle and has been used on the edge this season, making the switch from his inside backer spot.
OG Alex Bars, Notre Dame, rSR. (6-5, 312, 5.27, #71): Sliding into the left guard role this season, Bars looks like a much-more polished player with improved technique and pad level. He appears fully healed from a broken left ankle endured last season and is a feisty dog in the trenches. The Nashville native hails from a football family, including his dad and two brothers, all of whom have played major college football.
Other Stanford prospects to watch:
RB Bryce Love, SR. (5-9, 196, 4.36, #20)
OG Nate Herbig, JR. (6-3, 348, 5.47, #63)
P Jake Bailey, SR (6-1, 193, 4.90, #14)
OT A.T. Hall, rSR (6-5, 297, 5.06, #75)
CB Alijah Holder, rSR (6-1, 191, 4.56, #13)
OG Brandon Fanaika, rSR (6-2, 315, 5.37, #71)
QB K.J. Costello, rJR (6-4, 217, 4.84, #3)
Other Notre Dame prospects to watch:
TE Alize Mack, SR. (6-4, 247, 4.73, #86)
CB Julian Love, JR. (5-11, 193, 4.50, # 27)
DT Jerry Tillery, SR. (6-5, 306, 5.32, #99)
Utah (2-1) at Washington State (3-1)
Saturday, 6 p.m. ET, (Pac-12 Networks), Martin Stadium (Pullman, Wash.)
Three draft-eligible prospects to focus on:
RB Zach Moss, Utah, JR. (5-9, 220, 4.53, #2): The stout, compact runner bulked up an additional 10 pounds for 2018, showing improved burst and speed, while breaking multiple long runs. Moss has also proven to be a very capable pass-catcher out of the backfield. However, he must show that he can stay healthy, as he has missed three games due to a foot injury in the past and has been battling a right ankle injury this season. The Florida native looks to follow in the footsteps of his relatives Santana and Sinorice Moss as the next family member to join the NFL ranks.
CB Julian Blackmon, Utah, JR. (6-0, 187, 4.48, #23): A long, lean, fast corner who is able to contest jump balls and battle taller receivers, Blackmon is a rising prospect. He capped off a bust-out sophomore campaign with a pair of interceptions in the Heart of Dallas Bowl against West Virginia and does an excellent job baiting the quarterback. Blackmon possesses fluid hips and plays with an attacking, confident mindset.
OT Andre Dillard, Washington State, rSR. (6-5, 306, 5.23, #60): One of the top blind side protectors in the nation, Dillard excels in pass protection and shows great mirror technique. He has work to do on his run block fundamentals, but his experience, wide frame and athleticism will be highly appealing to NFL teams. Head coach Mike Leach has praised Dillard for being one of the hardest workers and most studious players, in addition to his exceptional footwork.
Other Utah prospects to watch:
SS Chase Hansen, rSR (6-2, 220, 4.67, #22)
K Matt Gay, SR (6-0, 220, 5.20, #97)
OT Jackson Barton, rSR. (6-6, 312, 5.14, #70)
Other Washington State prospects to watch:
FS Jalen Thompson, JR. (6-0, 191, 4.60, #34)
RB James Williams, rJR. (5-11, 195, 4.54, #32)
Oklahoma State (3-1) at Kansas (2-2)
Saturday, noon ET, Memorial Stadium (Lawrence, Kan.)
Three draft-eligible prospects to focus on:
RB Justice Hill, Oklahoma State, JR. (5-10, 185, 4.47, #5): A strong back with great vision, Hill has enough wiggle in the open field and breakaway speed to be considered a game changer. With a noticeably fit body and extreme lower leg strength (able to squat 565 pounds), he shows tremendous agility, along with a 40-inch vertical jump. Hill will also line up as a slot receiver on occasion and is solid in pass protection. He has eclipsed the 100-yard barrier three times already this year and appears destined for a third consecutive 1,000-yard rushing season. There has already been speculation that he could declare early for the draft, where he's expected to be a day two selection.
DT Daniel Wise, Kansas, rSR. (6-2, 290, 5.02, #96): A versatile player who has been moved up and down the defensive line throughout his career, Wise is athletic and tough -- he has been playing through an ankle sprain this season. The Jayhawks' team captain considered entering the draft after last season but was told by the advisory board to fill out his frame and improve his strength. Wise inherits strong bloodlines, as his father played in the NFL and his brother Deatrich is in his second year with the Patriots; look for Daniel to follow in their footsteps.
DT Darrion Daniels, Oklahoma State, SR. (6-2, 300, 5.10, #79): A late bloomer who did not start until his junior season, Daniels registered on the draft radar with his glimpses of potential, as he recorded five tackles for a loss. While he has yet to put it all together, he flashes the traits and athleticism to be coached up -- Daniels can do a split at a moment's notice. His father, Tony, played for Texas Tech and Green Bay Packers.
Other Oklahoma State prospects to watch:
DE Jordan Brailford, rSR. (6-3, 250, 4.74, #94)
Other Kansas prospects to watch:
ILB Joe Dineen, rSR. (6-1, 230, 4.74, #29)
OG Hakeem Adeniji, JR. (6-3, 290, n/a, #78)
*Be sure to subscribe to our weekly Draft Slant newsletter, dedicated to providing exclusive coverage of the NFL Draft!