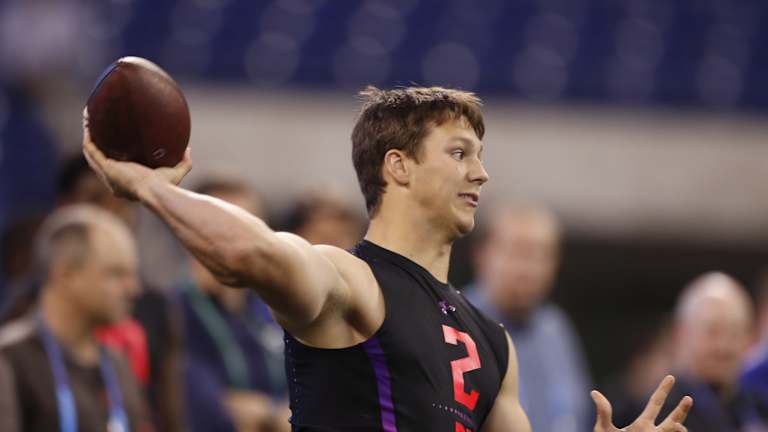 Former Wyoming quarterback Josh Allen apologized late Wednesday night for offensive tweets he made while in high school in 2012 and 2013.
Allen, who will turn 22 next month, could be the top overall pick in Thursday's 2018 NFL Draft, which will be held at AT&T Stadium in Arlington, Texas. Allen told ESPN's Stephen A. Smith that he was "young and dumb" when he made the posts that included racial slurs.
The tweets, which were published by Yahoo Sports, have since been deleted from his account. Yahoo Sports said many of the tweets contained racial slurs toward African Americans.
After being asked "Why are you so white?" Allen responded, "If it ain't white, it ain't right!" in June 2013.
A 2011 posting read: "I hate LeBron," which isn't offensive – although James currently plays for the NBA's Cleveland Cavaliers. The Cleveland Browns are reporting mulling between Allen and reigning Heisman Trophy winner Baker Mayfield of Oklahoma for the top overall pick, multiple media outlets reported this week.
Cleveland also holds the No. 4 overall pick of the draft by virtue of a trade with the Houston Texans last year.
The Browns, who limped to an 0-16 mark last year and are 1-31 in the last two seasons, haven't fared well when selecting a quarterback with their first-round pick. Since 1999, the team has chosen the following: Kentucky's Tim Couch (No. 1 overall, 1999), Notre Dame's Brady Quinn (No. 22 overall, 2007), Oklahoma State's Brandon Weeden (No. 22 overall, 2012) and Texas A&M's Johnny Manziel (No. 22 overall, 2014).
NFLDraftScout.com senior analyst Rob Rang lists USC quarterback Sam Darnold first in his most recent Big Board. UCLA quarterback Josh Rosen, Penn State running back Saquon Barkley, Notre Dame guard Quenton Nelson and North Carolina State defensive end Bradley Chubb round out the top five.
Allen is ranked 10th by Rang, Mayfield is 13th and Louisville quarterback Lamar Jackson is 23rd.
Allen, who threw for 1,966 yards with 19 touchdowns last season, said Tuesday that Cleveland was among seven teams that he visited.
Listed at 6-foot-5, 237 pounds, Allen ran the 40-yard dash at the NFL Scouting Combine in 4.75 seconds with a 33 1/2-inch vertical jump. Rang said the knock on Allen is his completion percentage.
Tyrod Taylor, who was the Buffalo Bills' primary quarterback over the last three seasons, was acquired by the Browns in the offseason. The 28-year-old Taylor played in 15 games for the Bills last year and completed 62.6 percent of his passes for 2,799 yards and 14 touchdowns with four interceptions.
Taylor is joined by quarterback Drew Stanton, who has started 17 games and appeared in 38 total during his NFL career with the Detroit Lions (2007-11), Indianapolis Colts (2012) and Arizona Cardinals (2013-17). He has completed 345 of 659 passes for 4,059 yards with 20 touchdowns.