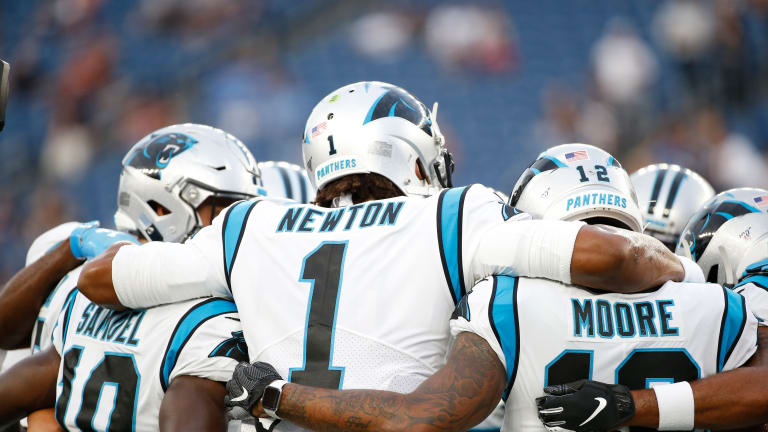 Panthers' Schedule Ranked as No. 20 Most Difficult in 2019
The Carolina Panthers have the 20th most difficult schedule in 2019, according to ESPN's Aaron Schatz.
The Carolina Panthers are heading into 2019 with a new and improved roster, but they still need some work.
Carolina has shown this preseason that the talent on the roster will only take them so far, and that chemistry and cohesion are vital to the team now. We already know what Cam Newton and Christian McCaffrey are capable of, and the talent on the defensive front is unreal. But, it will take some time to really get this team on the same page.
If the Panthers want to become a Super Bowl contender this season, they will need some more time to build chemistry. Fortunately, the difficulty of their schedule is on their side. The Panthers' schedule was ranked as the No. 20 most difficult in 2019, according to ESPN's Aaron Schatz.
Carolina drops from 15th in average projected DVOA of opponent to 20th in these adjusted rankings because the Panthers have only seven road games (they play Tampa Bay in London in Week 6) and only one game against an opponent with extra rest (Week 14, when they go to Atlanta and the Falcons are coming off a Thanksgiving game). Carolina ended up with both Tampa Bay games early in the season but both Atlanta and New Orleans games coming late in the season (between Week 11 and Week 17). Partly because of how that NFC South schedule is formatted, only Buffalo has a larger difference between an easier schedule strength in the first half of the season and a harder schedule strength in the second half.
The most difficult stretch throughout the schedule will be from Week 10-12, where they play the Green Bay Packers, Atlanta Falcons and New Orleans Saints in consecutive games. One of the most important games will be the first one -- where they will test themselves at home against the Los Angeles Rams.
Carolina is dealing with some injuries, and the offensive line will need some time to find their groove -- so this weaker schedule will prove to be very beneficial.