NHL playoffs: Playing in pain is a timeless tradition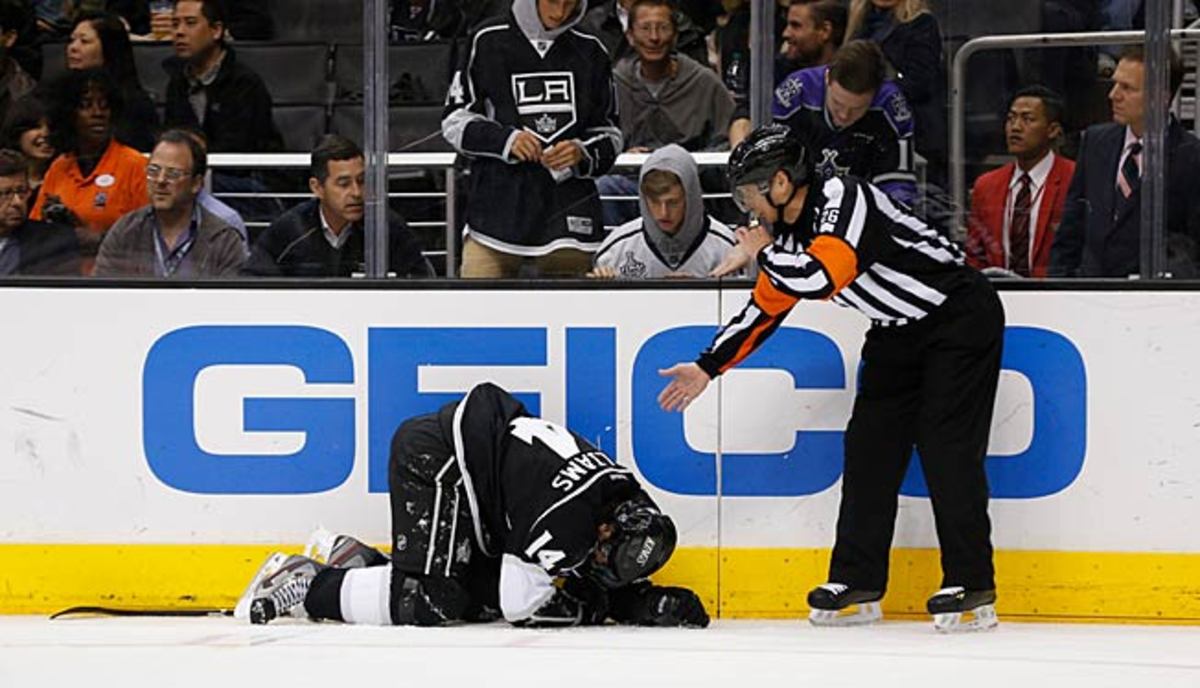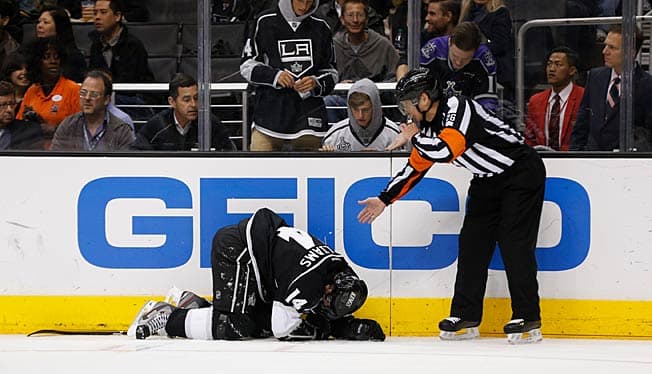 Andrew Ference, the stalwart Bruins defenseman, returned to Boston's lineup for the conference championship round against the Penguins after an unspecified foot injury had sidelined him since Game 6 of the B's first round series against the Maple Leafs. It was uncertain if he'd be back at all because he'd been seen navigating the Bruins' practice facility with a walking boot on his left foot. In fact, he's still wearing that boot when he's not playing. Whatever he's got going on, he forgets about it when it's time to lace up his skates and he's resumed being a big part of his team's blueline corps. Ference is plus-4 after Boston's first two games against Pittsburgh.
This is a common story in hockey, one that constantly amazes the athletes and fans of other sports. Hockey players don't let much stop them at any time of the season, but during the Stanley Cup Playoffs, their pain threshold -- likely aided by some serious medication -- can elevate beyond bravery to something bordering on absurdity.
MUIR: Struggling players unfairly criticized while hiding injuries
A typical tale is that of Ryane Clowe when he was a member of the San Jose Sharks in 2011. He separated his shoulder in the second round against Detroit and missed only one game, returning for Game 7 of that series and the Sharks' five-game loss to Vancouver. He needed help pulling on his sweater and a trainer had to tie his skates. "The toughest part was starting the game, but once the adrenaline got going, you start to think about other things," Clowe said.
Many of Clowe's teammates had been similarly banged up, playing with ankle sprains and broken hands. Logan Couture, then a rookie, broke his nose in a collision with Clowe. "I was a little dazed, but that's hockey," Couture said. "There's no way I wanted to sit out. I'll play through it."
After surviving Detroit, the Sharks went on lose to Vancouver in the Western Confernce Finals where captain Joe Thornton separated his shoulder but insisted on playing with a separated shoulder and a broken pinkie.
When a team finishes its season, we always hear tales about guys who played with all sorts of bodily damage, some of which require surgery, as Thornton's did.
GALLERY: Playing in pain NHL style
It's the price NHLers pay, and pay gladly, for the chance to have Montreal metal engraver Louise St. Jacques stamp their name on the Stanley Cup, ensuring them some measure of immortality. Wayne Gretzky learned about that price in 1983 when he and his young Oilers teammates lost in their first Cup final to the Islanders, who had won four straight championships. Walking by the Islanders' dressing room after the last game, Gretzky and teammate Kevin Lowe were surprised to see the Isles not whooping it up.
"Trottier was icing what looked like a painful knee," he wrote in his autobiography. "Potvin was getting stuff rubbed on his shoulder. Guys were limping around with black eyes and bloody mouths. It looked more like a morgue in there than a champion's locker room. And here we were perfectly fine and healthy.
"That's why they won and we lost. They took more punishment than we did. They dove into more boards, stuck their faces in front of more pucks, threw their bodies into more pileups. They sacrificed everything they had.
"And that's when Kevin said something I'll never forget. He said, 'That's how you win championships.'"
That lesson served the Oilers well as they won five championships of their own in the next seven seasons. What they discovered, however, is as old as the Stanley Cup itself and embedded in the game's culture, as this video shows.
Old time hockey
Among the earliest Stanley Cup heroes who set the standard of personal sacrifice in the pre-NHL era was "One Eyed" Frank McGee who, as you'd suspect, had a badly damaged eye that he suffered while playing for a local railway team in 1900. He retired briefly, but risked permanent blindness to resume his career with the Ottawa Silver Seven, hockey's first great dynasty. With Ottawa, he scored 14 goals in a single game against Dawson City, a Stanley Cup record likely never to be broken.
Of course, the Dawson team was an illustration of dedication all its own. Comprised of a rag tag group of gold prospectors, including 17-year-old goalie Albert Forrest, the players came from various parts of the Klondike. Some traveled part of the way by dog sled, others by bicycle and even on foot before all boarded a boat to Vancouver where they began a cross-country train trip. It was a 23-day journey and they had little time to practice en route. They arrived in Ottawa fairly exhausted, some with battered and frostbitten feet from their trek, but the Silver Seven refused to postpone the first game of the two-match series. Ottawa fan sentiment swung from the hometown team to the visitors, but it didn't matter as Dawson City fell 9-2.
In the game's aftermath, the Klondikers made a serious blunder, insulting Ottawa, razzing McGee -- who had only scored one of the nine goals -- and predicting victory in Game 2. The Silver Seven and their fans were having none of it and, led by One Eyed McGee, they carved up the miners both on the ice and on the scoreboard, 23-2.
By the time Frank "Ulcers" McCool came on the scene to tend goal for the Maple Leafs in 1944, the pages of Stanley Cup history were sufficiently soaked in blood and littered with broken bones. McCool's unique malady was less obvious. He suffered from bleeding ulcers -- and had, in fact, been discharged from the Army because of them. You'd think that playing goalie wouldn't be an especially wise career choice for him, but he was good at it despite the pressure. He'd gulp milk in the Leafs dressing room between periods to soothe his condition. At times, when his stomach got bad during play, he'd leave the ice and down some milk. An emergency signing before the 1944-45 season because star goalie Turk Broda had entered military service, McCool played well enough to win the Calder Trophy that year as the league's top rookie.
When the playoffs rolled around, the Leafs met the heavily-favored defending champion Canadiens in the first round, led by the high-scoring Punch Line of Maurice (Rocket) Richard -- who had just become the NHL's first 50-goal scorer -- Elmer Lach and Toe Blake. McCool shut the Habs out in Game 1 and took a Lach shot off his forehead in Game 3 that required some bandaging to halt the bleeding. The Rocket and his teammates exploded for a 10-3 Game 5 win, but McCool kept his cool, even late in Game 6 when he was trapped out of the crease and a shot by Blake sailed over the top of the unguarded net. But as soon as the final bell rang to end the series and he reached the safety of the dressing room, McCool shouted, "Hey, will someone get me a glass of milk before I pass out?"
In the final against Detroit, he shut out the Red Wings in the first three games, the first goalie to ever do that in Cup play. The Wings stormed back to win the next three and somewhere along the way, McCool's stomach could take no more. He skated to the dressing room during a stoppage in play, but after downing some milk just sat there.
Leafs Coach Hap Day, who had followed him, implored, "Come on Frank. We don't have anyone else." McCool sighed and returned. In Game 7, a late goal broke a 1-1 tie and gave Toronto the Cup. "Every game was a life and death struggle for Frank," remembered Toronto sportwriter Ed Fitkin, "but one thing about him -- he never quit."
Richard had his own moment of painful glory in Game 7 of the 1952 semi-finals against the Bruins. After being knocked unconscious by a Leo Labine body check, he didn't come around until the third period. He returned to the bench but his eyes couldn't focus. Still, he told coach Dick Irvin that he was good to go and with around four minutes left in regulation, he got the puck in his own end and rushed around, over or through every Bruin on the ice until he wound up in the offensive corner. Then he cut in front of the net, pushing defenders out of the way to blast the puck behind startled Boston goalie "Sugar Jim" Henry with what remaining strength he had left.
The Montreal Forum crowd went berserk and the game and series ended shortly afterward, leading to one of hockey's all-time great photos -- two bloodied combatants, Richard and Henry, shaking hands, the Boston goalie slightly bowed in front of his conqueror. Amidst the celebration back in the dressing room, Richard -- who later confessed to being dizzy the entire time, suffering a concussion no doubt -- broke into convulsive sobs and had to be medicinally sedated by the Habs' team doctor.
"That beautiful bastard scored semi-conscious," marveled Montreal hockey writer Elmer Ferguson at what is considered the greatest of Richard's hundreds of goals.
In 1964, defenseman Bob Baun authored another legendary Maple Leafs playoff performance, scoring a Game 6 overtime winner against Detroit in the Cup final to force a seventh game that Toronto would win for its third consecutive championship. Baun scored it while playing on a broken ankle.
He had stopped a shot with his foot in the third period and, as he bent over at the next stoppage to take a face-off against Gordie Howe, he felt the ankle snap and he dropped to the ice. Stretchered off over the Detroit Olympia boards, Baun had his ankle "frozen" -- numbed by a doctor's needle -- and he returned for overtime to score on a shot from the blueline. He even -- ridiculously -- managed a celebratory leap on that bad ankle, showing how numb it must have been. He played Game 7 as well.
Here's video of the entire episode and Baun's revealing interview with Ward Cornell on Hockey Night in Canada after scoring the winner as guest analyst Stan Mikita sat between them.
After admitting he felt the bone crack, it's quite something to hear Baun's diagnosis that he might merely have suffered a pinched nerve. Then, as now, injuries in the playoffs are the stuff of great mystery. It was only after the Leafs won the Cup that Baun allowed himself to be X-rayed.
In 1965, the hockey hero of my youth, Gump Worlsey, made his first trip to the Cup final for Montreal, against Chicago, after never getting past the first round, having spent most of his career with the mediocre Rangers. But a thigh or leg injury -- it was never clear which -- took him out of the lineup after Game 3.
The series went to seven games and the Habs believed Worsley would be more reliable for that contest than back-up Charlie Hodge. But he wasn't fully healed. However, Canadiens GM Sammy Pollak had learned the Black Hawks (that's how they spelled it back then) had used the drug DMSO to get their top defenseman Pierre Pilote back in the lineup after a Game 3 shoulder injury. A highly controversial drug, (reported on in 1981 by Sports Illustrated), DMSO was at the time only cleared for usage on humans in the United States. In Canada, it was only allowed for use on horses. So the Habs pulled some strings and had a Canadian government official approve the use of the drug on Worsley.
"They told me they had to go to the health department in Ottawa for permission to use it on a human for the first time," Worsley told Ted Blackman of The Montreal Gazette many years later. "After 13 years as a clay pigeon for the Rangers, I wasn't going to miss my first shot at a Cup. Give it to me right away!"
The drug emitted an awful smell, so bad that Canadiens captain Jean Beliveau told Worsley, "Don't come near me - you stink!" Beliveau scored 14 seconds into the game, the Habs tacked on three more, and Worlsey was excellent in shutting down Mikita, Pilote, Bobby Hull and the rest of the Hawks 4-0 to win his first of four Cups in five years. When the game ended, Beliveau and the rest of the Habs had little problem embracing their pudgy goalie, regardless of how he smelled.
After the game, Worsley started to feel sick, but attributed it to the champagne. He didn't feel much better for the next few weeks, but he never regretted taking the drug to be able to play on a Cup champion. That is any NHL player's biggest thrill and always has been. That's why they'll ignore the pain, or at least contend with it. Little, if anything, in pro sports inspires more admiration than their dedication and the selfless character that accompanies it.
MUIR: 20 reasons why the NHL playoffs are the best in sports