U.S. trio part of Mexican club's Cinderella run; Americans Abroad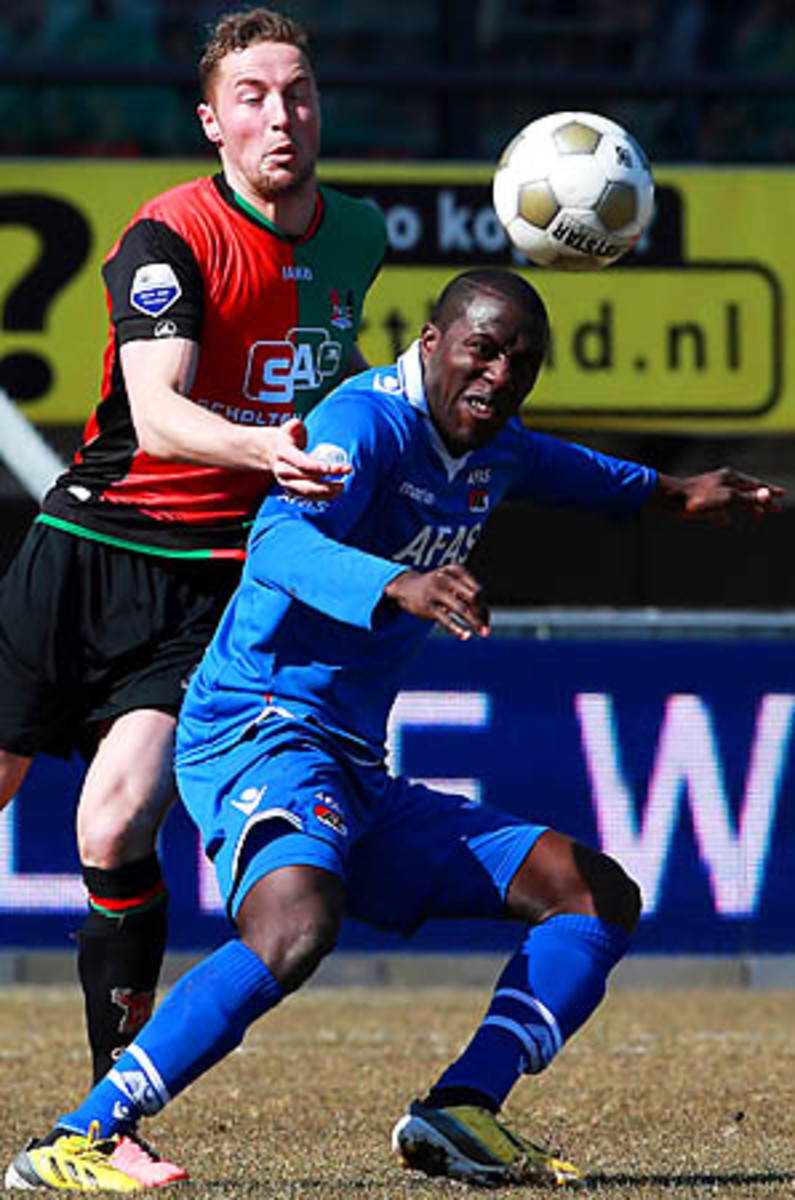 A Cinderella story for soccer carries into April.
Club Tijuana and its trio of first-team Americans Edgar Castillo, Joe Corona and Greg Garza cemented a place in the Copa Libertadores knockout stage with a group game to spare following its 1-1 draw with Bolivian side San Jose this past week, continuing its improbable ascent in Latin American.
Despite the fact that a five-game winless stretch in league play has put Tijuana in a dogfight to reach the Liga MX Clausura playoffs and defend its Apertura title, Tijuana navigated through a brutal group featuring defending Copa Libertadores and FIFA Club World Cup champion Corinthians and Colombian champion Millonarios.
Los Xolos are still fighting for seeding in the knockout bracket, where they will compete with some of this hemisphere's finest teams, a selection that already includes Corinthians, Argentine powers Boca Juniors and Velez Sarsfield, six-time finalist and Uruguayan power Nacional and Ronaldinho's Atletico Mineiro. For a team that earned promotion to Mexico's top flight not even two years ago, the meteoric rise and unexpected tournament run is enough for the Florida Gulf Coasts and Wichita States of the world to appreciate.
On the individual front, Terrence Boyd scored the lone American goal of the week, helping his side to a 1-1 draw and keeping it on pace for a Europa League berth with eight games remaining. Boyd, 22, is tied for the third-most goals in the Austrian Bundesliga with 12, and he has 16 in all competitions in his first season as a first-team professional.
Elsewhere, U.S. national team veteran Steve Cherundolo made his return from knee surgery, his first appearance in almost four months for Hannover 96, going the distance in his club's scoreless draw with Stuttgart. Michael Bradley's week involved an understated but effective 90-minute showing in Roma's rivalry draw with Lazio on Monday following the drop of his comical Italian Volkswagen commercial. Those were the highlights as the American contingent abroad braces for the final stretch of the 2012-13 campaign (season statistics encompass all competitions):
England
Premier League
Geoff Cameron, D/M, Stoke City -- Started, played 90 minutes in Stoke City's 3-1 loss to Aston Villa on Saturday. SEASON: 32 games, 30 starts
Cody Cropper, GK, Southampton -- Not in the 18 for Southampton's 2-0 win over Reading on Saturday. SEASON: 0 games
Clint Dempsey, M/F, Tottenham -- In the 18, came on as a 63rd-minute substitute in Tottenham's 2-2 draw with FC Basel in the first leg of their Europa League quarterfinal Thursday. Dempsey started, played 90 minutes and picked up a yellow card in a 2-2 draw with Everton in league play Sunday. SEASON: 36 games, 26 starts, 8 goals
Brad Friedel, GK, Tottenham -- Started, played 90 minutes and made five saves in Tottenham's 2-2 draw with Basel in the first leg of their Europa League quarterfinal tie. Friedel was in the 18 but did not play in a 2-2 draw with Everton in league play. SEASON: 19 games, 19 starts, 28 games, 2 clean sheets
Brad Guzan, GK, Aston Villa -- Started, played 90 minutes and made two saves in Villa's 3-1 win over Stoke City on Saturday. SEASON: 31 games, 31 starts, 56 goals allowed, 6 clean sheets
Tim Howard, GK, Everton -- Started, played 90 minutes and made five saves in Everton's 2-2 draw with Tottenham on Sunday. SEASON: 33 games, 33 starts, 40 games, 5 clean sheets
Eric Lichaj, D, Aston Villa - In the 18, did not play in Villa's 3-1 win over Stoke City. SEASON: 21 games, 13 starts
Brek Shea, M, Stoke City -- Not in the 18 for Stoke's 3-1 loss to Aston Villa. SEASON: 2 games
League Championship
Conor Doyle, F, Derby County -- In the 18, did not play in Derby County's 1-0 loss to Ipswich Town on Saturday. SEASON: 3 games, 1 start
Stuart Holden, M, Sheffield Wednesday -- Started, played 59 minutes in Sheffield Wednesday's 3-2 win over Blackburn on Saturday. SEASON: 5 games, 2 starts (3 games with Bolton)
Tim Ream, D, Bolton -- In the 18, did not play in Bolton's 1-0 victory over Huddersfield Town on Tuesday. Ream was in the 18 but did not play in Bolton's 2-0 win over Wolverhampton on Saturday. SEASON: 16 games, 14 starts
Jonathan Spector, D/M, Birmingham City -- Started, picked up a yellow card and was subbed off with an ankle injury in first-half stoppage time of Birmingham's 1-1 draw with Millwall on Saturday. SEASON: 30 games, 26 starts, 1 goal
Zak Whitbread, D, Leicester City -- Not in the 18 for Leicester City's 1-1 draw with Brighton & Hove Albion on Saturday. SEASON: 16 games, 15 starts, 1 goal
League One
Mike Grella, F, Scunthorpe United -- In the 18, came on as a 52nd-minute substitute in Scunthorpe's 3-0 loss to Preston North End on Saturday. SEASON: 25 games, 12 starts, 2 goals
Frank Simek, D, Carlisle United -- Not in the 18 for Carlisle's 2-1 win over Oldham Athletic on Saturday. SEASON: 40 games, 38 starts
Germany
Bundesliga
Timmy Chandler, D, FC Nurnberg -- Started, played 90 minutes in Nurnberg's 2-1 win over Mainz 05 on Sunday. SEASON: 28 games, 28 starts, 1 goal
Steve Cherundolo, D, Hannover 96 -- Started, played 90 minutes in Hannover's 0-0 draw with VfB Stuttgart on Sunday, the first appearance since Dec. 19 for Cherundolo, who underwent arthroscopic knee surgery in February. SEASON: 29 games, 28 starts
Fabian Johnson, D, TSG 1899 Hoffenheim -- Started, played 90 minutes in Hoffenheim's 3-0 win over Fortuna Dusseldorf on Friday. SEASON: 24 games, 24 starts, 3 goals
Jermaine Jones, M, FC Schalke 04 -- Not in the 18 for Schalke's 2-0 win over Werder Bremen on Saturday. SEASON: 28 games, 25 starts, 2 goals
Michael Parkhurst, D, FC Augsburg -- Not in the 18 for Augsburg's 4-2 loss to Borussia Dortmund on Saturday. SEASON: 23 games, 21 starts, 2 goals (21 games, 20 starts, 2 goals with FC Nordsjaelland)
Danny Williams, D/M, TSG 1899 Hoffenheim -- Not in the 18 for Hoffenheim's 3-0 win over Fortuna Dusseldorf. Williams played 78 minutes in a reserve game Sunday. SEASON: 21 games, 17 starts, 1 goal
2. Bundesliga
John Anthony Brooks, D, Hertha Berlin -- Started, played 90 minutes in Berlin's 3-0 win over Eintracht Braunschweig on Monday. SEASON: 23 games, 20 starts
Joe Gyau, M, St. Pauli -- Started, played 71 minutes and assisted on a goal in St. Pauli's 3-2 loss to Dynamo Dresden on Saturday. SEASON: 14 games, 6 starts
Alfredo Morales, D/M, Hertha Berlin -- In the 18, came on as an 11th-minute substitute in Berlin's 3-0 win over Eintracht Braunschweig. SEASON: 6 games, 2 starts
Bobby Wood, F, TSV 1860 Munich -- In the 18, did not play in Munich's 1-1 draw with Energie Cottbus on Sunday. SEASON: 12 games, 5 starts, 2 goals
Andrew Wooten, F, SV Sandhausen -- Started, played 90 minutes in Sandhausen's 2-1 loss to MSV Duisburg on Sunday. SEASON: 23 games, 16 starts, 5 goals
Italy
Serie A
Michael Bradley, M, AS Roma -- Started, played 90 minutes in Roma's 1-1 draw with rival Lazio on Monday. SEASON: 26 games, 22 starts, 2 goals
Spain
Primera Division
Oguchi Onyewu, D, Malaga -- Not in the 18 for Malaga's 0-0 draw with Borussia Dortmund in the first leg of their Champions League quarterfinal Wednesday or a 4-2 loss to Real Sociedad in league play Saturday. SEASON: 8 games, 7 starts, 2 goals
Segunda Division
Carlos Bocanegra, D, Racing Santander -- Started, played 90 minutes in Racing Santander's 1-0 win over Alcorcon on Saturday. SEASON: 21 games, 21 starts (7 games, 7 starts with Rangers)
WILSON: City has formula for countering United
Netherlands
Eredivisie
Jozy Altidore, F, AZ Alkmaar -- Started, played 90 minutes in AZ's 1-1 draw with NEC on Sunday. SEASON: 37 games, 37 starts, 25 goals
Belgium
Pro League
Sacha Kljestan, M, RSC Anderlecht -- Started, played 90 minutes in Anderlecht's 0-0 draw with Standard Liege in the second game of the Belgian playoffs Saturday. SEASON: 41 games, 34 starts, 2 goals
Austria
Bundesliga
Terrence Boyd, F, Rapid Vienna -- Started, played 90 minutes, picked up a yellow card and scored a goal in Rapid Vienna's 1-1 draw with Wacker Innsbruck on Saturday. Boyd pounced on a rebound and beat his defender to fire home the opening goal in the 66th minute. Rapid Vienna is a point clear (and has an eight-goal differential advantage) of falling out of a Europa League place in the Austrian Bundesliga table. SEASON: 35 games, 29 starts, 16 goals
Turkey
Super Lig
Maurice Edu, M, Bursaspor -- Started, played 90 minutes in Bursaspor's 3-0 win over Besiktas on Monday. SEASON: 13 games, 11 starts (1 game with Stoke City)
Portugal
Primeira Liga
Caleb Patterson-Sewell, GK, Vitoria Setubal -- In the 18, did not play in Vitoria Setubal's 2-1 loss to Rio Ave on Sunday. SEASON: 5 games, 5 starts, 12 goals allowed, 1 clean sheet
Tony Taylor, F, Estoril Praia -- In the 18, did not play in Estoril's 4-0 win over Nacional de Madeira on Sunday. SEASON: 16 games, 4 starts, 1 goal
Mexico
Liga MX
DaMarcus Beasley, M, Puebla -- Not in the 18 for Puebla's 1-1 draw (5-4 loss on penalties) with Atlante in the Copa MX semifinals Wednesday. Beasley started and played 75 minutes in Puebla's 1-1 draw with America in league play Saturday. SEASON: 17 games, 13 starts, 4 goals
Jonathan Bornstein, D, Tigres UANL -- Not in the 18 for Tigres' 0-0 draw with Leon on Saturday. SEASON: 1 game, 1 start
Edgar Castillo, D, Tijuana -- Not in the 18 for Tijuana's 1-1 draw with San Jose in the group stage of the Copa Libertadores on Wednesday. With a game remaining in the group stage, Tijuana has already clinched its place in the knockout rounds. Castillo started and played 90 minutes in a 0-0 draw with Santos Laguna in league play Sunday. SEASON: 12 games, 12 starts, 1 goal
Joe Corona, M, Tijuana -- Not in the 18 for Tijuana's 1-1 draw with San Jose in the group stage of the Copa Libertadores. Corona started and played 78 minutes in a 0-0 draw with Santos Laguna in league play. SEASON: 15 games, 11 starts, 1 goal
Michael Orozco Fiscal, D, Puebla -- Not in the 18 for Puebla's 1-1 draw (5-4 loss on penalties) with Atlante in the Copa MX semifinals. Orozco Fiscal started, played 90 minutes and picked up a yellow card in a 1-1 draw with America in league play. SEASON: 15 games, 15 starts
Greg Garza, D/M, Tijuana -- In the 18, came on as an 84th-minute substitute in Tijuana's 1-1 draw with San Jose in the group stage of the Copa Libertadores. Garza was not in the 18 for a 0-0 draw with Santos Laguna in league play. SEASON: 5 games, 2 starts
Herculez Gomez, F, Santos Laguna -- Started, played 90 minutes and scored a vital away goal in Santos Laguna's 1-0 win over the Seattle Sounders in the first leg of their CONCACAF Champions League semifinal Tuesday. Gomez blasted home a rebound in the 54th minute, giving Santos the edge as the series shifts back to Torreon, Mexico. Gomez also started and played 56 minutes in a 0-0 draw with Tijuana in league play Sunday. SEASON: 16 games, 16 starts, 6 goals
Benji Joya, M, Santos Laguna -- Not in the 18 for Santos Laguna's 1-0 win over the Seattle Sounders in the first leg of their CCL semifinal tie or a 0-0 draw with Tijuana in league play. SEASON: 0 games
Jose Torres, M, Tigres UANL -- Started, played 90 minutes in Tigres' 0-0 draw with Leon. SEASON: 13 games, 13 starts
Denmark
Charlie Davies, F, Randers FC -- In the 18, came on as a 73rd-minute substitute in Randers' 1-0 loss to Brondby on Sunday. SEASON: 21 games, 3 starts
Clarence Goodson, D, Brondby IF -- In the 18, did not play in Brondby's 1-0 win over Randers on Sunday. SEASON: 18 games, 17 starts, 1 goal
Conor O'Brien, M/F, FC Nordsjaelland -- Started, played 90 minutes in Nordsjaelland's 1-0 win over Aalborg BK on Thursday. O'Brien was in the 18 and came on as an 81st-minute substitute in a 2-0 win over AC Horsens on Sunday. SEASON: 28 games, 17 starts, 5 goals (22 games, 12 starts, 5 goals with Sonderjyske)
Sweden
Alejandro Bedoya, M, Helsingborg IF -- Started, played 84 minutes in Helsingborg's 1-0 loss to IFK Goteborg in the quarterfinals of the Svenska Cupen (Swedish Cup), getting eliminated. Bedoya also started and played 90 minutes in a 1-1 draw with Oster in league play Monday. SEASON: 5 games, 5 starts, 2 goals
Brian Span, M, Djurgarden IF -- Started, played the first half of Djurgarden's 0-0 draw (5-4 win on penalties) with Norrkoping in the quarterfinals of the Svenska Cupen on Thursday. Djurgarden's match against Mjallby on Monday was suspended due to fans throwing objects on the field and at players. SEASON: 4 games, 1 start
Norway
Steve Clark, GK, Honefoss -- Started, played 90 minutes and earned the clean sheet in Honefoss' 2-0 win over Stromsgodset on Tuesday. Clark also started and played 90 minutes in a 4-3 loss to Aaelsund on Sunday. SEASON: 3 games, 3 starts, 7 goals allowed, 1 clean sheet
Mix Diskerud, M, Rosenborg BK -- Started, played 90 minutes in Rosenborg's 4-0 win over Sogndal on Sunday. SEASON: 3 games, 3 starts, 1 goal
Josh Gatt, M, Molde FK -- Started, played 87 minutes in Molde's 2-1 loss to Lillestrom on Tuesday. Gatt was also in the 18 and came on as a 58th-minute substitute in Molde's 1-0 loss to Brann on Saturday. SEASON: 3 games, 2 starts