Crimson Tide Opens Fall Camp: Alabama Practice Report for August 17
Crimson Tide football team opens fall practice with first of 25 on-field workouts and drills
TUSCALOOSA, Ala. — The Alabama football team opened fall practice Monday. 
The practice was the first of the five in the mandated acclimation period. Alabama is scheduled to hold 25 practices through Sept. 17. Players will have the subsequent weekend off before going into regular-season mode for the Sept. 26 opener against Missouri. 
Conditions were partly cloudy, 91 degrees, with a heat index of 97. Looking at the extended forecast Tuesday might be the hottest day of fall camp (95 degrees).
All practices are completely closed to reporters, with photographs provided by the school (see below).
Of the 15 that were provided there wasn't much that could be considered telling. If you look closely at the one of Alex Leatherwood at left tackle it looked like senior Deonte Brown at left guard, with senior Chris Owens at center and senior Landon Dickerson at right guard. The best guess is that sophomore Evan Neal was at right tackle. 
Nick Saban met with reporters Monday evening via Zoom. There was little news to come out of the press conference other than reserve linebacker Ale Kaho is sidelined with a knee injury. 
Note: We were asked not to disclose what time practice started, but the media crew gave it away on social media. 
Photo gallery from the first practice:
Alabama practice: August 17, 2020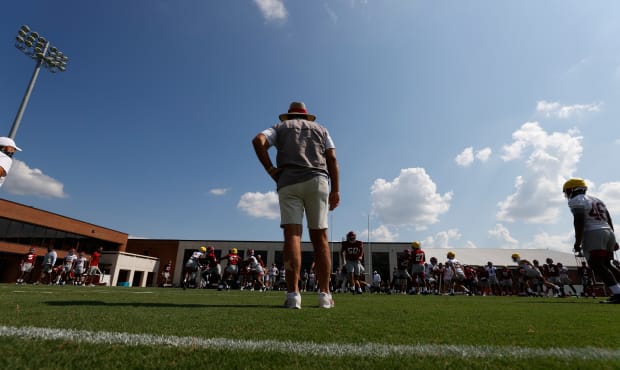 Saban did list Alabama's goals for this year's camp:
"Our goals for fall camp are not much different even though this is not really going to be camp _ it's going to be more like in-season practice _ is to form hardcore fundamentals, discipline, work ethic, mental and physical toughness to be able to sustain. Obviously conditioning is a really important part of that, which we always have to improve on. We want the players to improve their fundamentals in terms of technique but also in their knowledge of offense, defense and special teams systems, so they have a chance to go out there and compete and play well and create value for themselves when and if they get the opportunity to do that.
"We want to come together as a team and have a lot of pride in being an Alabama football player and the accountability and responsibility that goes with what a player has to do to represent this university and our team."