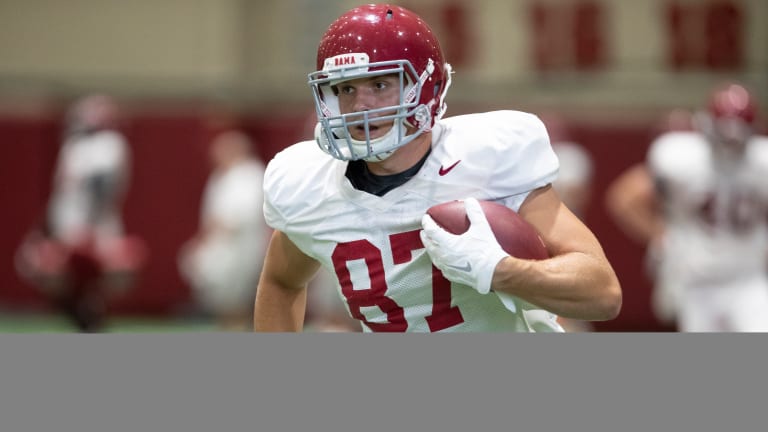 Alabama Tight End Miller Forristall Expected to Miss Rest of Regular Season
Crimson  Tide tight end Miller Forristall had unexpected surgery following Arkansas game
TUSCALOOSA, Ala. — University of Alabama redshirt  junior tight end Miller Forristall is expected to miss the rest of the regular season after having an unexpected surgery following the Arkansas game. 
Nick Saban said during the weekly coaches' teleconference with reporters that he's expected to be approximately six weeks. 
"He got hit in the throat in the game, said he was Ok and doctors looked at him and he went back in the game and played," Saban described. "We really didn't think it was a serious injury, but he had some discomfort after that so we sort of further examined it and he does have an injury to his voice box that required surgery.  
"You're talking about an area affecting your breathing and your voice. It's pretty important that we take care of it the right way."
Alabama is on a bye this week, and subsequently has four game remaining in the regular season. A six week recover, "or so" as Suban put it, would mean he's likely through the week the SEC Championship Game will be played.  
Forristall had stepped into the starting role this season. He's made 12 receptions for 131 yards and three touchdowns this season, including the 6-yard catch from wide receiver Slade Bolden out of the wildcat formation against Tennessee.
As a whole, tight end has been a concern this season, especially in terms of depth, following the departures of Hale Hentges and Irv Smith Jr. following last season. 
Redshirt sophomore Major Tennison is the obvious choice to replaced Forristall, especially when a receiver is needed, and true freshman Jahleel Billingsley has played in four games this season. Former walk-on Giles Amos has played in six games. 
Alabama has also used offensive linemen Kendall Randolph and Chris Owens blocking tight ends, and linebacker Ale Kaho as a fullback in short-yardage situations. 
"The young guys are making progress and getting better," Saban said. "Major Tennison has played the same position that he's played and Jahleel (Billingsley) is growing into a guy that played pretty decently in the last game. S
"So there may be more opportunity for those guys, and we've used some offensive linemen at the tight end position that have helped us and we'll probably have to just continue to work in that same fashion."