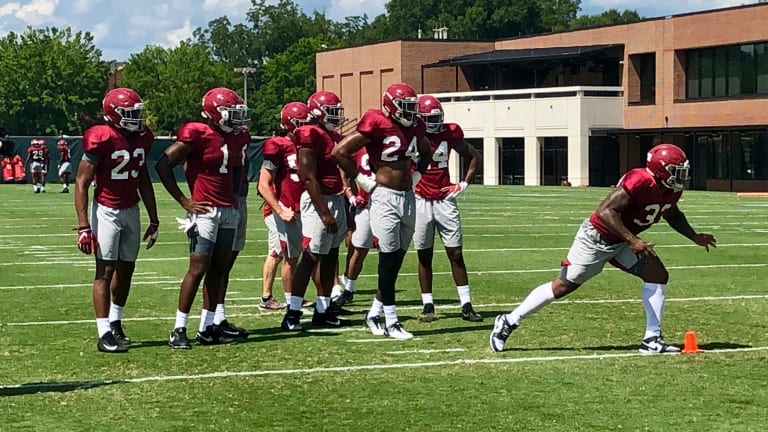 Alabama practices in shells, heat
Crimson Tide back on the field for third official practice of fall camp
Crimson Tide back on the field for third official practice of fall camp
TUSCALOOSA, Ala. — The University of Alabama football team worked out in shells for the first time as it held the third practice of fall camp on Monday.
Although the official temperature was just 88 degrees, it felt hotter in the sun than the 94 heat index. The dew point was 70.
The Crimson Tide was beginning a weeklong buildup to its first closed scrimmage, which will be held at Bryant-Denny Stadium on Saturday.
Very little seemed to be different from the way the players lined up for the open practice during Fan Day on Saturday.
Junior defensive end LaBryan Ray (ankle), tight end Miller Forristall (foot) and redshirt junior cornerback Nigel Knott (medical issues) remained out.
Except for the quarterbacks, no one was in a black, no-contact jersey.
Among those leading position groups were outside linebackers Anfernee Jennings and Terrell Lewis, defensive lineman Raekwon Davis and running back Najee Harris. With Forristall out, redshirt sophomore Major Tennison was the first tight end going through individual drills.
Sophomore Ale Kaho continues to work with the interior linebackers
Among those on hand was former Alabama player and coach Ray Perkins.