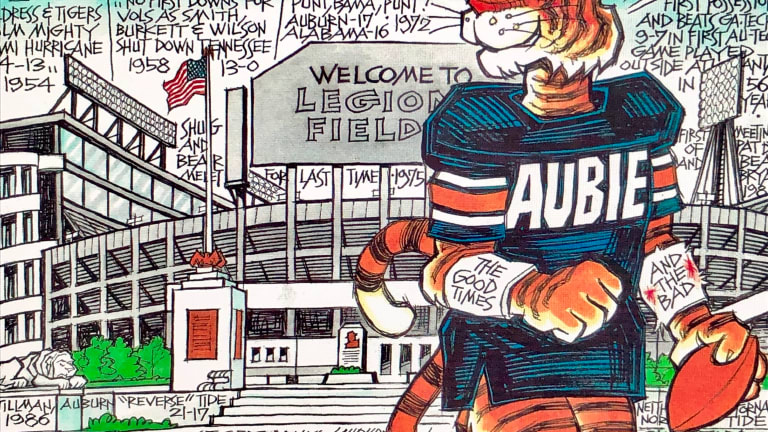 Crimson Tide Roll Call: Nov. 26, 2019
Your daily briefing on what's going on with Alabama athletics, including full TV listings
Your daily briefing on what's going on with Alabama athletics, including full TV listings
Today is … National Cake Day (I'd like to think that's something we can all get behind).
Today's Crimson Tide schedule
No games scheduled
Crimson Tide results
No games scheduled
Did you notice?
• Alabama commit Jackson Bratton, a linebacker from Muscle Shoals, was named one of five finalists for the high school Butkus Award.
• Mark Ingram II had another big night for the Baltimore Ravens.
• Jamey Mosley was again released from the New York Jets' practice squad.
• Soccer goalie McKinley Crone announced her transfer from Oklahoma to Alabama.
• Men's tennis junior Sam Fischer and rowing's Hailey Higgins will represent Alabama as two of the 28 student-athletes who will participate in the SEC Career Tour in Atlanta on Dec. 3-5.
• Alabama swimming added Isabella Matesa, and women's track signed sprinter Christal Mosley.
• Monday was the anniversary for this …
• A lasting moment from Saturday's game at Bryant-Denny Stadium.
On this date in Crimson Tide history:
November 26, 1964: A 100-yard kickoff return by Ray Ogden sparked Alabama to a 21-14 Thanksgiving victory over Auburn at Legion Field. The Crimson Tide's other touchdowns came on a fumble recovery in the end zone by Steve Bowman and a 23-yard pass from Joe Namath to Ray Perkins. Bowman's touchdown was the result of a snap sailing 39 yards over kicker's Jon Kilgore's head into the Auburn end zone. – Bryant Museum
Crimson Tide quote of the day:
"This team lost one game in overtime to a very, very good team who's No. 1 right now, and we lost in overtime. Everybody's got to make their choices and decisions about that. But I think we've got a great football team and a great bunch of young men who have done a wonderful job and played some really dominant football on both sides of the ball. I think they deserve an opportunity, the best opportunity that's out there for them." – Nick Saban after Alabama won at Auburn 42-14 in 2011, and hoped for a rematch with LSU in the BCS Championship Game.
We'll leave you with this …