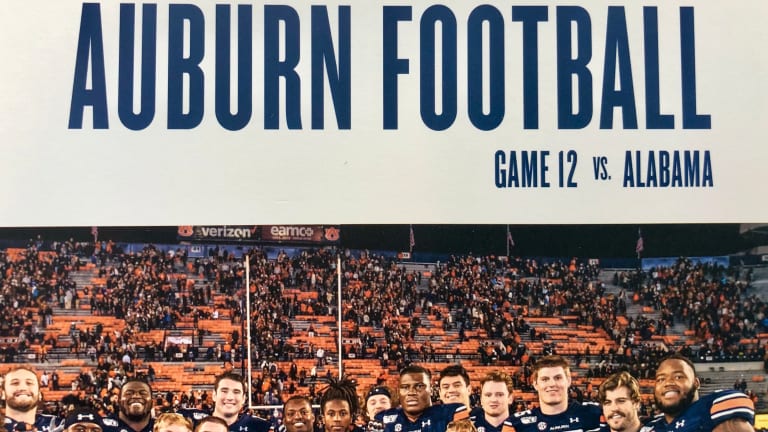 Live Updates: Alabama at Auburn
Crimson Tide's playoff hopes are on the line at Jordan-Hare Stadium
AUBURN, Ala. — It's the 84th meeting of Alabama and Auburn, and the season is on the line for the No. 5 Crimson Tide. 
A win and its hopes for the College Football Playoff are still alive. Meanwhile, No. 15 Auburn is looking to improve its bowl standing. Kickoff is at 2:30 p.m. CT (ESPN). 
Pregame 
* Conditions are ideal: Partly cloudy and 74 degrees. Rain is in the forecast later on, well after the game ends. 
* Ken Williams' officiating crew will work the game. 
*Mac Jones, Taulia Tagovailoa and Paul Tyson are the quarterbacks in uniformand warming up.
*Ty Perine and Mike Bernier are the punters who tavelled. It does not appear Skylar DeLong. Henry Ruggs III is warming us as a kick returner after sitting out the WCU game.
*Alabama game captains are Xavier McKinney, Anfernee Jennings and Landon Dickerson.
*There will be a pregame flyover by the 187th Fighter Wing from Montgomery's Maxwell Air Force Base. 
*Alabama nose tackle DJ Dale is not in uniform.
*Pregame weather: 74 degrees, clear and sunny.
*Sophomore linebacker/special teams ace Ale Kaho has been spotted wearing no. 20 and not his usual no. 10 in warmups. This allows Kaho and Mac Jones to play together. when Jones is holding for kicks and when Kaho comes in at fullback.
*Ruggs, Raekwon Mathis and Phidarian Mathis who were injured are all slated to start.
*Alabama won the coin toss and deferred. Auburn will receive.
First quarter 
*Tua Tagovailoa is on the Alabama sideline.
*For the first time in memory Jaylen Waddle covered a kickoff for Alabama.
*After a review, a potential first down pass to Shadrick Jackson is ruled incomplete.
*Alabama takes over at its 20 after Patrick Nix's pooch punt rolled into the end zone.
*Kendall Randolph started at tight end for Alabama.
*Holding on Alex Leatherwood cost Alabama a touchdown pass from Jones to Ruggs.
*A 43-yard Joseph Bulovas field goal put Alabama up 3-0 with 8:27 left in the period. Drive was 55 yards, 10 plays in 4:32.
*Najee Harris already has 52 yards rushing for Alabama.
*Alabama forced a three-and-out and takes over at its own 17.
 *Auburn's Christian Tutt returned a 47-yard Ty Perine punt 37 yards to the Alabama 32 to give the Tigers great field position.
*Bo Nix gave Auburn the lead on a 7-yard keeper. Drive was aided by a face mask call against Alabama linebacker Shane Lee. Auburn is up 7-3 with 2:07 left in the period.
*Diggs and Waddle (not Ruggs) are deep on kick returns for Alabama.
*AU lineman Nick Cole went to the locker room. End of one quarter, AU 7, UA 3.
Second quarter 
*The "Sladecat" gets a first down for Bama on fourth-and-1. Slade Bolden kept it for 2.
*Harris scored from the 6 and Alabama leads Auburn 10-7 with 10:16 to go in the half. Drive was 14 plays, 75 yards, 6:51. Harris already has rushed for 91 yards.
*AU star d-lineman Derrick Brown has left the field with an injury. The Tigers' other no. 5, speedy receiver Anthony Schwartz has also been out of the game since the opening drive.
*Anfernee Jennings was injured breaking up a Nix pass. He jogged off the field. 
*Jennings came back in and then left again, asking for a sub. Running back Boobie Whitlow is on the field injured for Auburn.
*A 43-yard Anders Carlson field goal ties the game at 10 with 7:04 left. 50 yard drive in 3:12.
*Mac Jones threw a pick six to Smoke Monday for a touchdown of 29 yards. Auburn leads 17-10 with 5:36 left in the half.
*Jaylen Waddle returned the kickoff 98 yards and the game is tied at 17 with 5:22 left in the half.
*Whitlow fumbled and Bama's Christian Harris recovered at the AU 37. Fumble caused by Xavier McKinney. Big turnover.
*Jones hit DeVonta Smith for 33 yards to the 4. First and goal. 
*On third-and-goal from the 3, Jones hit Ruggs for a TD. With 4:12 left in the half Bama is up 24-17.
*Nix hit Seth Williams from 37 yards to the Alabama 25 and AU took time out with 1:20 left in the half.
*Sal Cannella kept his feet in and hauled in a 14-yard Nix pass to tie the game at 24 with 66 seconds left in the half.
*Waddle turned a short Jones pass into a 58-yard touchdown pass. With 33 ticks left on the first half clock Alabama is up 31-24 and the Tide will receive the second half kick.
*Halftime score: Alabama 31, Auburn 27 as Carlson boots a 52-yard field goal as time expired.
Third quarter 
* Alabama will get the ball first to open the second half. 
* Nick Saban halftime quote: "We've got to play better on defense. I don't know how they got this last field goal, but it is what it is and we just have to keep playing for 60 minutes in the game. We're doing a good job on offense moving the ball. We're just not playing good enough on defense."
*Trevon Diggs jumped offsides on a field goal attempt giving AU a first down at the Tide 31.
*Carlson then made a 43-yarder and Alabama's lead is down to 31-30 with 11:49 to go in the quarter. AU lineman Marquel Harrel. 77 yards, 7 plays, 2:15 on the drive.
*A 100-yard pick six by Zacoby McClain off Jones has Auburn in front 37-31 with 6:31 lieft in the period. The ball bounced off Najee Harris into McClain's hands.
*Waddle caught a 12-yard TD pass from Jones. With 4:57 left in the quarter, Alabama has retaken the lead after Bulovas' PAT, 38-37. Drive was 64 yards, 5 plays, 94 seconds.
*Alabama linebacker Christian Harris left the game with an injury. Auburn is on the Alabama 21-yard line with 1:51 left in the third quarter.
*Auburn'sa Carlson booted a 44-yard field goal and put the Tigers up 40-38 with 49 seconds left in the quarter. That's seven lead changes in under three quarters.
*End of three: Auburn 40, Alabama 38. Tide has the ball on its own 48.
Fourth quarter
* Strange, but true: Auburn has 40 points while only scoring two offensive touchdowns. 
*Waddle strikes again on a 28-yard Jones pass. Alabama was going to go for 2 but a false start caused a PAT by Bulovas to be tried. He made it. 90 yards, 6 plays, 1:58. There is 13:44 left.
*87,451 attended today's sold-out Iron Bowl.
*Shaun Shivers ran for an 11-yard TD and Nix hit Jackson for 2 points. Lead change no. 8 has AU leading Alabama 48-45 with 8:08 left.
*After being called offsides, Alabama tackle Jedrick Wills snapped at center Landon Dickerson.
*On fourth-and-7 from the AU 37, Bama called time out and then  went for it. Result: Jones scrambled 18 yards to the 19. First down. 
*Auburn called time with 2:14 left and Alabama facing third-and-goal from the 10.
*Derrick Brown batted Jones' pass to Jones who caught it for minus one. Time out AU.
*Bulovas attempts a game-tying 30-yarder and it's OFF THE LEFT UPRIGHT. With two minutes left Auburn has the ball at the 20 up 48-45.
*Alabama used it's second time out with 1:53 left and AU facing second-and-8.
*Alabama took its final time out at the 1:48 mark. Auburn facing third-and-7.
*AU lined up as if to go for it on fourth-and-4 and Alabama was called for illegal substitution, giving the Tigers a game-clinching first down. They are in Victory formation.
*Final score: Auburn 48, Alabama 45. Tide is no longer a playoff contender. Alabama finished the regular season 10-2, 6-2 SEC. Auburn is 9-3, 5-3. 
*Alabama will now find out which non-playoff bowl game it is invited to. The Sugar in New Orleans is one of several possibilities.