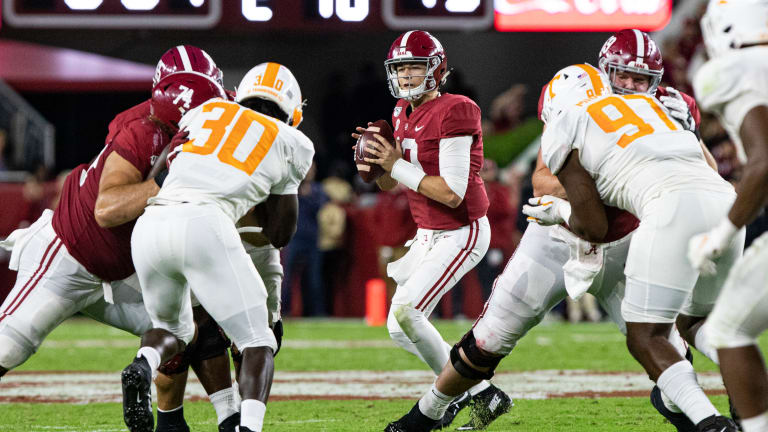 Nick Saban Looks for Mac Jones to be the 'Leader of the Team'
The Alabama coach has confidence in the young quarterback heading into the Crimson Tide's homecoming matchup
The Alabama coach has confidence in the young quarterback heading into the Crimson Tide's homecoming matchup
TUSCALOOSA, Ala. — Alabama redshirt-sophomore quarterback Mac Jones was a main topic of conversation at head coach Nick Saban's weekly press conference on Wednesday.
The Jacksonville, Fla., native replaced junior starting quarterback Tua Tagovailoa in the Crimson Tide's game against Tennessee in the second quarter after Tagovailoa went down with a high ankle sprain.
Jones has since been announced as the starting quarterback for this weekend's homecoming matchup against the Arkansas Razorbacks.
Saban said that while he was a backup, now it is Jones' job to take over and lead the offense while Tagovailoa recovers.
"Mac's got to be the leader of the team," Saban said. "He's got to take over the team.  When you're the backup player, you're a little bit like a sparring partner, but you can't be that anymore. 
"You're the lead fighter. You're the top dog. You gotta do things with confidence. You gotta take command and you gotta play with confidence and you can't have bad body language in front of the rest of your teammates regardless of what happens."
In the game against the Volunteers, Jones went 6-for-11 with 72 yards and no touchdowns or interceptions. Jones seemed to be caught off-guard when placed on the field so early in the game.
However, given a week of preparation for its next opponent, Saban is confident in Jones' skills at the position, saying that he has done well in practice this week.
"You gotta be able to play the next play and he's responded really well and I think — you know— practiced pretty well the last couple of days," Saban said.
The coach also elaborated on what he expects from the rest of the players:
"Yeah, well, I think last year in the SEC Championship Game, Tua got hurt and Jalen Hurts came in and won the game. So, that's the one I remember most recently," he responded. "I mean, I can't even think of how many opportunities — you lose really, really good players, whether it's Dylan Moses this year, LaBryan Ray, Josh McMillon, Trey Sanders would've made a tremendous contribution to the team, and it created an opportunity for other players who worked hard and were able to probably take advantage of it. Not to be them, but just be the best version of themselves that they could be so that it can contribute in a positive way to the team. So, I don't even have to look past this season to see a lot of those types of things occurring.
"But a quarterback? I don't remember a specific experience. Oh, I guess when I was at LSU, Rohan Davey got hurt. We were playing Tennessee in the SEC Championship Game, and I think we were behind 17-7 when he got hurt. And Matt Mauck came in and he was a freshman, never played before, and we ended up winning the game 31-20. And Tennessee was, I think, 1 or 2 in the country. So, it happens. But I think what's more important is all the players around the guy play well. We dropped two passes last week in critical situations in the game that would've made a big difference in how Mac performed, and guys were wide open and just dropped the ball. So, are we blaming Mac for that?
Jones and the No. 1 Crimson Tide will take on the Razorbacks at Bryant-Denny Stadium for homecoming on Saturday. Kickoff is scheduled for 6 p.m. CT (ESPN).