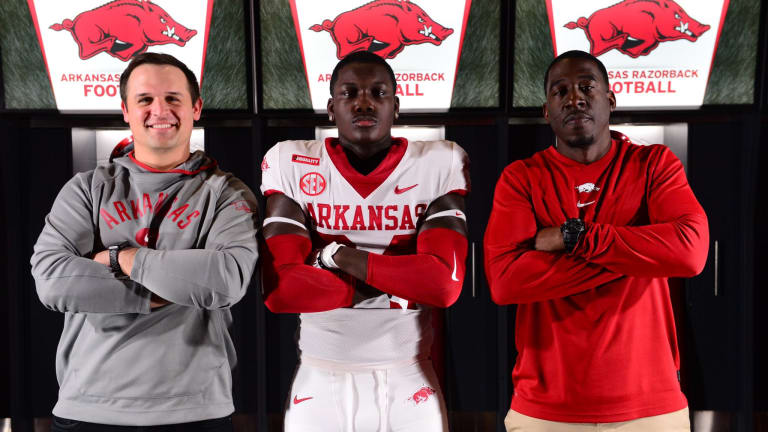 Hogs Land Georgia Linebacker
Speed, anticipation, big play ability highlight newest commit
It's no secret Arkansas is thin at linebacker.
With Bumper Pool coming back for one year with hopes of improving his draft stock, there will be a high need for the 2023 season.
Sam Pittman and Barry Odom are looking to fill that need with Ellenwood, Georgia linebacker Evertt Roussaw. 
The Cedar Grove High School product has plenty of room to grow at 6-2, 215lbs, but will need to be careful about bulking up too much over the next three years as speed appears to be his strongest asset.
HOGS LAND 4-STAR TE, FORMER OU COMMIT
The Hogs were able to do the things they did at linebacker the past two years with discipline and experience. However, speed at that position wasn't a strength. Roussaw has the potential to bring that to the table.
It may confuse a few people, but the best way to describe Roussaw's style of play is to liken him to a large mouth bass. 
He's constantly moving with pent up kinetic energy, holding it back while he surveys his prey. Then when he attacks, he lets all that held back energy explode with a lightening quick strike. 
Fans can watch his highlights for themselves. Start with his junior season.
EVERTT ROUSSAW, JR. HIGHLIGHTS
One thing that is clear from the tape is whether on special teams or defense, Roussaw is always around when big plays happen. He snatches interceptions on low line drive passes over the middle, sniffs out screens on the edge before they get started, and blocks multiple punts with power rushes up the middle. 
The young man has strong instincts and seems to pair coaching well with that gift to maximize anticipation.
Roussaw is currently a 3-star, but has all the tools necessary to work his way up to the lower half of 4-star status by signing day. 
Arkansas beat out Missouri, Mississippi State and Louisville for the commitment.