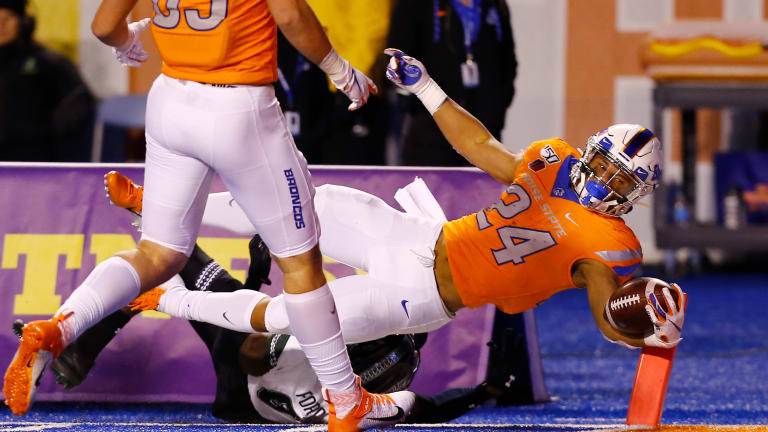 Cal Football: Bowl Projections -- Most Experts Still Have Bears in a Bowl
A Las Vegas Bowl game against Boise State is the most common prediction
Cal's chances of landing in a bowl game for the second straight season took a hit last week when the Bears lost to Oregon State 21-17 last week.
The 4-3 Bears still need two wins to become bowl-eligible and even that would not guarantee Cal a postseason berth.
We take a look at the bowl projects of 11 experts. Last week, every expert predicted Cal will play in some postsason game, but this week, four experts have Cal staying home for the postseason.
Of course, that means that seven still have faith that Cal will land a bowl berth.
The most common destination is the Las Vegas Bowl, which three expects picked as Cal's bowl game. All three also said Boise State would be the Bears' opponent in that game.
Two experts still project Cal to play in the Frisco Bowl against SMU, which is coached by former Cal coach Sonny Dykes. However, a number of experts project unbeaten, 16th-ranked SMU to play in one of the New Year's Six bowls.
Here are the projections of 11 noteworthy sites:
USA Today: Cal vs. SMU, Frisco Bowl, Dec. 20
CBS Sports: Cal not projected to be in a bowl 
247 Sports: Cal vs. North Carolina, Sun Bowl, Dec. 31   
Yahoo.com: Cal vs. Boise State, Las Vegas Bowl, Dec. 21 
College Football News: Cal vs. SMU, Frisco Bowl, Dec. 20 
Sports Illustrated: Cal not projected to play in a bowl 
ESPN (Kyle Bunagura): Cal not projected to be in a bowl 
ESPN (Mark Schlabach): Cal vs. Boise State, Las Vegas Bowl, Dec. 21
Sporting News: Cal vs. Pittsburgh, Music City Bowl, Dec. 30 
Brett McMurphy: Cal not projected to play in a bowl 
Bleacher Report: Cal vs. Boise State, Las Vegas Bowl, Dec. 21