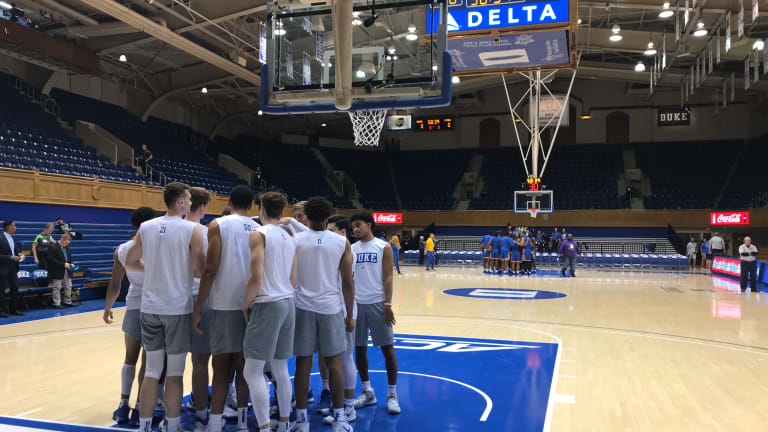 Duke Vs Fort Valley State: Gameday Open Thread
Duke plays second exhibition of year
We're live at Cameron Indoor, where No. 4 Duke will tip off against Fort Valley State in just over an hour.
The Blue Devils beat NW Missouri State by six in the last exhibition. This opponent should be less formidable. FVSU went 7-22 last season and has no player taller than 6-foot-7. 
It's possible that Coach K was a little more upset with the close exhibition game than he let on in the postgame press conference ...
The "dirt sheet" on the opponent for tonight's game includes Fort Valley head coach Mark Sherrill's cell number. Don't mess with the Cameron Crazies 
Here comes Duke: 
Your starters: Matthew Hurt, Vernon Carey, Cassius Stanley, Jordan Goldwire, Tre Jones. Interesting two pg lineup. No Moore or seniors 
Duke pressing with the two points, score the first six leading to a quick FGSU timeout 71 seconds in 
Three minutes in, no points or rebounds for Fort Valley. It's 15-0
19-2 at the under 16 time out. Moore, White, DeLaurier & O'Connell coming in for Duke
FVSU coming out in a zone. And it produces a steal & fast break 
O'Connell looked very uncertain out there. Had one travel & got away with another. Also lost his grip on a rebound & a pass
Joey Baker In. He's hit back to back threes sending Fort Valley into another time out. 34-12, 11:06 left in the first 
Coach K said earlier this offseason that Wendell Moore could defend all five positions. He's been using him to pick up the ballhandler at half court a lot tonight. 
Line change! Five new Blue Devils coming in after the timeout. 6:03 left in the first, 46-16 Duke
At the under 4, it's 53-20 Duke. Joey Baker appears to be the answer to Duke's shooting woes. Has knocked down three 3-pointers tonight
Halftime: Duke scored 69 on Saturday. Blue Devils have 67 in the first half, up 67-28. 
Duke is 6 of 13 from 3, led by Joey Baker's 5 of 6. FVSU is 0 for 5 from three. 
Duke outrebounding FVSU 27-12 and has 40-22 points in paint edge.
Matthew Hurt & Baker lead with 15 points. Tre Jones has 5 assists, Wendell Moore 4. Vernon Carey has 8 rebounds. Jordan Goldwire has 4 steals 
Duke comes out of the locker room with a 17-5 run. Blue Devils are up 84-33 at the under 16. Jack White & Wendell Moore have hit threes, and the two PG lineup again shredded Fort Valley with the press. 
Alex O'Connell gets poked in the eye but stays in the game, despite not being able to keep it open. Next trip down the court, he throws down an impressive dunk. 
Duke has has several dunks as it forces turnovers leading to breaks this half. 
At the under 12, it's 93-38. 
Jordan Goldwire dunks after a mid court steal to put Duke at 100. At the under 8, it's 102-44
Walk ons are at the scorers table with 5 minutes to go. Duke up 71
At the under four, Duke is up 116-53
That's a wrap. Duke posts a 126-57 win