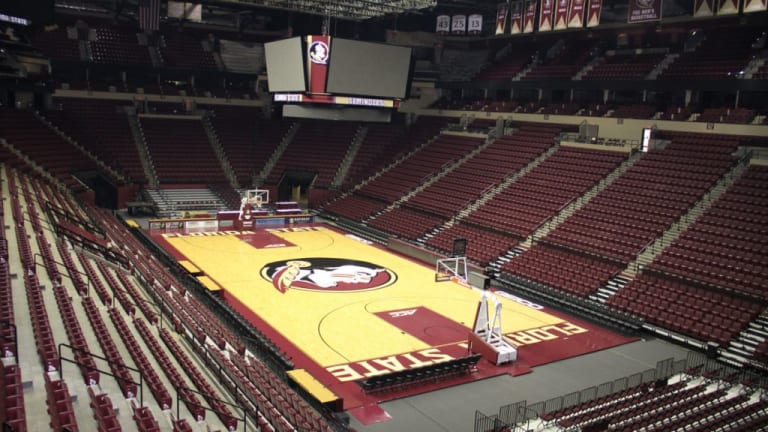 Gameday Live Blog/Open Thread: Yellow Jackets @ Seminoles | Game 13
Follow for live updates and analysis of Game 13 vs. Florida State.
Good morning from the Tucker Civic Center in Tallahassee, FL, where the Georgia Tech Yellow Jackets (6-6, 1-1 ACC) will be spending the final day of 2019. They're continuing their extended road trip and kicking off ACC play with a matchup against the Florida State Seminoles (11-2, 1-1 ACC).
Want to join the conversation? It's easy! Just go to the top of the site, click the follow button in the right-hand corner, then log in with either Facebook or Google to discuss the game below.
Tipoff is set for 12:00pm, and you can catch the game on ESPNU.
PREGAME/PREVIEW
Ahead of today's tipoff, be sure to check out our preview of the Seminoles and other related readings:
What To Watch For Vs. Florida State
Tale of The Tape: Florida State Seminoles
3 Things GT Basketball Needs To Improve For Conference Play
Probable Starters:
- Georgia Tech Yellow Jackets
G Jose Alvarado
G Michael Devoe
F Jordan Usher
F Moses Wright
C James Banks III
- Florida State Seminoles
G Trent Forrest
G Devin Vassell
G MJ Walker
F Malik Osbourne
F RaQuan Gray
FIRST HALF:
15:56: It's all knotted up at 5 a piece at the first media timeout. Defense has been the tone setter in this game so far, with Tech just 2-7 from the field with 3 turnovers and FSU 2-5 from the field and also 3 turnovers.
13:58: Both teams are 2-4 from beyond the arc.
12:56: FSU is defending exceedingly well. They have 3 blocks and 2 steals already, and are holding GT to 3-12 from the field.
11:42: The Yellow Jackets' turnovers woes are on full display today, as they already have 6 on the game. They are 3-12 from the field and 2-6 on three point shots., but are out rebounding the Noles 9-7. FSU leads 13-7.
6:44: FSU and the Jackets both have 7 made field goals and 7 turnovers, and are a combined 14-39 from the field. While FSU has plenty of blocks with 7 so far, Tech has had a few chances to continue the possession as they are out-rebounding the Noles 14-11. The game is tied at 17.
3:22: Though FSU's post defense remains stout, offense has picked up in the last few minutes. GT has made their last 3 shot attempts, and both them and FSU are shooting 10-25 from the field. However Tech does have 10 turnovers thus far.
HALF: Florida State 31, Georgia Tech 29
Stats at the Half:
SECOND HALF:
15:09: The Jackets and Noles are combined for 27 turnovers, but the pace of the second half has been blazing compared to the first half. FSU hold a 42-38 advantage, but GT is 4-6 in the second half.
12:32: GT has missed their last 4 shots and is on a 2:11 scoring drought. FSU leads 45-40.
11:47: GT cuts the deficit to just 2 thanks to a Michael Devoe 3, he leads all scorers with 16. The Jackets are shooting 40% from 3 in the game and 2-4 in the second half.
10:03: Jordan Usher gets called for a Flagrant 1.
8:39: Josh Pastner calls a timeout after a dunk from Malik Osbourne. FSU has made 4 of their last 5 and possess a 7 point lead.
7:01: Georgia Tech's offense is much smoother in the second half, as they are 9-17 and have a positive assist/turnover ratio in the second half. The problem is that their defense is starting to collapse, as FSU has made 6 of their last 8 shots
6:09: Sophomore shooting guard Michael Devoe makes a career high 6th three pointer.
2:57: FSU is starting separate themselves from the Jackets. GT has not connected on their last 4 shots and have not scored a point in over 3 minutes. Meanwhile FSU is shooting 56% and has turned it over just twice int are second half.
2:09: Pastner calls a timeout after an FSU 3. The Noles lead 68-56.
Final: Florida State 70, Georgia Tech 58.
Full Stats: