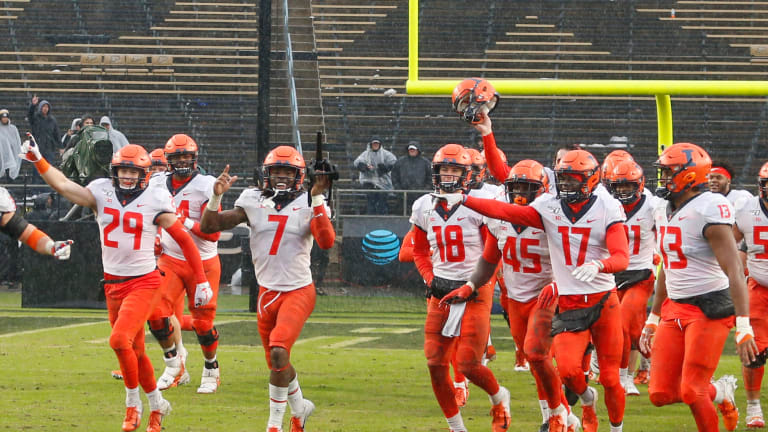 Secondary Plans: Illini Starting DBs Finally How Lovie Wanted It
A fully healthy and confident veteran secondary group has quickly transformed this Illini defense into a turnover-producing machine.
WEST LAFAYETTE, Ind. -- Simply put, Lovie Smith just finally got tired of having to tell Tony Adams what position he was playing in a particular week.
The junior defensive back had been shuffled through every secondary position in Smith's Cover-2 scheme from cornerback, nickel and the two safety positions. For those hoping and praying Smith would make changes to his defensive philosophy, in a way the Illinois head coach, who is also the defensive coordinator, obliged by permanently fixturing Adams in the position he was recruited to play all along: cornerback.
"That says an awful lot about Tony when I have to come to him and say 'Tony you're starting at nickel this week' (or) 'Tony, you gotta start at free safety' (or) 'Tony, you got to start at strong safety,'" Smith said Saturday. "Now we've come to Tony and said to him that we think we can get you at your right position at corner. You want to find success for guys when they're all about the team."
Adams, a former three-star recruit by 247Sports.com, Rivals.com and ESPN.com out of St. Louis University High School, has responded to this move from his defensive boss with the most important defensive plays in Illinois' back-to-back Big Ten wins. Both plays, interceptions, were a sign of Adams being able to use his instincts to create turnovers - a hallmark staple of an effective defensive unit under Smith.
"I saw 'TA' jump that route and thought 'oh, he's about to take that to the house' and after that punt by Blake Hayes, that was exactly what we knew we needed at that point," Illini senior defensive tackle Jamal Milan said.
But it's not the scheme that confused, physically beat up and overwhelmed Purdue's offense. Just ask Boilermakers head coach Jeff Brohm when asked why freshman receiver David Bell, who was second in the Big Ten Conference in receiving yards coming into Saturday, had just 18 yards.
"They did absolutely nothing special," Brohm said of the Illini's defense. "They played us quarters coverage on first and second down and cover-2. Really, the same things that Iowa was in (with defenses saying) 'you're going to have to run the ball to beat us.'"
If Brohm's assessment is correct that it isn't a new or exotic scheme change, and judging by the open quarterback competition he's called for throughout next week's set of practices he likely is, then Illinois must finally have continuity, consistency, and confidence in its defensive backfield.
"We've been wanting to get the best group out there," Smith said. "The injuries have stopped us from doing that. For two weeks in a row, with this (secondary) crew, we feel pretty good about it."
Adams said Saturday his interception returned 13 yards for the game's first touchdown Saturday was simply the 6-foot athlete drifting off his assigned receiver and area in the Cover-2 scheme to read the eyes of an already flustered Purdue quarterback Jack Plummer.
"I just felt it. I just felt who he was going to throw the ball to and just jumped it," Adams said. "I just trusted my instincts."
In a philosophical way, Adams made the same calculation on his interception of Wisconsin quarterback Jack Coan that led to James McCourt's game-winning field goal two weeks ago. Smith says he has always wanted his defensive backs to stay disciplined in their assignments. However, Adams' knowledge of not only his new permanent position by the other three or four defensive backs spots allows him the confidence to make plays on the ball like he has done in each of the last two weeks.
Stanley Green, who lost his starting job early this season because of an injury and performance, led the Illini (4-4, 2-3 in Big Ten) with nine tackles, a tackle for loss and a 29-yard fumble recovery. Having a ball-hawking physical player like Green, who has eight career forced fumbles and three fumble recoveries in the last three games was a key implement Saturday to holding Purdue to just 3.1 yards-per-carry.
"I feel like everything is clicking back there and we're communicating better than we ever have," Green said. "I'll say that by the end of the year we're going to be one of the top defensive back cores in the nation."
As Big Ten Network analysts Gerry DiNardo and Urban Meyer documented last week in their evaluation of the Illini's win over Wisconsin, Green allows Illinois to effectively play with a physical eight or even nine-man front in situations where an offense is likely to run.
Nate Hobbs, who forced the fumble of Jack Plummer that was recovered by Green in the second half, was instrumental in shutting down his half of the field Saturday and allowing more time for the vastly improved Illini defensive line to get to Purdue's quarterback.
Sydney Brown, who was out the first two games this season with an injury, was a key piece missing in the puzzle of Illinois' back four. Brown tied for second-most starts by an Illinois true freshman defensive back last season (behind only Vontae Davis' 11) and his speed and athleticism has translated into him being able to be showcased in Illinois' base, nickel and dime packages.
With Illinois having set its defensive backfield with Adams, Hobbs, Brown and Green, Smith has felt much more free as a defensive play-caller to expect better results in the big guys near the line-of-scrimmage. Following the victory at Purdue, the Illini defensive boss said he'd "jump on that bandwagon" that the Illinois defensive front seven, which led by Milan's four tackles for loss Saturday, is playing better than at any point in four-year tenure with the Illini.
"That allows us to play our defense, plain and simple," Smith said. "We're not going to blitz most of the time, didn't do that today, but that (secondary) allows us to play sound, fundamental football in our gaps and allows our guys up base front to make plays. That's our defense."