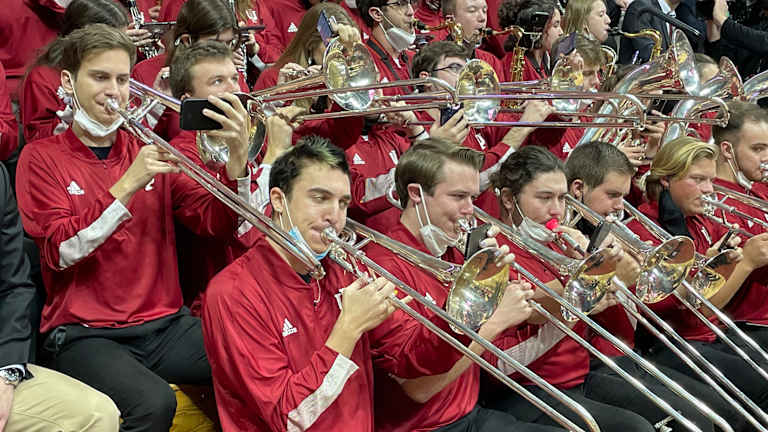 LIVE BLOG: Follow Indiana's Game With Purdue Live in Real Time
It's Indiana against No. 4-ranked Purdue in the biggest game of the year so far for both teams. The Hoosiers are 13-4 and unbeaten at home and the Boilermakers are 15-2. Here is our live blog, with news and views right from press row at center court.
BLOOMINGTON, Ind. — The date has been circled on the calendar for months, and now it's finally here. It's Indiana and Purdue, live from Simon Skjodt Assembly Hall.
Welcome to our live blog, where we'll keep you updated in real. time with all the news and views right from center court. The place is already electric, and we're ready to go.
If you're not familiar with our live blog, all the latest news is at the top, so just keep refreshing. We'll bring you all the big plays, live opinion and highlights when they come available. 
The game starts at 7 p.m. ET on FOX Sports 1. Here's everything you need to know about the broadcast and the pregame notes for both sides. CLICK HERE
Let's go!!\
9:21 p.m. — Indiana runs an action to get Rob Phinisee open for three on the left wing, but he misses. The ball gets tipped out of bounds, though, and Indiana retains possession with 19.3 seconds to go. Shot clock turned off. Purdue leads 65-63.
9:19 pm. — Trevion Williams misses again inside, more tough defense by Trayce Jackson-Davis. Indiana's ball with 33.2 seconds left to go. Purdue leads 65-63. 
9:15 p.m. — Mason Gillis scores inside for Purdue, and the Boilermakers have taken a 65-63 lead. It's the first lead since the 6:02 mark in the first half. Xavier Johnson misses on the other end in traffic and Purdue rebounds. 50. 3 seconds to go.
9:13 p.m. — Another brutal possession on the offensive end for Indiana, with Xavier Johnson having to force up a three as the shot clock was expiring. But on the other end, Trayce Jackson-Davis does a great job defensively on Trevion Williams, forcing a a miss. He's fouled on the other end but misses both free throws. 
9:09 p.m. — Purdue gets a basket from Jaden Ivey, a floater in the lane, and the game is tied 63-63. Been a while. Indiana misses again, but so does Jaden Ivey on the other end. Indiana coach Mike Woodson calls timeout with 2:31 left in the game. Trayce Jackson-Davis comes back in for the home stretch. He's got four fouls. 
9:02 p.m. — Indiana has only THREE turnovers in the game so far, in 32 minutes of action. Best of the year, by far. Trayce gets his fourth foul on a bad call. Looks like the foul should have been on Race Thompson. Back to the bench he goes again. 
8:59 p.m. — Jaden Ivey taking over for Purdue. He has 17 points in the second half already. Indiana leads 59-56 with 7:59 to go as we hit the World's Greatest Under-8 timeout. Trayce Jackson-Davis checking back in for the Hoosiers.
8:48 p.m. — Subs in for Indiana, with Trey Galloway and Jordan Geronimo entering the game. Galloway immediately scores on a spin move in the lane, but Jaden Ivey answers on the other end. Indiana leads 54-49 at the second media timeout.
8:44 p.m. — Race Thompson just accidentally tipped the ball into the PURDUE basket. There's a timeout on the floor with 11:10 to go, and Indiana leads 52-47.
8:40 p.m. — Rob Phinisee into the game for Indiana at the 13:16 mark
8:39 p.m. — Parker Stewart gets called for a Flagrant 1 foul after hitting Jaden Ivey pretty hard. He makes a free throw and then scores on a dunk. Indiana leads 50-45.
8:30 p.m. — We're at the first media timeout of the second half, and Indiana leads 43-42. Early third foul on Trayce Jackson-Davis, and he's back to the bench. Purdue is 4-for-5 from three, and right back in it. There's 15:43 to go. 
8:26 p.m. — Purdue comes out firing, getting two quick three-pointers from Jaden Ivey and Isaiah Thompson. Ivey adds a pair of free throws and the lead is down to three points at 39-36.
BEST STAT OF THE HALF: Indiana had ONE turnover. 
HALFTIME STATS OF NOTE: Shooting numbers practically identical. Both shooting 44 percent from the field, and 30 percent from the line. Both teams are HORRIBLE from the line. Indiana is 8-for-16 but Purdue is just 1-for-5. Hard to fathom that Indiana has a nine-point with a TOTAL of two points from starters Trayce Jackson-Davis, Miller Kopp and Parker Stewart. 
HALFTIME: Wow, wow, wow. That was something. We head to the break and Indiana leads 37-28. From down eight to up nine. Rob Phinisee leading the way with 17 points and Xavier Johnson with 8.
8:03 p.m. — That's seven steals for Indiana after Trey Galloway gets another one. Just makes 1-of-2 free throws though and Indiana is just 8-for-16 from the line. Indiana leads 37-26.
7:58 p.m. — What's most amazing about this Indiana run is that they've done it all without Trayce Jackson-Davis, who only played 5 minutes and 36 seconds before picking up his second foul. A minute later, it was 16-8 Purdue. Since then, Indiana has outscored them 23-8. 
7:53 — Another great defensive play by Rob Phinisee and another basket, and Indiana has its biggest lead of the game at 29-24. Assembly Hall is as loud as it's been in years. We're at the under-4 media timeout. Phinisee has 15 now, a new season high.
7:51 p.m. — Purdue's Jaden Ivey gets called for a Flagrant 1 foul after pushing Trey Galloway to the ground. It's his second personal, which is big too. Galloway goes to the line and makes the first of two. Indiana has its first lead at 25-24, and they get the ball. 
7:50 p.m. — Purdue's Mason Gillis misses a free throw, which is big news. He started the season a perfect 20-for-20. Indiana, meanwhile, a measly 3-for-7 from the line. But a Jordan Geronimo dunk ties the game for the first time since 0-0. 
7:45 p.m. — Massive understatement, I know, but this place is electric tonight. 
7:40 p.m. — Rob Phinisee is just on fire. Another three-pointer and he's got 13 points already. Indiana within one now and 22-21. He cannot come off the floor in this game!! That's a season-high already. 
7:37 p.m. — The first sign that this moment might be a little too big for Indiana's Michael Durr. He gets fouled, but looks very uncomfortable at the line. Took forever to shoot, and missed them both.
7:33 p.m. — A big sequence there for Indiana guard Rob Phinisee, the Lafayette native. He digs down on defense and gets a steal off of Trevion Williams, and then hits consecutive three-pointers on the other end. Massively huge. Purdue leads 18-14.
7:25 p.m. — Subs for Indiana, as sophomores Jordan Geronimo and Trey Galloway enter the game. And now Rob Phinisee comes in, too. Parker Stewart the only starter on the floor. No other choice. We're at the second media timeout, and Purdue leads 16-8 with 11:50 to go. 
7:15 p.m. — Bad, bad, bad news though, as Trayce Jackson-Davis gets called for his second foul battling for a rebound with 7-foot-4 Purdue center Zach Edey. That's a huge blow for the Hoosiers. First media timeout at 14:24, and Michael Durr heads in for the Hoosiers. I wrote about him earlier today, that this needs to be his breakout game. 
7:10 p..m. Xavier Johnson is blowing right past Purdue point guard Isaiah Thompson and getting into the lane. He hits Trayce Jackson-Davis with a lop for a dunk, and then makes two layups and a jumper to make it Purdue 12-8. 
7:05 p.m. — Quick start by Purdue. Mason Gillis gets the first points of the game with a three-pointer, and then Zach Edey scores twice inside as well, also picking up a foul on Trayce Jackson-Davis. Indiana on the board with two Xavier Johnson free throws.
7 p.m. — Same starters for Indiana, with Trayce Jackson-Davis, Race Thompson, Xavier Johnson, Miller Kopp and Parker Stewart getting the call.
6:35 p.m. — And yes, for one game, I'm in too,
6:30 p.m. —  The "Suit Up'' theme is happening. 
6:25 p.m. — Indiana is first in the Big Ten and second in country in field goal percentage defense (36.5%). The Hoosiers also lead the league in scoring defense (62.7). In conference play, IU leads in scoring defense (63.6) and field goal percentage defense (39.3%).
6:20 p.m. —  Indiana junior Tracye Jackson-Davis had his 30th career double-double as a Hoosier on Monday and marked the first time in his career he has had four-straight double-doubles. He's also No. 31 on the Indiana all-time scoring list now, having passed Steve Green and Joby Wright last week. Here's the complete list of 1,000-point scorers in Indiana history. CLICK HERE
6:15 p.m.  — Purdue made it to No. 1 in the country the first week of December, but their first-ever stop at the top didn't last long after losing to Rutgers on a last-minute shot. Indiana has been ranked No. 1 for 55 weeks.
6:10 p.m. —  Indiana played two No. 4-ranked teams a year ago, beating Iowa and losing to Ohio State.