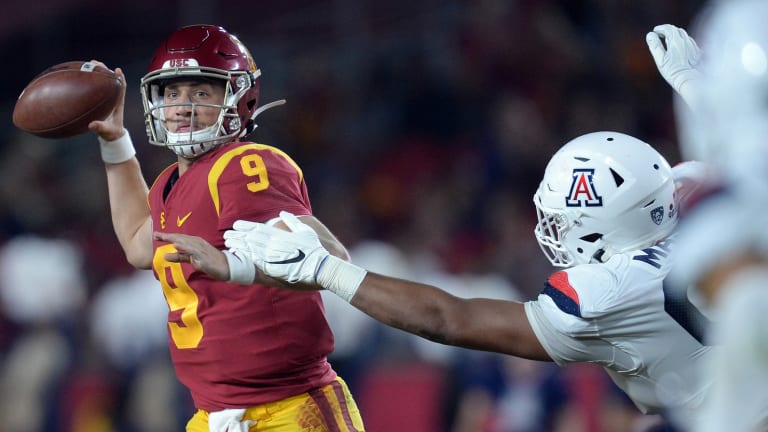 Now That Indiana is Bowl Eligible, Where Are Hoosiers Going?
Bowl projections from Sports Illustrated's Michael Shapiro have the Hoosiers going to California to play USC on Dec. 30 in Santa Clara. Others say Detroit, or Jacksonville.
BLOOMINGTON, Ind. — Getting to six wins was never the goal for the Indiana football team this season, but it is nice that they are there so early in the season. They are now bowl eligible.
So where we going?
There's still plenty to be determined with that, because there's a pecking order when it comes to the Big Ten filling all of its slots with the league's bowl affiliates. Indiana is 6-2 right now and is probably No. 7 in the Big Ten pecking order. That can change with more victories, of course, but that's down the road.
For this last weekend in October, we now get to join the bowl projection party.
Here's what's out there for now:
Sports Illustrated: Indiana vs. USC in the Redbox Bowl in Santa Clara, Calif.
Stadium.com: Indiana vs. Florida State in the Quick Lane Bowl in Detroit.
Athlon Sports: Indiana vs. N.C. State in the Quick Lane Bowl in Detroit.
Me!: Indiana vs. Mississippi State in the Gator Bowl in Jacksonville, Fla.
Going to California to play USC would be something, just because of the tie that the Hoosiers have to the Trojans. Indiana's biggest and most important bowl game ever — the Rose Bowl after the 1967 season — was against O.J. Simpson and USC 52 years ago.
The Big Ten ties matter a lot in deciding who goes where. So a lot of what happens with the Hoosiers in the bowl picture will be determined by what happens in the next four games with Northwestern (1-6), Penn State (8-0), Michigan (6-2) and Purdue (2-6)
Based on game odds, Indiana should finish the season 8-4, which will get them a decent game. If the Hoosiers fall apart and finish 6-6, it gets worse. And what if they can get nine wins? Or 10? The sky is the limit.
Here is the Big Ten list of games, and likely options for now. (This is just a complete guess with five weeks still to go in the regular season)
College Football Playoff, TBA (Dec. 28): For now it looks like unbeaten Ohio State is a good bet to make the four-team playoff. They are my pick to be the No. 1 seed, in fact.
Rose Bowl, Pasadena, Calif. (Jan. 1): The Rose Bowl, which is not a part of hosting a  playoff game this year, gets the best Big Ten team. If OSU is in the playoff, either Penn State or Minnesota gets the nod here. They play each other on Nov. 9 in Minneapolis, so that might be a Rose Bowl play-in game.
Citrus Bowl, Orlando, Fla. (Jan. 1): It's too early to tell, but the Minnesota-Penn State loser should be third in the pecking order. There's an ACC hook to this bowl that might juggle the Big Ten's pecking order, but I think not.
Outback Bowl, Tampa, Fla. (Jan. 1): Now here's where it gets interesting. Right now, the Big Ten has four teams at 6-2 that will likely fill the next four spots. Indiana has a lot of Tampa connections on its roster and they've never played there, so this would be the dream bowl. (Me too, since Clearwater is my second home.) It would probably take nine wins to get there, which means beating Penn State or Michigan to get ahead of them in the order. For now, let's put Michigan there.
Holiday Bowl, San Diego, Calif: (Dec. 27): And let's put Wisconsin here for now, assuming a loss to Minnesota.
Gator Bowl, Jacksonville, Fla (Jan. 2): And let's put Indiana here.
Pinstripe Bowl, New York (Dec. 27): With Iowa in this slot, also assuming losses to Minnesota and Wisconsin.
Redbox Bowl, Santa Clara, Calif. (Dec. 30): Nebraska goes here.
Quick Lane Bowl, Detroit, Mich. (Dec. 26): Michigan State winds up here to sell tickets.
Armed Forces Bowl, Fort Worth, Texas (Jan. 4): Illinois gets bowl eligible and does fill the Big Ten's last tied-to spot.
What happens now for Indiana is to watch how all of this gets updated every week. The key to getting the best bowl possible is to take care of business with struggling Northwestern and Purdue to get to eight wins. 
Getting a ninth win would really push them up the list. You wouldn't have predicted wins against Penn State earlier this year, but now there seems like there is at least a chance.
Let the bowl dance begin.