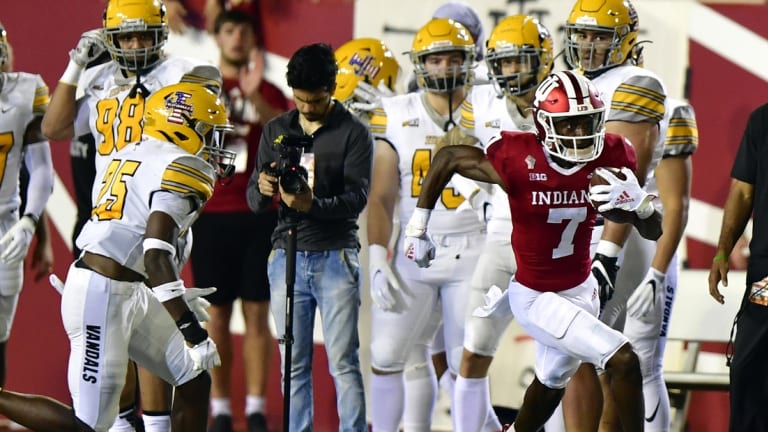 Great Special Teams Play Helps Indiana Win Home Opener Over Idaho, 56-14
Indiana scored two special teams touchdowns for the first time since 1969 and easily won their home opener 56-14 over Idaho on Saturday night at Memorial Stadium.
BLOOMINGTON, Ind. – Tom Allen has spent a good bit of his coaching career watching over special teams, and it's always been a priority for him as the head coach at Indiana.
And with good reason. Winning that third phase can often mean the difference between winning and losing. Losing was never in doubt Saturday night in the home opener against Idaho, but the easy 56-14 win came thanks to incredible, record-setting special teams play by the Hoosiers.
And that made Allen as giddy as a schoolgirl after the Hoosiers raised their record to 1-1 and started feeling good about themselves again.
"I thought special teams was really special, and Coach (Kasey) Teegardin has done a phenomenal job with that group,'' Allen said. "To have two blocked punts, one for a touchdown, a punt return for touchdown, one kickoff return. Just overall, excellent job in special teams.

"It really did (make a difference) and we make such a huge emphasis on special teams. I am in every single meeting, and that's on purpose. I want our guys to know how important they are. I interject a lot. Kasey does a tremendous job and Ryan McInerney, our quality control guy, does a phenomenal job studying film and getting us in great position. Tplayers know how important special teams are to us and we work on them so much. But the challenge was, hey, let's make those game-changing plays. We've always been really solid the last few years, and now I said it's time to help us go win the game. We have three DNAs for each area and for (special teams) it's providing the winning edge, No. 1; for special teams be at your best when it counts the most, and make game-changing plays and they lived those three out tonight and I thought it was awesome."

The Hoosiers scored two special teams touchdowns, the first time that's happened since Sept. 20, 1969 in a season-opening win over Kentucky. Javon Swinton took a blocked punt into the end zone and D.J. Matthews scored on an 81-yard punt return for the other score.
But that was a just a part of it. There were accolades galore from the special teams guys. Such as:
The Hoosiers blocked a second punt in the fourth quarter when sophomore A.J. Barner got his hands on a ball.
Jacolby Hewitt had a 72-yard kickoff return that put the Hoosiers in great field position.
Throw in the fact that Indiana's punt and kick coverage was great and their kickers, Charles Campbell and Chris Freeman, made all eight extra points. 
That's putting the special in special teams.
For Indiana is a good night to get the taste out of their mouths from last week's disappointing 34-6 loss at Iowa to start the season. The win was expected – Indiana was a 30.5-point favorite – but doing it in style with big plays meant a lot too, especially with No. 7 Cincinnati coming to Bloomington next week.
Another bright spot was the running of USC transfer Stephen Carr, who had 118 yards rushing on 22 carries, a 5.4-yard average. It was his first 100-yard game since in freshman year at USC in 2017, when he had a career-high 119 yards against Stanford.
Granted, the competition level was different, but Indiana's offensive line was better on Saturday night against Idaho compared to their sub-par effort in the 34-6 loss at Iowa a week earlier.
It helped having Luke Haggard back at left tackle, because it allowed Indiana to move junior Matt Bedford to right guard, which has been the plan since the summer. Carr had more room to run, and it paid off. As a team, Indiana rushed for 179 yards.
"That was the offensive line that we expected to start the season with, and it really was how we moved through the majority of fall camp through the week before the Iowa game when Luke got hurt,'' Allen said. "I thought they were very solid. We've still got things to work on. There's no doubt that's the combination we want. I feel like it puts our best five guys on the field, and that to me, they just have to keep working together.

It's about communication. All of the combos, all the movements, all the twists that you guys get, sometimes we got a couple of those we gave up tonight that we'll keep getting better at. I thought they had a good D-Line, I really did. I noticed that on film and knew they were going to be a challenge to us. Working together, I thought they did a good, solid job for sure, but we have to continue to improve."

Hoosiers quarterback Michael Penix Jr. was 11-for-16 passing for just 68 yards, but he had two touchdown passes, one to Javon Swinton and the other to Ty Fryfogle, both from 9 yards out. 
Backup quarterback Jack Tuttle had a touchdown pass too, finding tight end A.J. Barner open over the middle and he eluded several Idaho defenders on the way to a 76-yard score. It was his first career touchdown.
"I thought that it was a really good next step for Michael,'' Allen said. "Obviously, last week was really rough, and to be able to come back from that was good. I understand that it wasn't the same opponent, but at the same time, we had a lot of respect for them and how hard their kids play and how well-coached they are. Bottom line is that I thought it was a really good, positive step in the right direction for him, and I feel like he got more comfortable seeing him in there making plays and throws and just got to continue to grow and develop. 
"Obviously, the opponent will intensify here real fast next week -- No. 7 Cincinnati comes to town for a Noon ET national TV game, but the bottom line is we were able to make positive steps in the direction that we needed to make to help this team continue to move forward and get better."

Indiana played in front of fans for the first time in 657 days because of the COVID-19 pandemic. Indiana's students showed up en masse and took up the entire northwest quarter of the stadium. They were loud, too, and noticed.
"I'm going to tell you what, our student section was unbelievable,'' Allen said. "They were there an hour before kickoff, and they were loud. Man, I just want to thank them. I tried to go over there and thank them at the end. I know a lot of them had left and I understand why, but that was just an unbelievable atmosphere that they create.  

"The attendance was really, really good tonight and I know next week is already sold out. It's awesome and I just appreciate it so much. It means so much to our players. They noticed it immediately when they came out during warmups and they were engaged. They weren't just sitting there. They were into it.''

Related stories on Indiana football