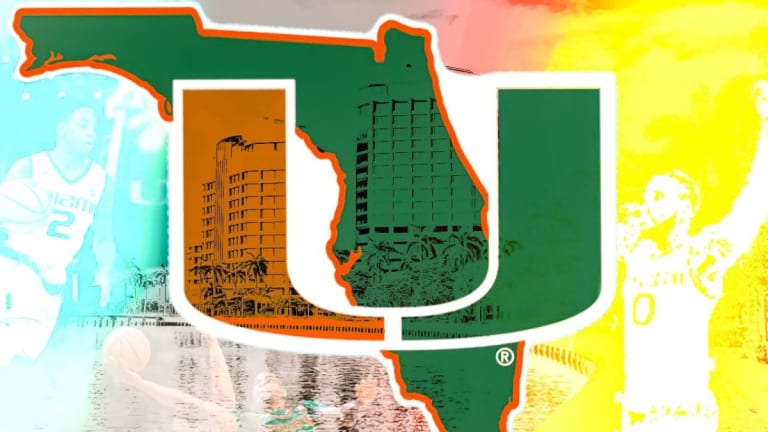 Hurricanes Drop Season Opener vs Louisville 87-74
Hurricanes Men's Basketball Falls in Season Opener vs Louisville 87-74
​
The Miami Hurricanes men's basketball squad kicked off the 2019-20 season with a marquee matchup from the jump, hosting the No. 5 Louisville Cardinals from the Watsco Center in Coral Gables.
Typically conference games do not start in earnest until mid-season, the ACC has not had an opening game with two of their teams facing off in 40 years.
Jim Larranaga enters his ninth season leading the Hurricanes and expectations for this young team are tempered, Larranaga suffered his first losing season in Miami last year.
Junior Chris Lykes and senior DJ Vaseljevic lead the upperclassmen and will be looked upon as a steadying influence for a team in transition.
Miami jumped out to a 16-9 lead to start the game behind Vaseljevic, he would finish the first half with 10 points on 4-of-7 shooting overall and 2-of-4 from deep. He became a focal point of the Louisville defense later in the half which helped fuel their run to a quick double digit lead.
Louisville got hot from behind the new international distance 3-point line in college play, the Cardinals would close the opening 20 minutes on a 36-10 run and led 45-26 at the half.
Louisville is led by preseason ACC MVP Jordan Nwora but it was his supporting cast who put the early pressure on the Hurricanes defense.
Dwayne Sutton left an early mark with 12 points and four rebounds while Ryan McMahon was cutting it loose from NBA 3-point range, hitting three early triples and ending the first half with 11 points.
Miami did not attempt a free throw in the first half and struggled to secure defensive rebounds, leading to second chance points for Louisville. For the game the Hurricanes made only 4-of-11 from the foul line.
In the second half Miami continued to scrap and claw despite being down over 20 points most of the way.
Chris Lykes had an up-and-down game, finishing with 18 points on 7-of-15 shooting. Vaseljevic finished with 16 points and Kameron McGusty provided a spark with 12 points in a starting role.
The Hurricanes defense was a real issue, allowing Louisville to hit over 54% from the field and 50% from three point range. On the opposite side of the coin the Miami offense could not sustain any momentum until late with a 14-0 run to make a game of it.
Nwora picked up his play in the second half and led all scorers with 23 points. McMahon and Sutton would finish with 16 points apiece and Louisville had five players in double figures.
Poor shooting plagued the Hurricanes for the entire night, Miami hit only 35.3% of their shots overall including an abysmal 10-of-24 from deep.
Next up for Miami they host Florida Atlantic Nov. 8th.
​
​
​