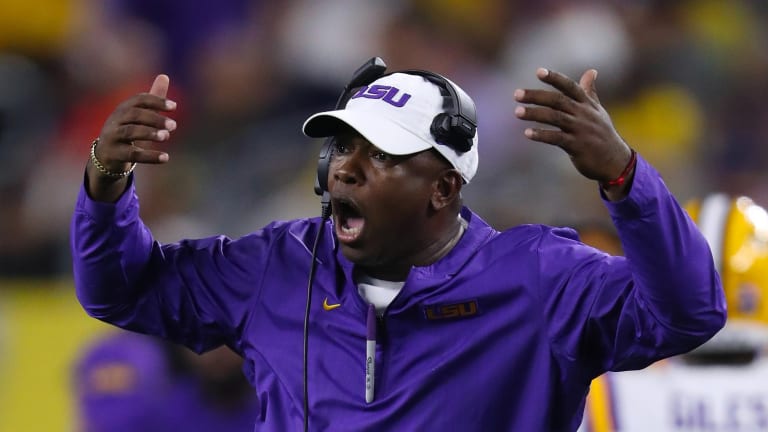 Huskers Have a Proven Performer in Mickey Joseph
Jeremy Pernell says Nebraska's new receivers coach has shown he can recruit and develop players at a high level
As Scott Frost worked to fill the vacancies on his Nebraska football staff late last year, the first domino to fall was Mickey Joseph.
Frost had first attempted to hire Joseph away from Ed Orgeron's LSU staff back in January 2020, following Nebraska's dismissal of offensive coordinator and wide receivers coach Troy Walters. Instead, Joseph, a Louisiana native, decided to stick with the Tigers, who were coming off a national championship. That same offseason, Orgeron promoted Joseph to assistant head coach. The promotion came with a bump in salary that saw Joseph's base pay go from $310,000 to $407,000.
Note: This is the second in a series by Jeremy Pernell examining Scott Frost's new assistants. Go here for the first installment.
This past April, Joseph was a finalist for the head coaching position at Southern University. He didn't get the gig, but he did get a contract extension a few weeks later that raised his salary at LSU to $500,000 and was set to go up to $550,000 next season.
The coaching carousel likely played a part in Joseph not telling Frost no a second time. The entire LSU staff had basically been in limbo since mid-October, when Orgeron reached a "separation agreement" with the Tigers. Frost took advantage of the uncertainty and began courting Joseph soon after making firing four offensive assistants. It was rumored Joseph would be joining Frost's staff as early as Thanksgiving week, but Husker fans were forced to hold their collective breaths when Brian Kelly was hired away from Notre Dame on Nov. 29 to take over in Baton Rouge.
Despite overtures from several other schools, Joseph decided to return to his alma mater as wide receivers coach, passing game coordinator and associate head coach. Several sources reported Joseph had accepted Frost's offer to join his staff on Dec. 2, although school officials didn't confirm the hire until roughly 10 a.m. the following day. Joseph's contract is a two-year deal that will pay him a well-deserved $600,000 per season.
Even if Husker fans weren't familiar with Joseph's stellar reputation as a coach, they certainly remember him from his playing days as a Husker quarterback from 1988-91. Joseph came to Nebraska after an outstanding career at Archbishop Shaw High School in Marrero. He was a two-time all-state MVP and three-time all-district MVP. As a senior in 1987, he was awarded Gatorade Player of the Year and first-team Parade All-America honors.
Joseph played in 34 regular-season games at Nebraska, with his best season coming as a junior in 1990. He led the Huskers to a 9-3 record, accounting for 21 touchdowns (11 rushing, 10 passing), while throwing for 624 yards and rushing for 554. Fans old enough still remember the cheap shot he received against Oklahoma that season. Despite being well out of bounds, Joseph was tackled into the Sooner bench by linebacker Reggie Barnes, sustaining a cut to his left leg that required over 100 stitches.
Joseph began his coaching career in the mid-1990s, starting out as an assistant at Omaha North. His first 17 years were spent at the high school and small college levels. He got his first Division I job in 2013 as the special teams coordinator and wide receivers coach at Alcorn State. It was at Grambling State (2014-15) and Louisiana Tech (2016), however, where Joseph really started to gain notice for being a coach on the rise. That recognition led to his opportunity at LSU in 2017, and he immediately became an integral part of  Orgeron's staff.
While in Baton Rouge, Joseph quickly gained a reputation for being one of the best recruiters in the SEC. Not only did he stock his own wide receiver room with blue-chip talent, but he was the primary recruiter for players at other positions as well; defensive backs, linebackers, running backs, defensive linemen, quarterbacks and offensive linemen. All told, between the 2018-21 recruiting classes, Joseph personally recruited four five-star and 13 four-star players who signed with LSU.
Joseph's reputation in Louisiana, particularly in New Orleans and the surrounding area, is off the charts. He'll give Nebraska credibility with coaches and players in the state, much the same way Sean Beckton and Travis Fisher have in Georgia and Florida, respectively. Soon after his hire was official, Joseph was on the road spreading the word about the Huskers. He extended offers to many of the Bayou State's top prospects in the 2022, 2023 and 2024 classes.
Those efforts have paid immediate dividends. Joseph was able to flip his longtime target Decoldest Crawford off of his two-year commitment to the Tigers. The ESPN four-star receiver chose to follow Joseph, signing with the Huskers during the early signing period without ever taking a visit to Lincoln.
Joseph also added a former pupil of his from LSU via the transfer portal. Trey Palmer, a former Rivals five-star recruit from the 2019 class, decided to follow his former coach to Nebraska after putting his name in the transfer portal less than a week after Joseph left Baton Rouge for Lincoln. Palmer, who started five games at receiver for the Tigers this past season, also chose Nebraska sight-unseen because of his relationship and trust with Joseph.
I will caution, however, that it will be important for Joseph to identify the right out-of-state kids. The ones who can adjust to the culture shock of living in the m=Midwest and are self-sufficient enough to be away from friends and family. We've seen several highly rated kids out of the South quickly transfer from Nebraska for various reasons. It's not easy for some kids to be so far away from their support system. Some can deal with it, while others can't. Joseph will need to suss out the kids who can.
That won't always be an issue. Along with scouring the South for players, Joseph has taken over the recruitment of the Omaha and Lincoln areas. On Jan. 14, the month-long recruiting dead period ended. Joseph has spent the past two weeks combing those areas, impressing local coaches and players at every stop he's made. The staff has struggled in the Omaha metro area the last few years. Joseph will correct that. He's already visited with most of the top players in the area, with the Huskers extending new offers.
Along with having a national reputation as an ace recruiter, Joseph has earned praise for his ability to develop his position group. LSU had six receivers drafted in Joseph's five years as an assistant. Four of those players were drafted in the first two rounds; Ja'Marr Chase (fifth pick, 2021), Terrance Marshall (59th pick, 2021), Justin Jefferson (22nd pick, 2020), D.J. Chark (61st pick, 2018). Also drafted were Racey McMath (sixth round, 2021) and Russell Gage (sixth round, 2018). Current Tiger standout Kayshon Boutte, who is considered a top prospect for the 2023 draft, will eventually join that group.
There's no doubt Mickey Joseph was a home-run hire.