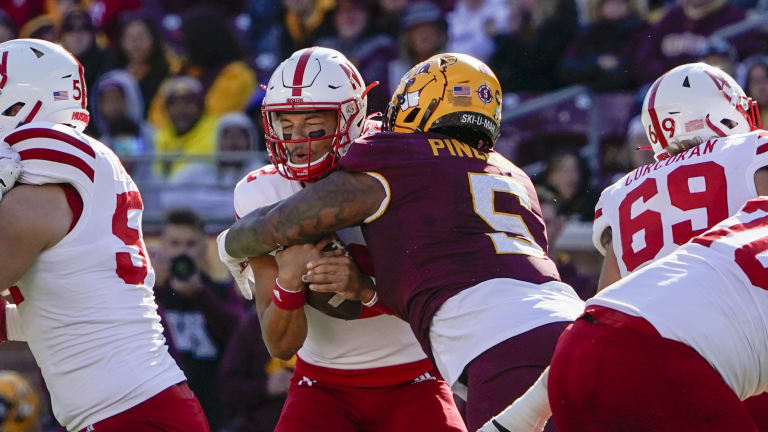 Stryker: Peter Pan in Scarlet
Scott Frost and his offensive coaching staff are not showing healthy growth in Year 4
Scott Frost has often commented that a key to victory in the Big Ten is "getting old and staying old." And the Huskers are getting older. The problem is, they're not acting like it, at least on offense.
I'm pretty sure Frost was referring to his players. I'm referring to the coaching staff, whose preparations (or lack thereof) allowed Minnesota to do exactly what it wanted Saturday — play from ahead all day long — in a 30-23 win over the Huskers.
Throughout the week, that was the one area Frost focused on most in his media appearances, stressing the need to start fast. It's perplexing at best that his team did the exact opposite, going three-and-out on its opening possession, allowing the Gophers to systematically move downfield and take a 7-3 lead while chewing up more than half of the first quarter.
From the outside, there appears to be a perplexing disconnect between coaching staff and team, and it showed no sign of improvement throughout a thoroughly discouraging first half, when neither side of the ball played well for the Big Red. A 12-point halftime deficit was too much for the Huskers to overcome. Minnesota headed to the locker room in complete control of a game Nebraska desperately needed to win to have a realistic hope of a bowl game. The Huskers are 3-5 (1-4 in the Big Ten) and, with Ohio State, Wisconsin and Iowa yet to come, have painted themselves into a corner.
"We as a staff, have got to get them more juiced up to play," Frost said. "I didn't think we had quite the same energy and that's on us."
Frost seemed puzzled in his postgame press conference about how to read his team, which he said had seemed "businesslike" throughout the week, but "without as much juice."
There's evidence of Peter Pan Syndrome in the Nebraska offense. It's bad enough that the offensive line is unable to grow up, but when the offensive coaching staff shows the same symptoms in its fourth year in the Big Ten, it's profoundly unsettling.
I'm giving a pass to the defensive coaches, who despite a poor first half at Minnesota, have generally produced a good product throughout the first eight games of the season. The collective wisdom of the offensive staff has not earned the benefit of the doubt, especially when you consider Greg Austin and his offensive line, which regressed noticeably against Minnesota. Austin doesn't appear able to get his charges ready to go, or to make effective in-game adjustments that they can execute. One wonders if they can handle the level of complexity they're being given. Do the Huskers need to super-simplify everything up front?
Either they're playing against the best defenses in the nation (which frankly is a fairly plausible theory), or Austin and his o-line aren't much better than they were a month ago against Buffalo. But one thing was clear: Offensive coordinator Matt Lubick and Frost had few answers for what the Minnesota defensive brain trust threw at them, and Adrian Martinez was ineffective in the face of a harassing pass rush. In his fourth year as a starter, Martinez makes a startling number of mental errors, but much of that can be traced to poor protection up front.
Meanwhile, Minnesota gave its veteran quarterback, Tanner Morgan, excellent protection and he responded by hitting 14 of 15 passes for 171 yards and two touchdowns by halftime. That's far better than anything he has done thus far this season.
Martinez didn't look any better than his offensive line in the first half. He started the game by missing two open receivers, and didn't come close to matching the performance of Morgan. Consequently, the Huskers trailed 21-9 at halftime.
The Husker offense looked unprepared. It seemed ready to fail at any and every point. Even in a much better second half, it appeared to suffer from a profound lack of confidence, especially in the red zone. Much of it seems based on the lack of dependability of the five men up front, and the vacuum of leadership responsible for that.
Granted, the second half went much better for Martinez and the Huskers in most areas except, of course, the scoreboard, where it most matters. But that's the point. The Huskers were down too far to handle the climb back.
Maybe a week off will give the Huskers the physical refreshment they need to look better against Purdue. But will they be any farther along mentally? Will they be any better prepared for the next time they step on the field, Oct. 30 against Purdue, which just whipped second-ranked and previously undefeated Iowa on the road?
The more games the Huskers play, the more questions they generate. The biggest: how could a team that played three undefeated Top 10 teams so close look so bad against a team that lost at home to Bowling Green just three weeks previous?
One possible answer: The Gophers used their bye week well, especially on the defensive side of the ball, and were ready to handle the Husker option, which was largely ineffective Saturday.
Another possible answer: The Gophers' offensive line gave a much better accounting of itself than it did against Bowling Green, or even in a 20-13 win over Purdue the following week.
The best possible answer for Husker Nation would be that Nebraska was completely worn down physically and will rebound in a big way after a week off. That would require Frost and his staff using their bye week as well as P.J. Fleck or Jeff Brohm used theirs. Are they prepared to do that?
---
Related: HuskerMax game page
---