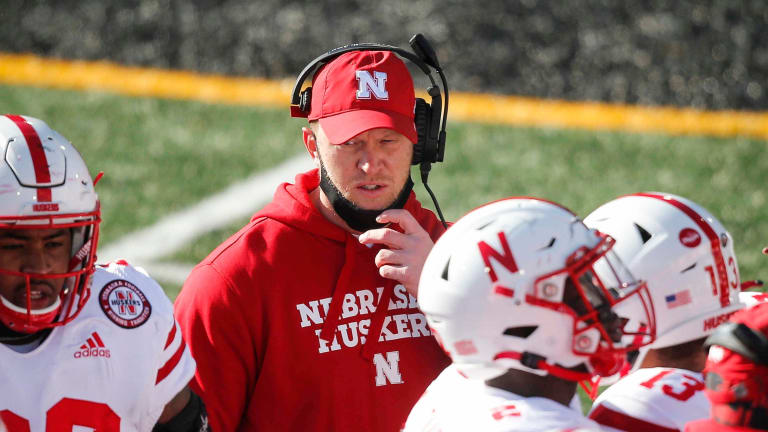 Fissures Under Frost's Feet
There's a wimpy little war on Nebraska football morale heading into a make-or-break season.
"Very little margin for error." How often has that phrase been used to describe multiple aspects of Nebraska football over the past decade? And it's increasingly evident when you step back and look at the big picture heading into the 2021 season.
Coach Scott Frost finds himself in that predicament, and frankly, he has no one but himself to blame for many (not all) of his current problems, largely because he has struggled to instill fundamentals and consistency into his program. Because he produced three consecutive teams that had almost no margin for error, his own career in Lincoln now rapidly approaches the point where either he turns it around fast, or he finds himself in a bleak scenario a year from now. Regardless of how you feel about Frost or his staff, and how much blame you place on his shoulders for Nebraska's current national irrelevance, there's little doubt he's about to walk a high wire of a season in 2021, and that if he doesn't succeed this fall, he'll be walking the 2022 season without a safety net.
Nobody knows better than Frost that it's high time for the slumbering Nebraska football to wake up and grow up. The thing to fix the Cornhuskers is discipline and consistency, which will produce meaningful, measurable improvement, which in turn, produces victories. Has there ever been a time that more demanded the complete focus of the coaching staff and team on the fundamentals? Anything that happens now to distract the coaches and players just before their high-stakes 2021 season opener would be inopportune indeed.
So cue last week's report by former ESPN college football writer Brett McMurphy, who currently works for The Action Network, alleging NCAA rules violations involving Frost and the Nebraska football program.
Former Big Ten Commissioner Jim Delany famously said the conference needed Nebraska "to get back to being Nebraska." But it's obvious not everyone agrees with Delany's assessment, or wants it to come to fruition. Frost, who less than four years ago was on top of the college football world, is not only embattled, but evidence is growing that he's under direct assault. I suppose it could be argued that every coach who ever got fired came under direct assault by the media at some point, but something smells wrong about the McMurphy story and the parade of commentators who are lining up to turn the screws on Frost, and effectively turn 2021 into his year without a safety net. The story appears to be achieving its intended effect.
In a recent article, Mitch Sherman of The Athletic said the NCAA investigation has cost Frost the benefit of the doubt, and looks ahead to a potentially "unceremonious departure" at the end of this season. Sherman, a respected journalist, apparently is not alone in that mindset. Nobody expected only 12 wins in Frost's first three seasons at Nebraska, and nobody in Husker Nation is satisfied, but this is the kind of story that should be written three months from now if the Huskers are 4-6, not before the season even kicks off.
It's no secret that a large number of prominent college football commentators enjoy the fact that Nebraska football is going through its worst stretch of football — four consecutive losing seasons — since their Dark Ages of the 1950s. These are the usual suspects, including Pat Forde of Sports illustrated, Desmond Howard and Michael Wilbon of ESPN, and Paul Finebaum of the SEC Network. Well, let 'em have their fun. It's up to the Huskers to prove them wrong. But what McMurphy and his sources have done is more sinister. It's a lot like what he tried to do to Ohio State just before Urban Meyer's final season, only the allegations against the Huskers are much less serious than those levied against Meyer and the Buckeyes in August 2018. Not even in the same ballpark.
I understand the "speak-truth-to-power" aspect of investigative journalism, the appeal of going after highly successful coaches and trying to bring them down a notch or two. That was the situation with Meyer in 2018. That is not at all the situation with Frost today. Nor is anyone accusing him of glossing over an assistant coach's alleged domestic violence, or creating an atmosphere that demeans black players. This is a pitiful little assault.
Let's look at the two main allegations as reported by McMurphy:
• The Huskers used analysts and consultants to run special teams drills, and there's video evidence to support this allegation. This may well be true, and if so, Nebraska would join at least Big Ten colleague Michigan in that violation. But why didn't McMurphy and his source(s) come forward last year, when this supposedly happened? And why isn't McMurphy concerned about the Wolverines? Other schools are alleged to have done this, as well, but I grant that doesn't make it right. If this is true, Frost deserves and should accept a penalty by the NCAA, which earlier this month decided it is not able to pursue Baylor University's failure to report allegations of sexual assault by some of its student athletes. (McMurphy is certainly not the only hypocrite in college football.) But I cannot disagree with those, including Gary Sharp of 1620 KOZN-AM, who criticize Frost for cheating, yet still putting lousy special teams units on the field last fall. Again, if the allegation is true, that's absolutely fair.
• Organized team activities were banned for much of summer 2020 due to the pandemic, but Cornhusker football players had various workouts together, with Frost's knowledge. If true, I heartily support it, and I'll tell you why. At the time, players nationwide were being sent home, away from the structure and motivation of being involved in team activities, to do what surprised no one — that is, drinking and partying and exposing themselves to COVID-19. Frost was open about his intent to avoid this for Nebraska football players, as much as possible. Keeping organized activities going was one of the best ways to accomplish this. Frost had his players' health and wellbeing at heart. The majority of college presidents and NCAA rule-makers did not. Their main concern was avoiding personal liability.
McMurphy then rehashed his report from earlier this spring, that Nebraska was trying to back out of the Oklahoma game. I deplored this egregious public relations nightmare, and spoke out against it strongly. Apparently, this completely unrelated incident had not gotten enough attention to suit McMurphy, who did achieve his goal of more air time on local sports talk radio to bring embarrassment to Frost, who to this point has downplayed the escapade.
It's almost as though a small group of people are worried that Nebraska football will indeed come back, and are working to prevent it. They're acting like they have something to lose and are determined to keep the old giant from awakening. I ask, why? If Frost will never improve, if he is destined to be no more than a punching bag for other Big Ten coaches, as many of his detractors suggest, why the haste to pile on him now?
There are too many unanswered questions for me to join those who are rushing to judgment against Frost. We're dealing with a lot of speculation and allegations here, and my hunch is that we need to wait until more facts are established.
Speaking of allegations, there are a few floating around that would support Frost in this battle. One, posted on Twitter under the pseudonym Short Side Option, speculated that McMurphy got his information from a source who's currently employed by the NU Athletic Department. For years, SSO has been one of the most regular and respected posters on the HuskerMax Football Forum, and long has claimed to have connections in North Stadium.
This weekend, as I was pondering the situation, I got a message from someone else who for years has claimed insider knowledge about the Big Ten, and regularly emails me. He corroborated SSO's statement, saying, "I think I know who is leaking," and added, "This leak was designed to embarrass. Kick while down seems to be a strategy."
My reply: "That would be despicable if true." After all, what a perverse, lonely, weak-kneed existence that would be.
Then, someone else who regularly visits my Inbox and criticizes Frost incessantly made rather profound observations. He's normally so pessimistic about NU's current head coach that I have referred to him in this column as Frost Is Floundering. First he observed that there may be some truth to the allegations. Then he surprised me with what followed:
"I feel there are some that want this to end badly for Frost and the program. Just a feeling.
"I believe Frost had built some momentum to this point. It appears a timed distraction. In the scheme of everything, the allegations in my opinion do not warrant much of a reprimand. I hope Frost pulls it out during the season, and gains the momentum that some want to stop. Again, just my feelings for a man that is a good person and coach who loves the university, program, and its fan base."
I agree. The leak seems strategically timed to cause an uproar in the football program at the moment it most needs to put its entire focus on winning one of the most important season openers in my memory, which goes back to the Devaney era. Plainly put, this would mean that someone in the Husker Athletic Department either has a personal grudge against Frost or his staff, or simply wants the Husker football program to fail, which would be quite shortsighted since it pays the bills for nearly every other sport.
This will test Frost's ability to manage the message to his team, to cut through the chatter and give his team a laser focus on preparation for Illinois — in the words of his mentor, Tom Osborne, "to control what we can control."
If he succeeds in that quest, I think we'll see significant improvement out of Frost and the Huskers this fall.
When it comes to the health and stability of the Husker football program over the next decade, I can think of few things that would be more calamitous than the downfall of Scott Frost.
It seems to me that no matter what you thought of Bill Callahan, or how badly you felt Bo Pelini was treated, or how much you deplored Frost's popularity early in 2018, or whether you believe Frost really inherited a broken culture, courtesy of Mike Riley, he has not forfeited his right to an objective analysis this fall. As Frost begins a high-risk 2021 season, the least anyone could do is allow him to walk or fall on his own merits, without shaking the damn wire.
You can follow the discussion about this article on the HuskerMax bulletin board.