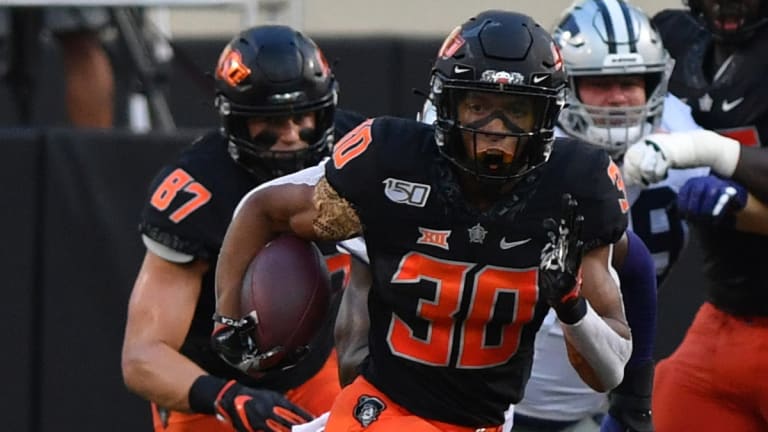 Chuba Hubbard Responds to Twitter Message that Shows Gundy Wearing an OAN T-Shirt
Chuba Hubbard says he will not do anything with Oklahoma State after seeing Twitter message of Gundy fishing and wearing a One America News t-shirt.
STILLWATER -- Mike Gundy has always said good teams are ones that avoid distractions. In some of the school's best football seasons thay've avoided distractions, but this is a summer full of distraction and one of the largest came on Monday, June 15. A Twitter message posted a picture of Gundy fishing this past week at the Lake Texhoma and the Cowboys head coach is wearing a t-shirt promoting the conservative news network One America News. Shortly after that, the Cowboys All-American running back Chuba Hubbard came out and said he is not going to do anything with Oklahoma State again until things change.
"I will not stand for this," wrote Hubbard on Twitter in response to the picture that was part of his message. "This is completely insensitive to everything going on in society, and it is unacceptable. I will not be doing anything with Oklahoma State until things CHANGE."
Within an hour there were 20,000 likes and Hubbard's Twitter message got massive attention from local and Oklahoma State factions. The national media attention kicked in shortly after.
Gundy had mentioned One America News as a news channel he had found that he trusted in the reporting on the COVID-19 pandemic. Gundy discussed this during his teleconference back in April when he spoke with the media about the pandemic. This was before the death of George Floyd and the strong move toward supporting social and racial injustice and the protests regarding Black Lives Matter. Since then the network has been labeled in a lot of negative ways.
"I tell you what's funny is, I was flipping through stations," Gundy started. "I found one — I don't even know if anybody knows about this — it's called OAN. It's One America News. And it was so refreshing. They just report the news. There's no commentary. There's no opinions on this. There's no left. There's no right. They just reported the news. And I've been watching them the last week, because they're given us the news and given us more information — in my opinion — some of the positives are coming out. So, that was refreshing." 
Gundy is on record as being a political conservative, but he has never shown signs of being racist or that any kind of double standard exists within his program. He has long been an advocate of his players, no matter color, religion, or culture. Gundy has seemingly been very acceptable with his players.
Last week, Pokes Report reported that Gundy held a team meeting for players already on campus to give them a chance to speak their mind in front of teammates, coaches, and staff. Gundy has been supportive of his players and allowed them the right to speak their mind. 
Very early during the unrest following the George Floyd death and the start of protests throughout the nation, Gundy put this out on his social media.
"I can't stop thinking about the horrible situation that happened in Minneapolis earlier this week," Gundy wrote. "I've been at a loss of words to describe the shocking video of George Floyd. My heart and prayers go out to his family. This disgraceful event means we must work harder together everyday to put an end to the mistreatment of black Americans in our country. I'm thankful to be in an environment with Oklahoma State football and our Cowboy Culture where we respect each other. The 200 people in our family understand and appreciate diversity and have compassion for one another. I hope we replace the rage with respect and all come together."
Former players came out in the rash of Twitter traffic to back Chuba Hubbard.
There were also some current players that weighed in.
The next 24 hours will be critical. We've seen situations like this before and a few have been course corrected and made stronger in the process. Many more have gone the wrong way and the program has had to be rebuilt. The sad aspect of this is Oklahoma State has created a culture that has been good for players. Players are given a lot of freedom and control in the program. They have earned it. This is a program that has had a strong record of wins on the field and lack of issues off of it. The academics are stronger than they have ever been.
Gundy has seemed to be a player's coach. Players have been openly complimentary of Gundy for his treatment of players. Practices are kept fairly short and players don't have to worry about the 20-hour rule being abused. 
Now, over the t-shirt of a conservative news channel, Oklahoma State football is in a massive uproar.  The important question, does it all go deeper than just wearing a t-shirt offensive to his players? When situations like this get started, the answers seem to eventually come out, but it often painstaking in the process. This is a day and time where answers need to be found.