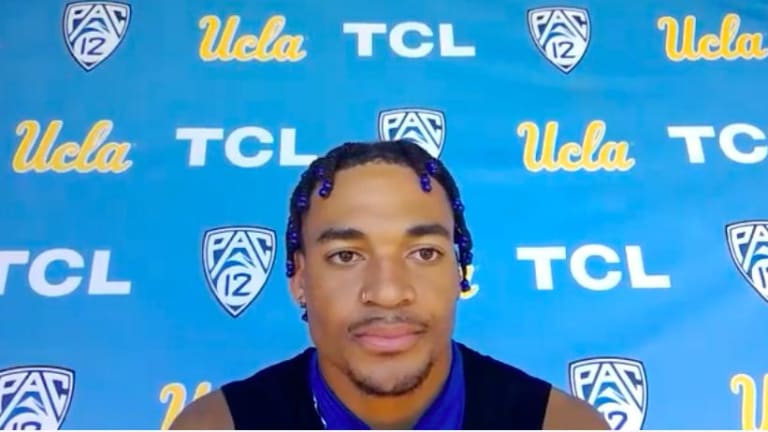 WATCH: Kam Brown, Tyler Manoa on Bouncing Back From Oregon, Taking on Utah
The Bruins are trying to stay alive in the Pac-12 South with a big contest in Salt Lake City.
UCLA football receiver Kam Brown and defensive lineman Tyler Manoa talked to the media after practice Wednesday.
Brown talked about being the target on the game-sealing interception against Oregon and how that has fueled him and his teammates to turn things around against Utah. Manoa talked about trying to handle mobile quarterbacks like Cameron Rising.
KAM BROWN
Different catching the ball from Dorian and Ethan?
Not really. They both have really strong arms, can throw it. Most of the time, when the ball comes, you're just thinking about catching it.
Impressed with Ethan if he has to start?
We feel comfortable for whoever the guy is. We had a whole spring together, summer, fall camp and so now everything – whoever it is, we feel pretty confident.
Game-ending INT against Oregon? Reaction after?
We were just trying to get to the sideline on the play and the DB just made a great play on the ball. It happens sometimes, so we gotta give our hats off to them for making a great play. But we didn't have our heads down or anything. At that point, you just gotta move on and get ready for the next week.
Extra motivation to come through in the big moments after that kind of play?
Oh yeah, absolutely. We hate losing, we have to execute better as a whole. We made a lot of mistakes and to be able to stay in the game with a great team like Oregon and make a lot of mistakes just shows you how special our team really is. So we clean up a few things, we're really confident going into this week.
Devin Lloyd out for targeting, overall impression from Utah defense?
We've seen them be pretty consistent, flying around, they tackle pretty well, they're gonna be fast and physical so we wouldn't want it any other way so we're just ready to get up there and compete.
Getting more targets because you're getting to know the system better, better relationship with teammates or coaches?
I don't really look into why what happens, happens. There's only one ball on the field, so some plays, it's designed for me to get other guys open, block, do whatever you have to do. So I just focus on doing my job and doing my job and whenever the ball comes, just focus on being ready.
Example of the coaches emphasize blocking?
They emphasize it a lot, cause it's a thing that's essential for the offense. We have great running backs, so being able to block the perimeter can spring a huge run for them to score. So everyday, we've been working on hitting the sled as receivers, working on driving through blocks to be able to get better at that.
What does Utah's defense do well?
They fly around to the ball, they play fast and physical so coming in early to the game, just show we're not gonna back down to that, we're gonna come at them too and also be physical. I think we'll be able to make some big plays.
TYLER MANOA
Cameron Rising?
The quarterback's really good, definitely can use his feet so we just gotta be aware of that. He can get outside the pocket so that's probably one thing we're gonna have to do, have to keep him contained and keep him in the pocket. But really good quarterback and that's probably our main thing we're focused on right now, just trying to keep him contained and just handing the ball off.
Utah doesn't run a lot of pre-snap motion, make it easier to prepare?
I mean, at the end of the day, our job is to get off the ball and strike somebody, so if you can do that, I think we're able to just try to create penetration and I think that will help us out a lot up front.
Prepare differently for different mobile QBs like Jayden Daniels vs. Anthony Brown vs. Cameron Rising?
Yeah I think it's just a game-to-game game plan. I think our coaches do a really good job of trying to figure out what they want to do with their game plan, how to neutralize quarterbacks or just offenses in general. So every week, I think that's just our main objective, like I said earlier, just get off the ball and strike offensive linemen, just try and keep them off of us so we can try to read and react to things.
Rush defense improved so much this year?
I think just over these past couple years of just having OK rush stopping, I think that's just our main goal. If we can stop the run, that will help us out in the deep end and if we can stop offenses' runs, then we can just get off the ball and try and pass rush offenses. I don't know, I think it's just a mindset type of thing, that's something that we preach up front, if you can stop the run then offenses are gonna have try and pass the ball and that's when we're gonna try to work our rush.
Impact of having all seniors up front?
I think that has a big thing to do with what we're doing here right now. A lot of players on our up front, they have a lot of game time experience so that way, we communicate with one and other better. Even when our young guys go in, they're pretty up to speed with a lot of the things so it's not really – the communication pat, aspect of things, I think we're doing a pretty good job.
Jay Toia?
Jay's been doing a good job. Every week, I feel like he's been getting better, day in and day out, just coming to work every day just with the right mindset and definitely coach Nansen just pushing us every day, especially him. I think it's been big for him and just everybody in general
Super senior year possibilities?
You know, right now, I haven't thought about anything, just worried about our next opponent. But if I'm presented with that opportunity and the coaches do accept that then we'll see what happens from there.
Follow Connon on Twitter at @SamConnon
Follow All Bruins on Twitter at @SI_AllBruins
Like All Bruins on Facebook at @SI.AllBruins
Subscribe to All Bruins on YouTube
Read more UCLA stories: UCLA Bruins on Sports Illustrated
Read more UCLA football stories: UCLA Football on Sports Illustrated