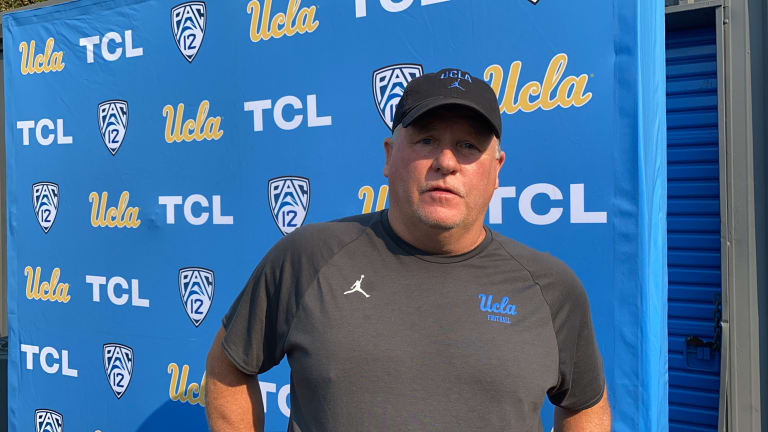 WATCH: Chip Kelly Breaks Down UCLA's Pass Defense, Road Ahead
The Bruins' head coach talked to the media prior to Monday's practice.
UCLA football coach Chip Kelly talked to the press Monday morning, looking back at what went wrong down the stretch against Fresno State and how his team will adjust heading up to Stanford for Week 4.
CHIP KELLY
Injuries?
Yeah, we'll just see where they are this week and what the process is and how much they can do during the course of Monday, Tuesday and Wednesday and listen to our trainers and tell us where they are, so.
Anybody definitely out for Saturday?
Not right now, no.
Cushions in the secondary?
The what?
Playing off receivers?
Yeah, we were off a little bit, I think trying to keep the ball in front of us, rally up and make tackles, so we need to tighten that up this week.
D-Line without Otitio?
Those guys did a good job. I think the effort we got out of those guys was pretty good. We've got to do some work winning one-on-one individual battles in pass-rush things, those are things we'll continue to work and drill as a coaching staff, but I'm really pleased with their effort. You know, we've got a bunch of guys that are playing very, very hard and compete very hard out there, so.
Do you have input on the defense during the game?
Yeah.
If you want to move guys into press coverage, you can?
Yeah, we talk about that and we did that in the second half. So if you studied the game, you know, we played a lot more Cover-2, hard corners in the second half, we played a lot more press man in the second half.
Last two scores pretty much the same play, what were the breakdowns?
It was a wheel route by No. 2, one of them we were pressuring from the field and Haener did a great job of getting out of the rush and giving himself a little bit more time so that he could get the ball off to the far corner and then the second one was similar—not the same pressure but a different pressure—but I've got to give the quarterback credit on making a really good play. He's a hell of a football player.
Fatigue with defense at the end?
I don't think that's a factor. You know, I think you've got to play—their offense was on the field the same amount of time that our defense was on the field, so I think that's always a big misconception—well, the defense was tired. Well, the offense was on the field the same amount of time, so. Those same five offensive linemen played the entire game for them, Haener played the entire game for them, so if the game unfolds that way, we just have to be able to compete and be able to play until the end.
Nicked up last series with hip?
Yeah.
Would you have changed pressure?
No, I mean, the last play that he scored on, we pressured him, so we brought multiple guys coming from the field after the kid, so we weren't sitting back and playing coverage on that play, so. Again, you've got to give him credit, he made a hell of a play and a guy that got hit a lot. I talked to him briefly after the game, he was a banged-up kid, but it was one of the best all-time efforts I've seen out of a quarterback.
See any other QBs that good on your schedule?
I don't, I mean, I'm not looking at the rest of – I haven't studied who we're playing after, you know, we're playing Tanner McKee this week, who has done a really nice job in the last two weeks, did a great job in beating SC, did a great job last week in beating Vanderbilt, so we just kind of focus on who we've got on a weekly basis. I came out of the Fresno game with great respect for Haener, as good as I've seen in a long time in a one-on-one game against that I've had an opportunity to coach against a guy, but I didn't look at that and say, 'Hey, who else do we have on our schedule who's like that?'
McKee local guy, have any contact or interest in him initially?
He went to Corona Centennial and then left to go on a Mormon mission, so he was gone for a couple years. I think David got him out of high school and then he went away for a while and then he came back. He's older too, I think that was maybe before I was here or right when I just got here so he's an old dude. He's not a traditional – I don't know what he's listed as, is he a junior? Yeah I don't know. Yeah, but he went on a two-year mission coming out of high school, so we're talking about '17 or so.
Charbonnet didn't get a lot of touches?
I think kind of the course of how the game unfolded, we didn't have the ball very much. First drive, we're moving it, we get a first down but we had a penalty called against us. So now you're down a little bit, you're throwing the ball a little bit more. And just again, you go into the game thinking a lot of things like oh we're gonna try to do this, what is our game plan, but you have to be balanced in your approach cause you don't know where you are. So we threw the ball a little bit more, we did not have the ball enough, we didn't sustain the ball, I think a couple of those drives had two holding penalties really hurt some of our drives and put us back where we had to punt in those situations instead of getting the ball moving a little bit, now you got more snaps within a drive and then you can get the ball spread around a little bit.
Fresno unveil blueprint on how to stop your run game?
No, I mean, they just, they played hard. I think we have to be more consistent in terms of what we do and then also the score on the other side dictates a little bit when you're down a little bit. But again, it's a whole encompassing what's the score of the game, where are you at in the game and how are things going.
Dorian fumble, mechanical problem?
No, he just said on that issue that the ball was wet and didn't get a good grip on it.
Going for two up by four?
To try to make it a six cause five doesn't do anything for you.
But going up five and allowing a touchdown means you can hit a GW field goal?
Or you can get a game-tying field goal if you're up by six, so it doesn't matter. You can still tie the football game.
Trying to think about this...
Being up four or five is the same exact thing. It takes six to beat you. Correct? If you're up four and they score six, you lose. If you're up five and they score six, you lose. So you'd like to be up six, you'd like to be up six.
Could have had GW field goal instead of game-tying field goal chance on last drive?
True. If we scored a touchdown we would have won by four. You'd like to be up six – if you block the extra point then its a tie ball game. Being up four or five doesn't matter. You want to be up six or seven.
First road game coming up, ready for that with COVID based on last year's protocols?
Everything with COVID. The Delta Variant is still out there. It hasn't gone away. Our players have been good protecting their ecosystem. But as you start to add more students to campus, the atmosphere is going to start to get a little bit different. They have to understand that they have a lot at stake. We have pretty good traveling protocols from last year since we have experience doing that. But again, that's always a really big deal. When we bus up to games, we all wear masks, since we do have a few unvaccinated players. It'll be the same thing when we're on a plane. Just to take care of and protect those guys. All of us gotta make sure we don't drop our guard on this thing cause it's still out there and there have been players, coaches – coach Kiffin, Lane missed the opening game at Ole Miss. There's been coaches that have been out, and I don't know, not a lot of people reporting, but I would imagine that there was a player or two held out. I know the Saints yesterday coached with eight coaches, they were down six or eight coaches I think I read. It's obviously something that's still out there. We have to be hyper-vigilant in terms of where we are because we can't afford to not have anyone, whether it's an administrator, a coach or a player.
First road environment of season, how are you preparing?
We always use music to just simulate crowd noise so you can communicate where you are. We were up at Stanford two years ago, they came here last year, so we understand that environment a little bit. There's a lot of guys on this team that played on that team two years ago, so they've been there. But there are a few guys that it will be their first trip, so we'll make sure to break them in.
Follow Connon on Twitter at @SamConnon
Follow All Bruins on Twitter at @SI_AllBruins
Like All Bruins on Facebook at @SI.AllBruins
Read more UCLA stories: UCLA Bruins on Sports Illustrated
Read more UCLA football stories: UCLA Football on Sports Illustrated