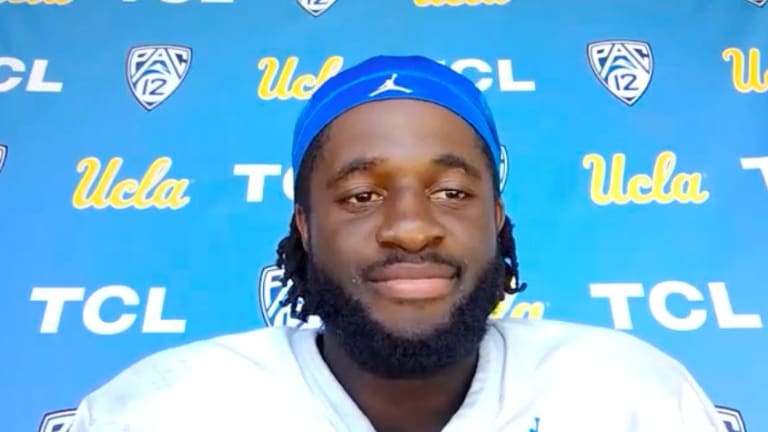 WATCH: Odua Isibor, Obi Eboh on UCLA's Defensive Improvements, Creating Pressure
The Bruins got a few sacks and forced interceptions out of the Huskies on Saturday in Seattle.
UCLA football defensive lineman Odua Isibor and cornerback Obi Eboh both talked to reporters after Tuesday's practice.
Isibor talked about the impact of freshmen Jay Toia and Devin Kirkwood, as well as how the Bruins have continued to lock down opposing ground attacks. Eboh talked about his history playing on College GameDay and the different techniques the secondary has been implementing to turn around their pass defense.
ODUA ISIBOR
Got home against Washington?
Uh, yeah, so it all starts at practice, you know, we work pass rush every day. Our philosophy that the most important part of the rush is effort at the end of the rush, so you have to be giving it 100% speed and effort after all your moves as well in order to get to the quarterback, so once we apply effort, give our full effort, then we get home.
Kirkwood interception?
That was electric, that was something we needed, that was a big-time play and that was something we need every week and he's going to do a lot more of that and we already know that, so that was electric.
Rush defense only allowing 91 yards per game?
What I will say is that we focus on each game individually, so our main focus for last game was to hold on the rush, our main goal was for them to not run the ball and it's going to be the same this week and the same the week after that, we just want to focus on each game individually, our next opponent, every game is treated like the Super Bowl and of course what you want to do in the Super Bowl is stop the run immediately and work from there.
UCLA guest predictor on GameDay?
Oh, interesting. I didn't even know.
So any famous UCLA alums you want to see do it? Have any favorites?
I don't know if I have a favorite, but people always talk about James Franco for some reason, that would be interesting. But you know Russell Westbrook would be cool.
Excited about GameDay?
It is what it is. We still have to play the game, so that's not really something that's on our radar, it doesn't really affect us. We're just here to play a game like every week, prepare like every week and focus on beating our opponent.
Stay at hotel Friday so will you be there to see it?
We'll be on campus—we have a hotel on campus but we'll be locked in and focused, probably watching some Friday night football if we can or something like that.
Watch any of it or stop by before going to the Rose Bowl?
No, we're a strict business-oriented operation, so we wake up, we do our morning workouts and we're straight on schedule to the game, so very business-oriented.
Oregon lost CJ Verdell but Travis Dye is playing well – how do you slow him down?
We just need to stay disciplined, focus on our keys, our leverage, all that stuff, again, it's just like every other week, if we focus on our responsibilities, trust our teammates to do their jobs and do our job as well, everything should fall into place, so basically just focus on our technique and knock back [?], all that good stuff.
Swarming to the ball a focus, any up-downs this week after Washington?
Uh, yeah. The thing is, it's mostly about holding each other accountable, so there could even be times when there wasn't necessarily anybody like loafing around but the point of the exercise is to hold each other accountable to show that no one is above the team and we're all masters of each other, so it's less about embarrassment or something like that. It's more about showing that we're all in charge of each other and making sure we each do our job, run to the ball.
More of a team exercise?
If it was a punishment, I feel like they could do a lot worse. [laughs]
Jay Toia?
It gives me hope for the future. He's a very talented young man, very smart, he's locking in on his technique and he has a lot of room to grow even though he's grown so much already, so it just gives me a lot of hope for the future, we'll have a lot of talent with us.
Preparing for Anthony Brown, talk to Dorian or just go against scout team?
Um, so he's a guy who can burn us with his arm or his legs, so like any other dual-threat quarterback, we just prepare accordingly. I actually think I've never talked to Dorian about how to deal with something like that, but it's something that we're all well-versed in, we practice this stuff all the time. It's just another dual-threat quarterback that we need to take care of, so.
Joshua Kelley at practice?
Man, it's just a blessing to have him back, that's one guy who's always lighting up the room, always happy, you can tell by the way he walks that just happiness is surrounding him, so it's always a blessing to have him here. He's a guy with an incredible story, he came in as a walk-on when I came here and I've just seen him work hard and grow and make it to the league, so it's very impressive and very eye-opening to see the wonders our hard work can do, so he's just a guy who's a constant reminder of hard work and always keeping your head up high and being happy.
OBI EBOH
Change your game as a DB with Brown not having a lot of success throwing deep?
Yeah, I don't think that necessarily changes my game cause one, anything can happen over the course of the game, he might just start firing down the field, and who knows what goes on. But I think at the end of the day, we just gotta keep playing disciplined, fundamental football. He is accurate in the intermediate passing ranges, they've got good speed, good receivers, they're a well-coached team, so I think we gotta just stay disciplined and do what we've been doing the past couple weeks.
Travis Dye good receiving back?
Yeah, he's been playing well, I think he is one of their leading receivers actually and he's a good runner, he's got great speed and he sees the hole well. Again, we've just gotta keep playing disciplined, fundamental football, we got guys like Bo and our linebackers are gonna do a great job on him and just have great eye discipline, seeing him out of the backfield, pre-snap communication, telling them in certain coverages like 'Hey, watch the back' or whatever we've gotta do to makes sure that we're all on the same page.
Keep up good pass defense performances from game to game?
Yeah, I think everything throughout the course of the week – or excuse me, the game – starts in practice and I think we've been stringing together a lot of great D practices where we're focusing on our assignments, working on our technique and fundamentals, playing tighter on receivers, playing press, working on our steps and leverages. And we've been pretty monotonous about that and I think we put a couple good weeks together and just try to keep being consistent on a week-to-week basis.
Big INT from Kirkwood bring anything to practice?
Yeah, I think I came on here one time and tried to tell you guys that the dude is just always smiling and happy and just ???. I think he's still 18, I don't know, but he brings a lot of energy to the locker room. He's actually my locker mate so I'm seeing him every day smiling, laughing, bringing great energy, and it was the same thing on that play. I honestly didn't even know what was going on, I was running to go catch up and make the tackle and then I saw him come up with the ball and it was just mayhem, we were just going nuts. That's exciting for a young guy to get his first pick and see the smile on his face and energy on the sideline. It was awesome, it was an awesome moment.
Kirkwood lean on you for advice as your locker mate?
Yeah, I think, I mean, as a young guy, you always gotta ask a ton of questions initially and talk to the older guys about a lot of different dynamics that happen in the locker room and on the practice field and obviously the game. But he actually came in pretty technically sound and I was obviously impressed when he came in and so were the coaches. But I think every now and then, I just try to give him a nugget about whether it's technique or shoot, even if it's about any life experience that I've had and I can give to him. I just try to shoot things in there to him when I see it, especially during practice, if I see something, I'll just go out there and be like 'Hey, Kirk, try so and so or do XYZ on this play.'
Thoughts on College GameDay coming to Westwood?
Yeah, I think it's definitely an exciting time for our students and some of our players that maybe haven't experienced a College GameDay crowd. I think this is my second or third one that I've seen, and actually, the last one that I played was at Oregon when we won in double overtime. But anyway, forget that. It's an exciting time for the guys and there's gonna be a ton of people at the game. I don't think it changes anything that we do for the game necessarily, but it's gonna be loud, it's gonna be fun and a lot of eyes will be on us for sure.
Coach Kelly talk to you about GameDay in the team meeting yesterday?
I don't know, man, I think we can't make this our Super Bowl – every game is our Super Bowl. Just like last week, Washington was our Super Bowl and the week before that, it was Arizona, so I think the message for this week and any week is we're gonna give it our all, play disciplined, fundamental football, UCLA football, every single week. I don't think College GameDay changes that for us.
Undefeated on GameDay?
(Laughs) I think I might be, you might have to check that one.
Guest picker?
Shoot, I haven't given that much thought. But shoot, we just had Josh Kelley at practice, that'd be pretty cool. Maybe Russell Westbrook or somebody like that. Lonzo?
Follow Connon on Twitter at @SamConnon
Follow All Bruins on Twitter at @SI_AllBruins
Like All Bruins on Facebook at @SI.AllBruins
Subscribe to All Bruins on YouTube
Read more UCLA stories: UCLA Bruins on Sports Illustrated
Read more UCLA football stories: UCLA Football on Sports Illustrated