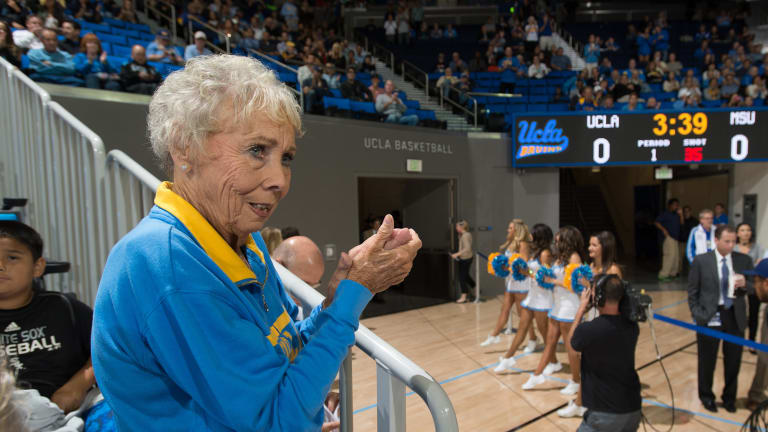 Nan Wooden, Daughter of Historic UCLA Coach John Wooden, Dies at 87
The UCLA Athletics, Pac-12 and Southern California basketball community has come together to mourn Wooden's passing.
John Wooden's daughter Nan died of natural causes Tuesday, UCLA Athletics announced in a statement.
Nancy Anne "Nan" Wooden was 87 years old. She had suffered multiple strokes in recent years.
Wooden was 14 years old when her father took the head coaching position for UCLA men's basketball, and she had been a regular at Pauley Pavilion ever since. Wooden continued going to games and sitting in section 103 well after her father retired from coaching in 1975, and even started sitting in his personally reserved seat after he died in 2010.
In the final days of the old Pauley Pavilion and the opening days of the new one, Wooden was a constant presence.
Wooden was in attendance when her grandson, Tyler Trapani, scored his first career points as a third-year walk-on in the final game played in the original Pauley Pavilion back on Feb. 26, 2011. It was the last basket anyone would score in the arena before it was renovated.
When the statue of her father was unveiled outside the front doors of Pauley in October 2012, Wooden was one of the featured guests. She was also one of the coach's many family members consulted by the sculptor, and she said at the time she was very happy with how it turned out.
"I just wanted people to look at him and be able to say, 'That's John Wooden,'" she said. "I don't think there's any doubt."
UCLA women's basketball coach Cori Close and UCLA senior associate athletic director Josh Rebholz shared their condolences online, while the UCLA men's basketball team managers claimed on Twitter she made the best cookies in all of Los Angeles.
The Pac-12 Conference also honored Wooden's passing on Twitter, along with UCLA alumni Josiah and Kris Johnson.
In addition to being a regular at men's basketball games through the years, Wooden was also credited with aiding in the growth and development of several other programs on campus, including UCLA gymnastics.
The men's basketball team won 10 national championships and went 620-147 with John Wooden at the helm, and Nan was around to see it all through.
Nan Wooden is survived by her younger brother, James Wooden; her three daughters, Cathleen Trapani, Christy Impelman and Caryn Bernstein; her six grandchildren, Tyler and Cameron Trapani, John and Kyle Impelman, Cori Andersen and Eric Bernstein; and her four great grandchildren, Charles and Audrey Andersen, Emi and Carter Impelman, with Joshua Robert Bernstein due in November. 
Follow Connon on Twitter at @SamConnon
Follow All Bruins on Twitter at @SI_AllBruins
Like All Bruins on Facebook at @SI.AllBruins
Read more UCLA stories: UCLA Bruins on Sports Illustrated
Read more UCLA football stories: UCLA Football on Sports Illustrated