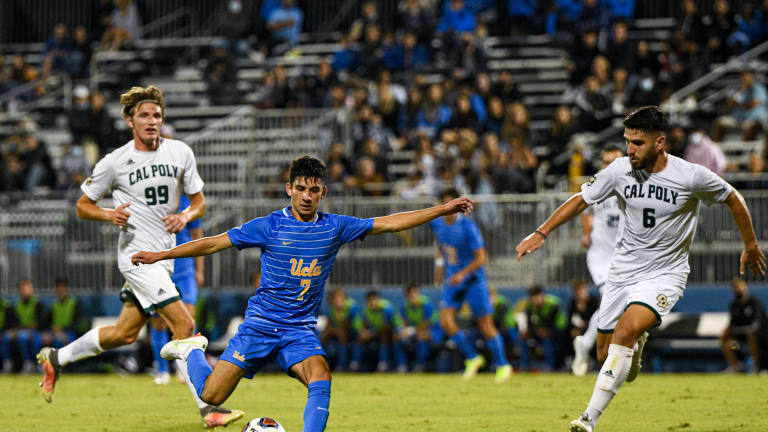 UCLA men's soccer returns plenty of production ahead of 2021 campaign
After two exhibition wins, the Bruins will start their 2021 season versus Lipscomb
The Bruins as a whole return several key players from their 2020 campaign, but the goal-scoring output coming back to Westwood certainly has room to grow.
Experience will be something UCLA men's soccer will look to harness when its season starts Thursday against Lipscomb. Only one player who earned a point on the pitch last season, Eirik Baekkelund, is not returning.
Midfielder Riley Ferch, forward Grayson Doody and defender Tommy Silva bring almost all points created back to the 2021 squad. While the cohesion should do the Bruins favors, the trio combined for just 23 points and eight goals for a team that finished last in the Pac-12 at 3-7-2.
Defense has some stability compared to other positions on the team. Silva, who was a Pac-12 All-Conference Team honorable mention last season, is a definite starter in his sophomore year. Senior center back Ahmed Longmire will be Silva's partner in the back. Longmire was an All-Pac-12 Second Team member in 2020.
Redshirt senior defender Ben Reveno and defender redshirt junior AJ Vasquez will likely fill out the rest of the backline for the Bruins.
Still trying to figure out the attack since losing Milan Iloski to the MLS in 2020, Doody or senior forward Kevin Diaz could become that new attacking threat the Bruins will need once they hit Pac-12 play. 
Redshirt freshman forward Jose Contell Lechón will be a player to keep an eye on as well. Coming from Valencia CF in Spain, he played in the UEFA Youth League, bringing some solid European experience to this collegiate environment. Junior forward Oliver de Visser will also get his fair share of minutes this season.
In the midfield, UCF graduate transfer Yoni Sorokin joins the team and immediately slots into a starting role. The Israeli midfielder was a four-time All-AAC First Team member and a two-time AAC Midfielder of the Year.
Suiting up next to Sorokin will be Ferch, who led the Bruins in points this past season with nine. The two form a pairing that could create problems for opposing teams if they are able to mesh early on.
Redshirt junior midfielder Jose Sosa and junior midfielder Luke Bone stand to fill out the rest of the midfield rotation for the Bruins.
At goalkeeper, senior Justin Garces will be in his fourth season as the starter. He is the longest-running starting player on this team and therefore the only starter left over from the Jorge Salcedo era
Coach Ryan Jorden will be in his third season with the Bruins. Joining in 2019, he has experience at both Cal Baptist and Pacific, building successful programs almost from the ground up at both schools.
Jorden brought UCLA the No. 4 recruiting class for this upcoming season according to TopDrawerSoccer. However, Jorden's seat may heat up a bit if he isn't able to secure a winning season in 2021, considering he owns a 9-16-5 record since getting to town and has yet to qualify for the postseason with a program that boasts 14 College Cup appearances and five national titles.
Exhibition wins against Westmont and Cal Poly on Aug. 16 and 21, respectively, send UCLA into their first match with a pseudo-budding winning streak. The Bruins beat the Warriors 3-0, with goals from Doody, Ferch and Contell Lechón before stringing together a less dominant 1-0 win over the Mustangs thanks to de Visser's goal in the 47th minute. 
UCLA will kick off its 2021 season Thursday at Wallis Annenberg Stadium against Lipscomb. The match has a 7:30 p.m. start time.
The Bruins will play five nonconference games, all without leaving Southern California, before starting Pac-12 play against Stanford at home Sept. 16.
Follow Royer on Twitter at @thebenroyer
Follow All Bruins on Twitter at @SI_AllBruins
Like All Bruins on Facebook at @SI.AllBruins
Read more UCLA stories: UCLA Bruins on Sports Illustrated
Read more UCLA Olympic Sports stories: UCLA Olympic Sports on Sports Illustrated