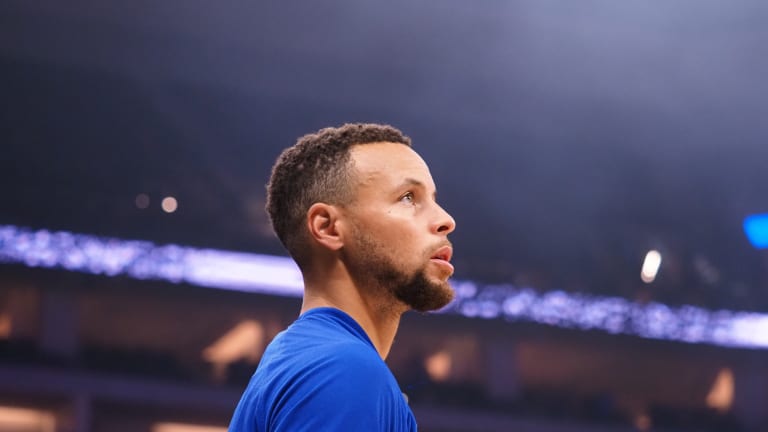 Steph Curry Pointed At A Fan Before He Made This Shot In The Warriors Win Over The Bulls
Steph Curry and the Golden State Warriors defeated the Chicago Bulls on Friday night in San Francisco.
Steph Curry and the Golden State Warriors are off to a fantastic start to the 2021-22 NBA season. 
They have the best record in the entire NBA (11-1), and no other team even has ten wins. 
On Friday night, they defeated the Chicago Bulls 119-93, and the Bulls were tied for the first seed in the Eastern Conference before the game started. 
They fell to 8-4 after the blowout loss. 
During the game, Curry hit a three-pointer, and before the shot went in he pointed at a fan, and the clip of the remarkable highlight can be seen in a tweet that is embedded below from the Twitter account of Bleacher Report. 
Curry had 40 points in the game, and the two-time MVP looks like he could be making a run at his third time holding the MVP trophy. 
Related stories on NBA basketball
THE RICKY RUBIO SHOW AT MADISON SQUARE GARDEN: Ricky Rubio has been in the NBA for over a decade and hadn't done what he did on Sunday against the Knicks in New York City at Madison Square Garden. The Cavs picked up a big road win and have been one of the biggest surprises in all of the NBA this season, and Rubio had a career-high in points. CLICK HERE.
NEW YORK KNICKS ANNOUNCE NEW UNIFORMS: The New York Knicks released their new City Edition Uniforms for the 2021-22 season last week. The jerseys look great, but what is even better is that the Knicks are an excellent basketball team right now. CLICK HERE.