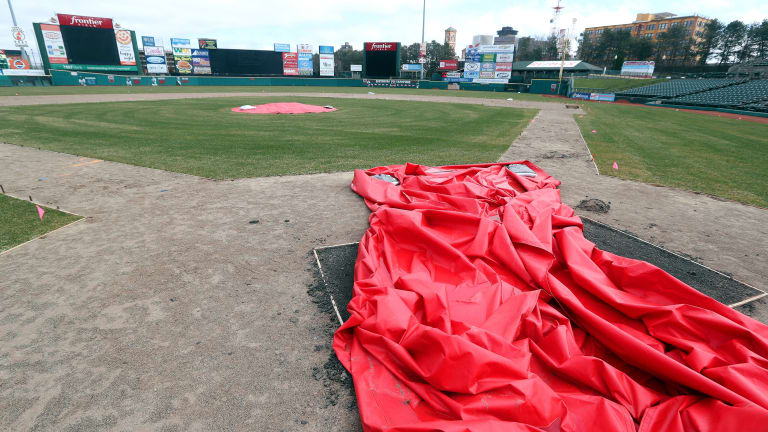 Phillies Prospect Daniel Brito's Miraculous Journey Back to Baseball
On July 30, 2021, Daniel Brito suffered a seizure and internal brain bleeding on the field. Now, just over five months later, the 24-year-old Venezuelan is forcing his way back into baseball.
When Daniel Brito collapsed on the field in Rochester on July 30, 2021, it would've been fair to assume his career was over. The then 23-year-old Venezuelan second baseman suffered a seizure and internal brain bleeding in the first inning of a game between the Lehigh Valley IronPigs and Rochester Red Wings before he was swiftly taken to Strong Memorial Hospital in Rochester. There he would remain for two months.
Ahead of Brito were two surgeries, a coma, and if he survived, potentially a lifelong rehab. Behind him, Brito had already conquered more than anyone could have ever expected.
He had beaten the odds and lived the dream of millions of young Venezuelan boys, signing with the Phillies for $650,000 in 2014. He had excelled through the minor leagues, from foreign rookie ball, rookie ball, to single-A and then high-A. After seven years in the Phillies system, Brito reached double-A and triple-A in 2021, slashing .295/.364/.473 in the process, and legitimately working himself into conversations as a potential September call-up.
But by late-August, Brito lay in a coma on a hospital bed in Rochester, using a ventilator to breathe and twitches of his hand and foot to signal "no" and "yes" respectively.
By October, Brito was out of the hospital and living with his fiancée at home in Ohio. Brito had battled and struggled just to walk again, now his goal had become to live a normal life. He relearned to get out of bed, use stairs, and hold a glass in his left hand.
By December, Brito was relearning how to swing a bat, how to take ground balls and how to lift weights and run.
No longer was he a tragic hospital patient struggling through a brain bleed and coma in Rochester, but once again a Phillies prospect.
"Like a month ago, we're worrying about if this kid was going to live," former minor league teammate Nick Maton said in an article by Matt Gelb of The Athletic, "and now he's taking front toss and working on the mechanics of hitting. If there's one dude who can do it, it's him."
His brain must still be rewired, he still must relearn to differentiate a fastball and a curveball, but now Brito is in a position where he can relearn.
"I obviously feel grateful that I'm still here," Brito said, "but I know I'm going to play."
If Brito can ever return to his previous level, he certainly will play, and in the major leagues too. At age 23 in 2021, Brito was 3.4 years younger than the average triple-A ballplayer, and yet his OPS at that level was .982.
But he doesn't remember any of that. The last thing Brito remembers before his collapse is the news that he would be receiving a call-up with his friends and teammates Jorge Bonifacio and Braden Zarbinsky.
When shown his first at-bat for the Lehigh Valley IronPigs, Brito responded, "'Is that me?'"
His fiancée, Anyelis Petit, told him, "Yeah, that's you."
As Brito rehabs with trainer Joe Hallock, he works towards a goal, getting down to spring training. Hallock believes the daily training he would receive there with Phillies' rehab specialists could accelerate things for Brito.
And if his old numbers are anything off which to base his potential, Brito could be making an impact with the Phillies sooner rather than later. 
More details regarding Brito's story can be found here.
More From SI's Inside The Phillies:
---
Make sure to follow Inside the Phillies on Facebook and Twitter!