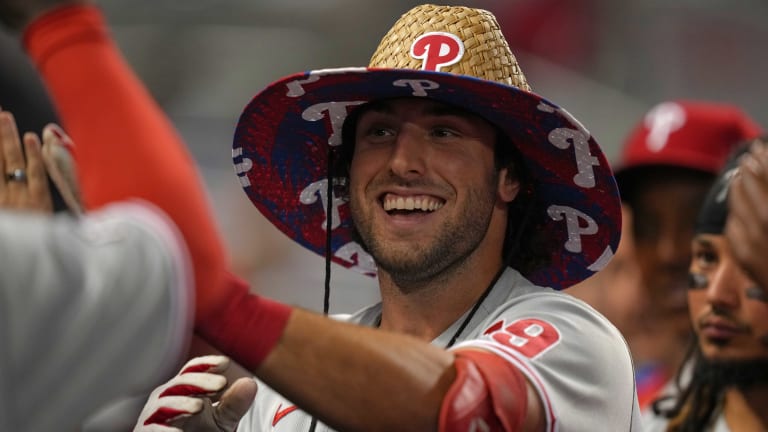 Phillies Season in Review: Matt Vierling
Inside the Phillies continues their season in review series with Philadelphia Phillies outfielder Matt Vierling.
The Philadelphia Phillies didn't rely much on their youth this season, but one player who did get an extended look in 2021 was Notre Dame product Matt Vierling. 
Due to injuries in the outfield late in the season and cold streaks by Odúbel Herrera, Vierling was asked to step in at various points late in the season. He even saw some playing time at first base after Rhys Hoskins went down with injury and Brad Miller's bat went silent.
Vierling was called up in June for a cup of coffee, but it wasn't until his call up in August that the team was able to get a good look at the outfielder. He saw action in 34 games this season in which he had 77 plate appearances. Vierling slashed .324/.364/.479 with two home runs. 
While a small sample size, Vierling proved that he could be a valuable piece for the big league roster, especially with additional development. 
There is also the uncertainty surrounding Herrera's fate with the team considering the $11.5 million he is owed next season that comes with a $2.5 million buyout. 
None of that is to say that Vierling will be the 2022 Opening Day starting center fielder. There is still the possibility that the team addresses the situation in free agency or trade. Even the prospect of bringing back Herrera isn't far-fetched considering manager Joe Girardi's apparent affinity for him.
What it does mean is that the 25-year-old may get the opportunity to perform with the big league club as a platoon player. Despite the promising 77 plate appearances, Vierling still has to prove that he can be a reliable asset to the Phillies.
He was never projected as an everyday player, but he could be the type to prove those projections wrong. 
2022 could be a pivotal season for Vierling in terms of how the club views his future within the franchise.  
More From SI's Inside The Phillies:
---
Make sure to follow Inside the Phillies on Facebook and Twitter!