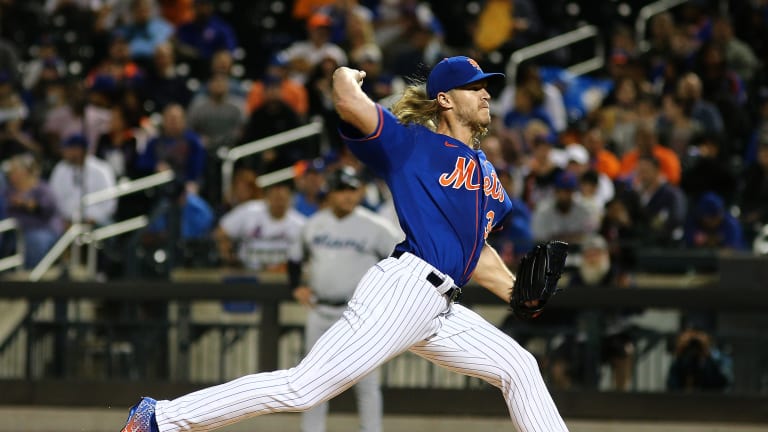 Could Noah Syndergaard be an Option to Bolster the Phillies Rotation?
With the Philadelphia Phillies needing to address multiple roster holes, including the rotation, could Noah Syndergaard be a solution to the problem?
The Philadelphia Phillies will undoubtedly have an active offseason this winter. There are multiple holes to fill and President of Baseball Operations Dave Dombrowski is not one to sit idly. 
Some argue that the rotation needs another proven starter to join Zack Wheeler, Aaron Nola, Ranger Suárez, and Kyle Gibson. Additionally, Zach Eflin's future with the club is unclear after suffering another injury to his problematic knee. 
That leaves the door open for a possible addition. But, Philadelphia would likely be unable to play at the very top of the market if they hope to address other roster issues. 
One potential option: Noah Syndergaard.
The fire-breathing right-hander is set to hit the open market after having thrown just two innings in 2021 and none in 2020. During the 2019 season, Syndergaard underwent Tommy John surgery due to a UCL tear. He was finally able to manage his way onto a major league mound for two starts as an "opener" at the end of 2021 for the New York Mets.
Syndergaard has a career 3.32 ERA and 1.162 WHIP in 718 innings pitched. Despite him undergoing surgery, one has to expect he will resemble a similar version of who he was prior to Tommy John, or perhaps he will return to exactly the dominant pitcher he was before. The success rate of Tommy John patients has been incredibly high, especially in regards to big league pitchers. 
Due to Syndergaard missing nearly the entire season prior to his free agency offseason, there will be questions regarding his future health and performance. It could hinder him in his valuation.
The Phillies could opt to pursue him with an incentive laden, one-year deal for 2022. He would help bolster the rotation, especially in a season where Philadelphia still sees itself as "all in."
Adding a player like Syndergaard should not be seen as a "high-risk, high-reward" player. Yes, he is coming off of surgery, and he hasn't proven himself at the highest level yet. It should be seen as a moderate risk, that even at its worst could still see him be a contributing member of the bullpen if everything went disastrously wrong. 
But, that is unlikely to happen.
The addition of a player like "Thor" would send a clear message to the team and the fans that they are ready to get back to the playoffs for the first time in a decade.
But, like all free agent speculation at this point, one always has to look to the new CBA, or lack thereof, when determining viability. With no indication what the new luxury tax threshold will be, or if there even will be one, it could make negotiations slow going in the beginning. 
Regardless, Syndergaard would fit in well with the personality and identity of this team. The current rotation with him slotted in is a mouth-watering proposal for many Phillies fans. 
More From SI's Inside The Phillies:
---
Make sure to follow Inside the Phillies on Facebook and Twitter!