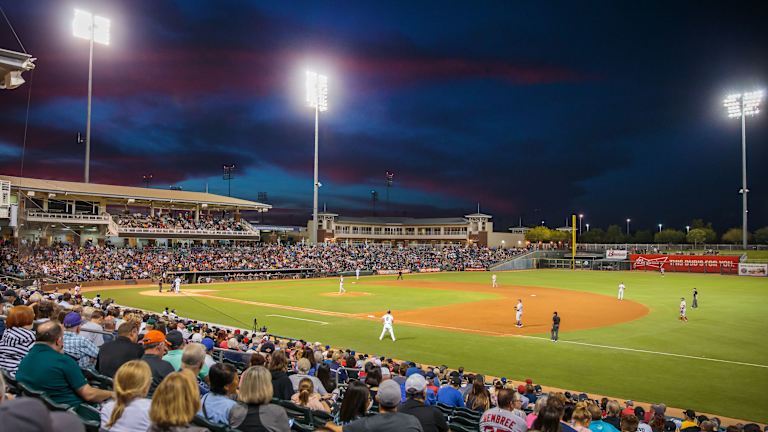 AFL Update: Stott Stays Hot, O'Hoppe Hits First Homerun of Fall Campaign
Philadelphia Phillies prospects Bryson Stott and Logan O'Hoppe continue to stand out in the Arizona Fall League.
Last week, Inside the Phillies took you inside the individual performances of each of the seven Philadelphia Phillies prospects in the Arizona Fall League (AFL). In week two of the Fall League, the Peoria Javelinas are off to a bit of a rough start at 4-7 in the West Division.
However, top positional prospect Bryson Stott and catcher Logan O'Hoppe continued to impress during their fall campaigns.
SS Bryson Stott: In his second week in the AFL, Stott's slashline sits at .424/.535/.636, as he picked up a double, triple, five runs, seven RBI, a stolen base, and four strikeouts through 19 plate appearances. Stott leads the Javelinas in OPS with 1.171, but has yet to club his first homerun of the Fall. 
C Logan O'Hoppe: O'Hoppe, on the other hand, picked up his first homer of his AFL career on Oct. 23 in a 10-6 loss against the Tuscon Saguaros. The 21-year-old is hitting .296/.486/.519, and in his second week, had two doubles, five RBI, a stolen base, and has a team-leading 10 walks.
LF Simon Muzziotti: In the 22-year-old's second week in the AFL, Muzziotti is batting .222/.323/.259. Not nearly as impressive as his fellow Phillies in the lineup, but he did pick up five RBI, two runs, two walks, and a stolen base since Oct. 20.
RHP James McArthur: McArthur started his second game of the Fall on Oct. 26. After the Javelinas gave him a 5-0 lead, mostly thanks to fellow Phillies prospect Stott who had four RBI on the day, the 24-year-old pitched three scoreless innings. In the fourth, McArthur allowed a two-run homerun to Miami Marlins prospect Kameron Misner that raised his ERA to 3.00. McArthur pitched one more scoreless inning in the fifth before being lifted.
RHP Hans Crouse: In Crouse's second start of the Fall on Oct. 22, he pitched two scoreless innings, striking out the first six batters he faced. But Crouse ran into trouble in the third, allowing a three-run blast to Boston Red Sox prospect Jeter Downs. The 23-year-old still picked up eight strikeouts on the night though, bringing his total to 14 for the Fall.
LHP Damon Jones: The last time we checked in on Jones, he had yet to allow a run through three innings, but that is no longer the case. On Oct. 22, he pitched 0.2 innings, allowing two hits, a run, two walks, and striking out two. His AFL ERA is currently at 2.45.
LHP Erik Miller: The 23-year-old Miller pitched two innings, allowed a run, two walks, and struck out three on Oct. 22. His ERA for the Fall is sitting at 6.00.
Be sure to follow Inside the Phillies for our continued coverage of the Phillies' seven prospects' performances in the Arizona Fall League!
More From SI's Inside The Phillies:
---
Make sure to follow Inside the Phillies on Facebook and Twitter!