No brotherly love as Harbaughs own Super Bowl XLVII; more Snaps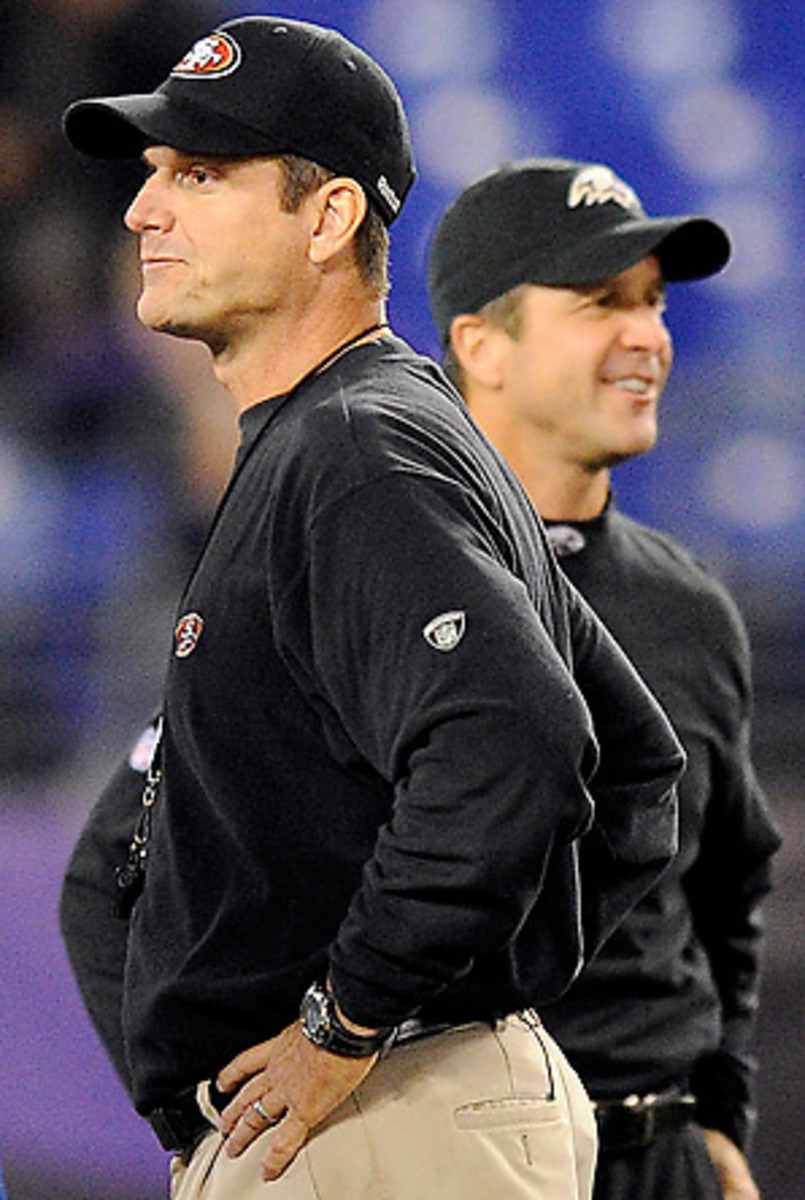 FOXBORO, Mass. -- Musings, observations and the occasional insight from another unpredictable NFL championship Sunday...
? Well, this takes the notion of sibling rivalry to a whole new level. A year after we came excruciatingly close to a potential Harbaugh Bowl (aka HarBowl), it has come to fruition with the coaching Harbaugh brothers on Sunday leading their teams to historic and satisfying road victories to ensure a totally unique Super Bowl XLVII matchup in two weeks in New Orleans.
The Jim Harbaugh-led San Francisco 49ers">49ers will face off against the John Harbaugh-led Baltimore Ravens in the Superdome, thanks to the 49ers' gutsy comeback win at Atlanta in the NFC Championship, and the Ravens' convincing upset at New England in the AFC Championship.
Might as well go gather the kids and fetch the dog. The next two weeks are going to be one, long family story.
There's no rematch angle to this year's Super Bowl, unless you consider that the Harbaugh boys have been competing at nearly everything for more than four decades. It should make for good theater, and more Harbaugh-related anecdotes than anyone has the desire to hear about.
On the field, the two teams have a lot in common. Both have proud, linebacker-driven defenses, stout running games led by hard-nosed stars with four-letter last names (Baltimore's Ray Rice and San Francisco's Frank Gore), and passing games that only this year became more explosive and downfield oriented. And both teams used last year's near-miss in their conference title games as motivation to get back here and get the job done.
With their 28-13 win, the Ravens became the first team in 10 years to break the Patriots-Steelers-Colts stranglehold on the AFC title, earning their first Super Bowl berth in 12 years and returning to the game's grandest stage in what will be middle linebacker Ray Lewis' 17th and final season in the NFL. Baltimore beat the Patriots in this AFC title game rematch, after losing last year's meeting 23-20 at Gillette Stadium in agonizing fashion.
The 49ers have waited even longer for a return to the Super Bowl spotlight. San Francisco hasn't been to the Big Game in 18 years, since the franchise won its fifth Super Bowl ring after the 1994 season. The 49ers can tie Pittsburgh's record six Super Bowl wins with a victory over Baltimore.
Once again the NFL has given us an unlikely Super Bowl participant. The Ravens have been a playoff perennial in each of John Harbaugh's five seasons, but Baltimore looked to be leaking oil badly in December, losing an uncharacteristic three games in a row, and four out of five, after starting the season 9-2. But as we saw the Giants and Packers do the past two postseasons, the Ravens got hot in the playoffs, beating the Colts, Broncos and Patriots in short order. Andrew Luck, Peyton Manning or Tom Brady, it made no difference to a Baltimore team that looked a little too banged up on defense -- losing Lewis and Terrell Suggs for long stretches of the season -- to contend for a crown this year.
But the Ravens surprised us, and so too did San Francisco second-year quarterback Colin Kaepernick, the wunderkind who took over for an injured Alex Smith in mid-November and proceeded to inspire Jim Harbaugh to make him the team's full-time starter. Jim Harbaugh with his controversial Kaepernick gamble, and John Harbaugh with his Dec. 10 decision to fire longtime offensive coordinator Cam Cameron, elevating Jim Caldwell to the positon, were a matched pair that way too. Both used their bold late-season moves to kick start their offense and become much more varied and difficult for defenses to prepare for.
And now we get the family Super Bowl showdown that the NFL has waited for ever since Jim Harbaugh was hired in San Francisco two years ago this month. Oh, brother. May the best Harbaugh win.
? For New England, losing cornerback Aqib Talib to a thigh injury in the first quarter was the blow it couldn't afford. Without their best cover man to handle Ravens deep threat Torrey Smith, the matchups changed for the Patriots defense, and not in its favor.
Joe Flacco had another very good game for Baltimore, with the Ravens quarterback completing 21 of 36 passes for 240 yards with three touchdowns and no interceptions. Smith caught four passes for 69 yards, but the big damage was done by receiver Anquan Boldin. He predicted a Baltimore victory this week, then went out and backed it up, catching five passes for 60 yards and two fourth-quarter touchdowns. Tight end Dennis Pitta was a factor in the Ravens' attack, too, with five receptions for 55 yards and a touchdown.
RAVENS 28, PATRIOTS 13: RECAP | BOX SCORE
? People have gotten old waiting for the Patriots' Super Bowl window of opportunity to close, but you do have to wonder if this loss signals the end of real dominance in New England. The Patriots have now gone eight years since winning their third Super Bowl ring in early 2005, and this is the third time in the past four years that Bill Belichick's team has lost in the playoffs shy of the Super Bowl.
Quarterback Tom Brady had a particularly desultory game for the Patriots, throwing a pair of interceptions, with just one touchdown to go with his 29 of 54 passing for 320 yards. Brady has now thrown 10 career picks against the Ravens, against just eight touchdowns, the only team in the NFL he has not thrown for more touchdowns than interceptions against.
? Bernard Pollard? Again? Really? The Ravens safety has been a New England nemesis ever since he sacked Brady and knocked him out for the season with a knee injury in Week 1 of 2008. Pollard was in on the play that knocked receiver Wes Welker out for the playoffs in December 2009 as well, and on Sunday, he was back at it, doing more damage to the Patriots.
His hit on running back Stevan Ridley caused the fourth-quarter fumble that basically ended New England's comeback dreams, and served to remind the Patriots once again that he's bad news, no matter who he plays for.
? Two weeks in a row in the playoffs, the Falcons had an outstanding first half and a stumbling second half. Not totally unlike Atlanta's regular season: The 8-0 start, followed by a 5-3 second half, in which Mike Smith's team dropped two of its last four games in December. The Falcons just couldn't finish this thing this year.
And get ready to hear Atlanta's mental toughness questioned plenty. My issue with the Falcons all along has been their perceived lack of killer instinct, and that problem reared its head last week against Seattle and this week in the devastating loss to San Francisco. You simply can't blow three-score leads at home in the playoffs two weeks in a row. Atlanta outscored its opponents 44-14 in the first half of its two playoff games, but was beaten 42-10 in the second half, and it's hard to be a Super Bowl team with that particular bullet point on your resume. Scoreless in the second half doesn't get it done.
The 49ers were the more resourceful and resilient team on Sunday. San Francisco hadn't won a game all season after coming back from more than seven points down at any point, but the 49ers didn't blink when they trailed 17-0 in the first half against Atlanta. They just got more determined, and figured out a way to score 28 of the game's final 35 points. The best team clearly won, and it was the biggest comeback victory in NFC title game history.
49ERS 28, FALCONS 24: RECAP | BOX SCORE
* Between the Bert Emanuel play in the 1999 NFC title game, which was ruled a non-catch, and the Harry Douglas play in this year's NFC title game, which was ruled a catch, I really don't know what a catch is any more.
I didn't think Douglas made the catch Sunday. There was too much ball movement and too much pigskin touching turf to definitively say he had control, but I think the referee erred on the side of standing behind the play as it was called on the field. In the end, it didn't cost San Francisco the game.
As for the late-game non-penalty against 49ers inside linebacker NaVorro Bowman, who may or may not have interfered with Roddy White on the game's pivotal 4th-and-4 play, there was some contact. But I don't think we would have been surprised no matter which way that call went. You've seen that flag thrown, and you've seen it not called. My question for Ryan would be why throw that pass in that much traffic in that situation? It wasn't a great decision at all, and I'm not sure it was going to be enough for a first down even if White had caught it.
In essence, each team got a break from the officials that could have changed the outcome. But the bottom line, and this should not get lost in the Monday morning quarterbacking of this game, is that the Falcons led the NFC Championship Game 17-0 at home, and let it get away. Matt Ryan and Co. came up small in the second half (he had two third-quarter turnovers), undoing the impact of their spectacular start.
? I guess we found out Colin Kaepernick can be effective and San Francisco can win even when its young phenom of a quarterback isn't shredding the opposing run defense for 181 yards. Kaepernick had just two rushes for 21 yards against the Falcons, who did a great job taking away his dangerous read-option threat.
Kaepernick wasn't a caretaker quarterback against Atlanta, but he was supremely efficient, completing 16 of 21 passes for 233 yards, with one touchdown, no interceptions and a 127.7 passer rating. It's a great indication that he can adapt to most any situation and still prosper. And if Kaepernick isn't going to get rattled after trailing 17-0 on the road in the NFC title game, he's never going to get rattled.
Not bad for just the ninth start of Kaepernick's NFL career. Even Alex Smith's most faithful and ardent fans must now know that 49ers head coach Jim Harbaugh made the right call at quarterback in mid-November.
It's great news for the 49ers as they enter the Super Bowl, because Sunday proved they can win in different ways. They didn't reproduce their blueprint to last week's resounding victory against Green Bay, but they made up a new one, showing they can take a punch or three, and then mount a huge rally.
? Matt Ryan's left (non-throwing) shoulder or collarbone injury on that final, failed Atlanta drive certainly looked like it affected him the rest of the way. His fourth-down throw to White with 1:13 remaining wasn't all that accurate, and he clearly couldn't get enough distance to launch the 60-yard Hail Mary toss the Falcons needed on the game's last play.
In that case, wouldn't it have been better for the Falcons to have put backup quarterback Luke McCown out there, even if he wasn't entirely loose? Only six seconds remained at the start of the play, and it wasn't like any throw underneath had much of a chance to work. Had the Falcons won, it's entirely possible Ryan wouldn't have been healthy enough to play in the Super Bowl.
? Speaking of being cruelly replaced on the Super Bowl roster, can the 49ers afford to carry veteran kicker David Akers for their next game? Akers missed from 38 yards on his only field goal attempt of the game, hitting the left upright. Akers now has 14 field goal misses this season, more than any other kicker in the league.
Paging Billy Cundiff. To the Bay Area. Stat.
? The Falcons offense nearly produced 500 yards against the 49ers, but when it mattered most, Atlanta quarterback Matt Ryan couldn't dent San Francisco's defense. And that means Ryan is going to continue to hear the can't-win-the-big-one talk, especially since his career playoff record dropped to 1-4 in a game the Falcons seemed in complete control of early on, taking a 17-0 early second-quarter lead.
Ryan's previous career high in the playoffs was 255 yards, and he broke that in the first half alone, throwing for 271 yards and three touchdowns on 18 of 24 passing. But Ryan's two turnovers in the third quarter cost the Falcons possession time, and seemed to break Atlanta's offensive momentum.
The Falcons won 14 games this season and yet still didn't garner a lot of league-wide respect, mainly because of their history of melting when the spotlight is the hottest. Sunday's second-half collapse only reinforced Atlanta's image. The Falcons are a talented team, with a very good quarterback in Ryan. But their identity remains one of underachievement in the playoffs, and this bitter NFC title game experience will only underscore that.
? Some NFL head coaches wear their emotions on their sleeve. Then there's the 49ers' Harbaugh. What a complete and utter sideline hissy fit he threw after the replay review failed to overturn the Harry Douglas catch in the fourth quarter. I used to have meltdowns like that once in a while, but my mom always wound up sending me to my room to calm down for an hour or two.
If this keeps up, "The Harbaugh Face'' is going to wind up getting its own Twitter account.
? The Falcons aren't Super Bowl bound, but that all-in Julio Jones trade Atlanta general manager Thomas Dimitroff made in the 2011 draft was still 100 percent worth it. What a play-making talent Jones has become in his first two NFL seasons. Jones was in beast mode against the 49ers, especially in the first half. He finished with a game-high 11 catches for 182 yards, with 135 of them in the opening 30 minutes.
Jones opened the scoring by beating San Francisco deep from 46 yards out, the first touchdown pass of more than 40 yards allowed all season by the 49ers. But it was his 20-yard second-quarter scoring catch that was a classic work of art. San Francisco cornerback Tarell Brown could not have blanketed him any better, but Jones still managed to pull it down and stay in bounds in the back left corner of the end zone. I've never seen a more well-covered touchdown pass, but Jones' body control is superb and seemingly getting better all the time.
? It's a nice little late-career turn of events for Randy Moss, getting to a second Super Bowl in his 14th NFL season. Remember, it was Moss as a record-setting Vikings rookie receiver in 1998 who saw the Falcons ruin Minnesota's Super Bowl hopes, winning in overtime at the Metrodome in the 1998 NFC title game. The Vikings were 15-1 that season and owned the No. 1 seed.
Here was Moss again on Sunday, trailing the Falcons, in a dome, with his team's kicker hurting the cause by missing a 38-yard field goal -- just like Minnesota's Gary Anderson did late in regulation against Atlanta in the NFC title game. Only this time, Moss and the 49ers fought back, giving him a chance to finally earn that long-awaited Super Bowl ring, and he had to come out of a year-long retirement in 2011 to do it.
? If that really is the last we've seen of Falcons tight end Tony Gonzalez, he went out playing as well in his 16th NFL season as he did throughout his Hall of Fame-bound career. Gonzalez hasn't lost anything from his game, and his eight-catch, 78-yard, one-touchdown game only made you realize how few players go their whole career without ever showing signs of slippage.
If anything, I'm wondering why Ryan didn't look for Gonzalez even more than he did on Sunday. Especially on that 4th-and-4 with 1:13 remaining. After that play, cameras caught Gonzalez on the sideline, seemingly telling Roddy White that he was "wide open." Gonzalez scored the final points of Atlanta's season, catching a 10-yard pass from Ryan just before the half, putting the Falcons up 24-14 at the break.
? Hard to believe it's been 18 years since we've seen the 49ers in the Super Bowl, but it's true. After making the Super Bowl five times (and winning each time) in the span of 14 seasons (1981-94), the 49ers have finally made their way back.
It's the 15th consecutive season the NFC has had a new champion. The last team to repeat in the NFC was the 1996-97 Packers, who won the Super Bowl on their first trip and lost in a sizable upset on their second. Twelve teams have now won the past 15 NFC championships.
? You know how badly this season has gone for the Eagles? So badly that their karma is starting to carry over to San Francisco. Newly activated 49ers receiver Chad Hall dropped a crucial third-down pass on the play before Akers missed his field goal attempt, both of which looked like momentum-sapping mistakes at the time. Both are former Eagles. And it all took place in Atlanta's Georgia Dome, where Michael Vick once played the role of franchise quarterback.