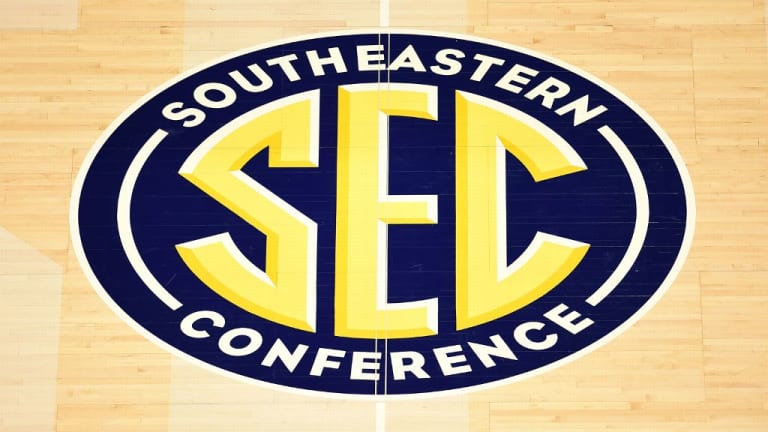 SEC Cancels Men's Basketball Tournament And Suspends Spring Sports Due to COVID-19
The league office announced Thursday morning the cancellation of its men's basketball tournament and suspension of regular season competition in spring sports due to ongoing spread of COVID-19
NASHVILLE, Tenn. – Roughly an hour before tipoff between the University of Alabama men's basketball team and Tennessee, the Southeastern Conference office announced the cancellation of its tournament due to the outbreak of COVID-19 across the nation. 
All Power Five conferences — SEC, ACC, Big 12, Big 10, and Pac-12 — have cancelled their respective tournaments. 
The SEC also announced that it would be suspending all regular season competition for all spring sports on its campuses until at least March 30. This includes baseball, softball, golf, tennis, among others. 
SEC commissioner Greg Sankey addressed the media following the tough decision.
"It was five years ago at this moment that I walked into a meeting with our presidents and chancellors that I was told I was going to be the eighth commissioner of the Southeastern Conference," Sankey said. 
"We have had a lot that has happened in those fives years, a lot that has been great and a lot that has been difficult. But I have not had a situation as difficult and emotional as this one. A recommendation to cancel to the reminder of our men's basketball tournament was a moment that I had to stop myself and actually recompose myself." 
Sankey said the "stark" medical information received from the NCAA led to the initial decision to close off the tournament to fans, which then that same information, ultimately, led to the cancellation. 
"I do not have all of those details," Sankey said. "But it was about the spread of the virus, the need to interrupt it, and engaging in college athletics to help to stop that potential spread." 
Utah Jazz center Rudy Gobert testing positive for the coronavirus on Wednesday night after the postponement of the team's game against the Oklahoma City Thunder, which caused the NBA to announce the suspension of its season, played a role in the decision as well. 
"I just had a text exchange with [Thunder coach] Billy Donovan," Sankey said. "Going through my mind was, I have a responsibility to care for people both our staff, our coaches, and players. I think our men's basketball student-athletes saw it happen in the NBA. They look to that, many of them, as the next step in the basketball opportunity. It just creates questions."
"This was the appropriate decision at best possible time even though it is a difficult one."
With conference tournaments across the board cancelled,Sankey was asked about the proposition of the NCAA tournament even happening and if SEC teams would be allowed to go. 
Currently, Duke and Kansas are two major programs that have suspended all athletic travel and activity. 
"They have a tough road ahead in decision-making," Sankey said. "You make the best decisions possible with the best available information. The NCAA leadership is going to have to make that. I would encourage them to use time to fully evaluate, be thoughtful, and determine whether or not we might be able to go forward with any of the NCAA Championships in this relatively short window."
"I hurt for all those student-athletes. It just means more. I know the pride that exists in this conference for having the access to national championships is meaningful to young people."
Subsequently, if this event was to be cancelled, then the decision to suspend regular season competition for all spring sports had to be made as well according to Sankey. 
With the suspension period going until at least March 30, the commissioner said the next two weeks will be used to initiate conversations on when play might resume. 
"We have work to do there," Sankey said. "We will discuss with our campuses in this interim period on how to return to normal operations. It might not be March 30, it could be beyond." 
The SEC gymnastics and equestrian championships which were set to take place on March 21 and March 27-28 in Duluth and Bishop, Ga. respectively, have been cancelled.
Golf, tennis, baseball, softball, and track league championships take place after March, which at the time, will be reassessed by the SEC office if those will take place. 
One major concern with this pandemic, is the possibility of seniors in these spring sports missing out on their final year of eligibility. Sankey says nothing has been discussed on that front of extending another year to those student-athletes yet. 
"Not at this point," Sankey said. "It is one of those issues on a long list of additional items to consider. I do not think we have to come to that conclusion right now." 
Some schools around the conference have already started spring practices for football and Alabama is set to begin its on Friday. Sankey says it is still up in the air how each institution will handle their own situation. 
"We have clearly limited the number of events on campus," Sankey said. "I do not have a prescriptive list right now on what it going to happen with spring practices or spring football." 
Programs like Ohio State and Michigan have already cancelled their spring games set for April 11th and 18th, respectively. 
For SEC schools, on and off campus recruiting is also suspended until March 30, and Sankey has relayed to NCAA president Mark Emmert than uniform changes need to be addressed in the coming days. 
"I've sent a text to Mark Emmert saying the NCAA should engage in on and off campus recruiting policies," Sankey said. "Changes and, candidly, restrictions for a period of time while we're all dealing with this. That would set everyone on an even plane rather quickly."